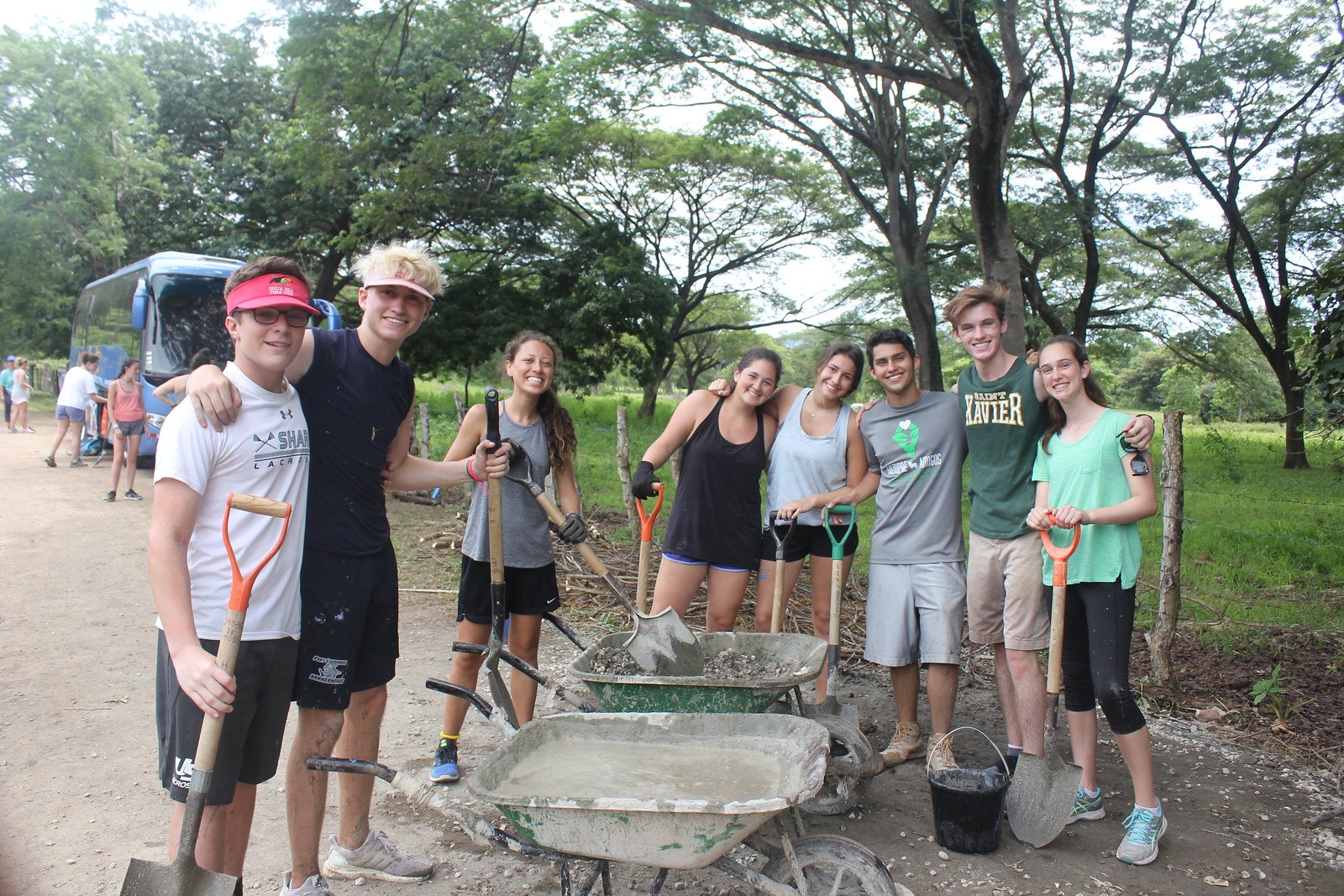 We have learned that tico time refers to the slow paced, Costa Rican lifestyle. However, that has not been the case for us! Between our hikes, beach trips, ice cream stops and community service, we can't believe that an entire week has gone by. Our most memorable night thus far was when we ventured out to a karaoke lounge, because it was truly an indication of how close we have all become. To get the night started, our trip leaders sang Mambo Number 5, but it was Dan's performance of Vivir Mi Vida by Marc Anthony that really pumped up the crowd and by the end of the night, everyone was singing and dancing together. It was quite a sight to see! While we might not have been the best singers, we were complimented for our enthusiasm. Thankfully we had delicious mango smoothies to soothe our vocal chords before bed.
Another memorable experience this week was when the trip members cooked together as they learned how to make arroz con pollo. They chopped veggies and chicken, while learning the secret to making perfect yellow rice. Maximus was thrilled he got to show off his chopping skills and everyone loved our amazing home-cooked meal, with many trip members even asking for seconds!
Our service this week was performed in a small rural town called Lorena. The majority of the houses there are built out of tin walls, dirt floors and lack indoor plumbing. We are very proud to be working with Westcoast's nonprofit partner, Siempre Amigos, a company that was founded by three 14 year olds with the common goal to help the lives of those less fortunate. We were really lucky to be able to meet the founders, who are now 19 years old and studying architecture in college! We dedicated two days to remodeling a house for a family of seven. First, our group helped dig a hole to create a plumbing system, then we painted sheetrock and metal to create sturdy walls before mixing cement to cover the floors. Rafael, Jack and Dylan planted cashew trees in front of the house to provide the family with both nutrition and shade! Kate & Lainie were really proud of themselves for getting outside of their comfort zone by working with the cement and doing such rewarding work.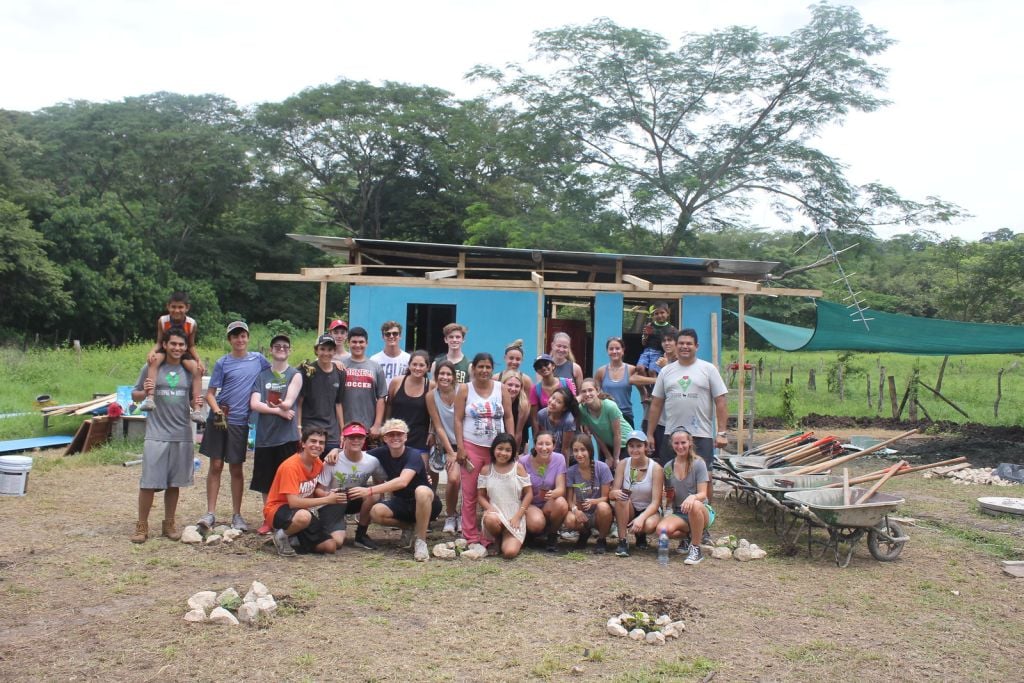 One of our most thrilling adventures to date was canyoning, which involves rappelling down waterfalls! Decked out in helmets, safety clips and gloves, we hiked through the forest to our first waterfall. Thalia demonstrated some serious girl power by being the first to rappel down and after two hours of fun, we all successfully conquered the four waterfalls! During lunch the guides put together a slideshow of our photos and it was very entertaining. Lily was overheard saying, "My mom would never believe that I did this!" Our group then spent the night at the beautiful Baldi Hot Springs, which are heated by the active Arenal stratovolcano. For some of the thrill-seeking trip members, there were various water slides into the springs. Elana, Kate K., Acacia, Brooke discovered one of the trip leaders had never gone down a waterslide before and they very patiently and kindly sat with her at the very top, supporting her before she went down.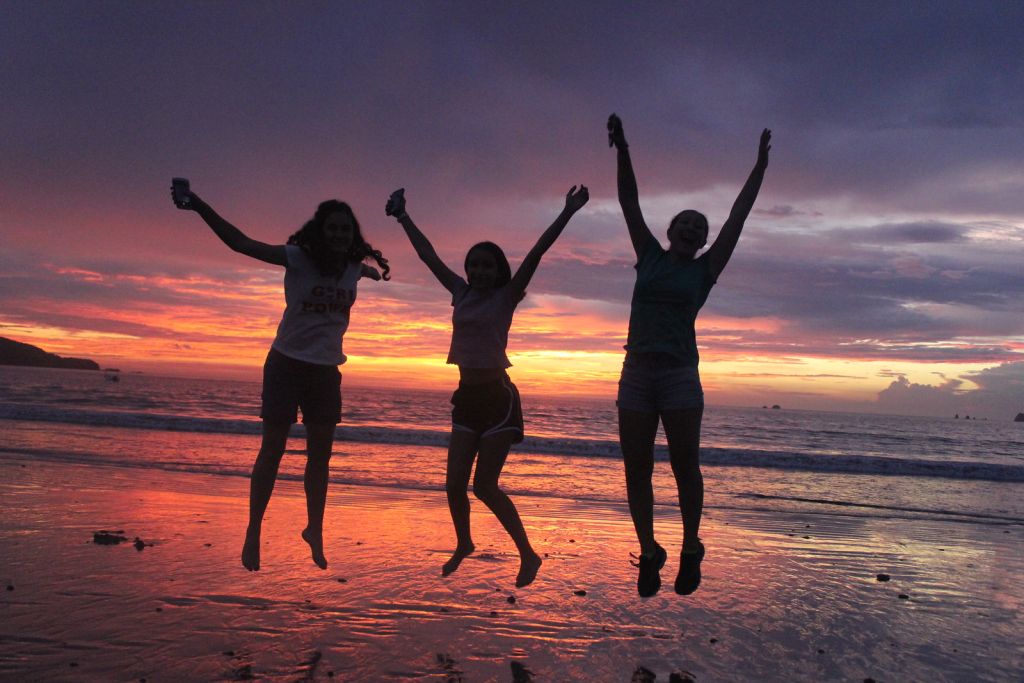 We continued our water adventures by going on a catamaran the next morning! The weather could not have been more perfect, with clear blue skies, the sun shining brightly and sparkling turquoise water. We were all enjoying the view while drinking our miguelitos, a pink smoothie made of coco y fresas, when the captain yelled, "Amigos come over here and look, there are two huge turtles!" We soon realized the turtles were mating and our guide informed us that there has been a significant decrease in the turtle population in Costa Rica in recent years and that we were super lucky to have witnessed a sighting! Upon arriving at our destination, everyone got fins, snorkels, goggles and floatation devices before jumping into the water. The trip members  were fortunate to see sea urchin and a variety of fish. After we returned to the ship, the crew warmly greeted us with fresh fruit. The evening ended learning how to dance the salsa and bachata. Faye and Vanessa dominated the dance floor and even choreographed a short dance for us. In return, Maxwell and Matthew also created a very entertaining one!
We are all eagerly looking forward to the rest of this terrific trip!
The Westcoast Blogger
Are you interested in exploring and volunteering in Costa Rica? If so, check out our various service opportunities here!