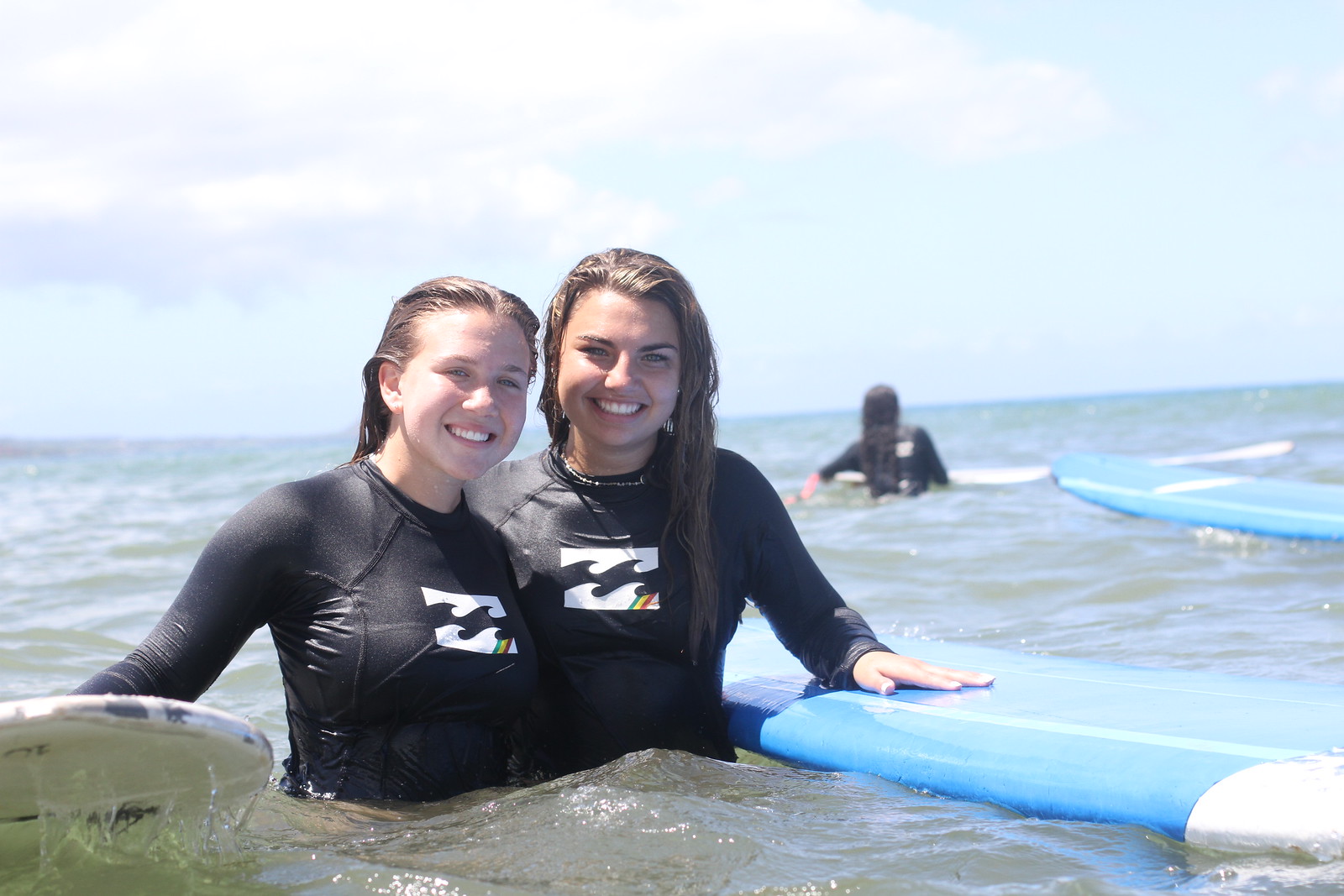 Aloha to our ohanas back home!  Have we ever been out and about since our last update:
While the snorkel cruise was our first immersive experience with the water, our next two days would be our first immersive experience with the land.  Nature Jay and Nature Ray worked with us in a pristine area of the rainforest known for a site called Twin Falls. We did trail maintenance and connected two pedestrian trails that previous Westcoast crews have created over the past three years.  Nature Ray showed some trip members how to make "rockets" with big leaves, and others braided palm fronds while resting from ferrying buckets of gravel to the trails.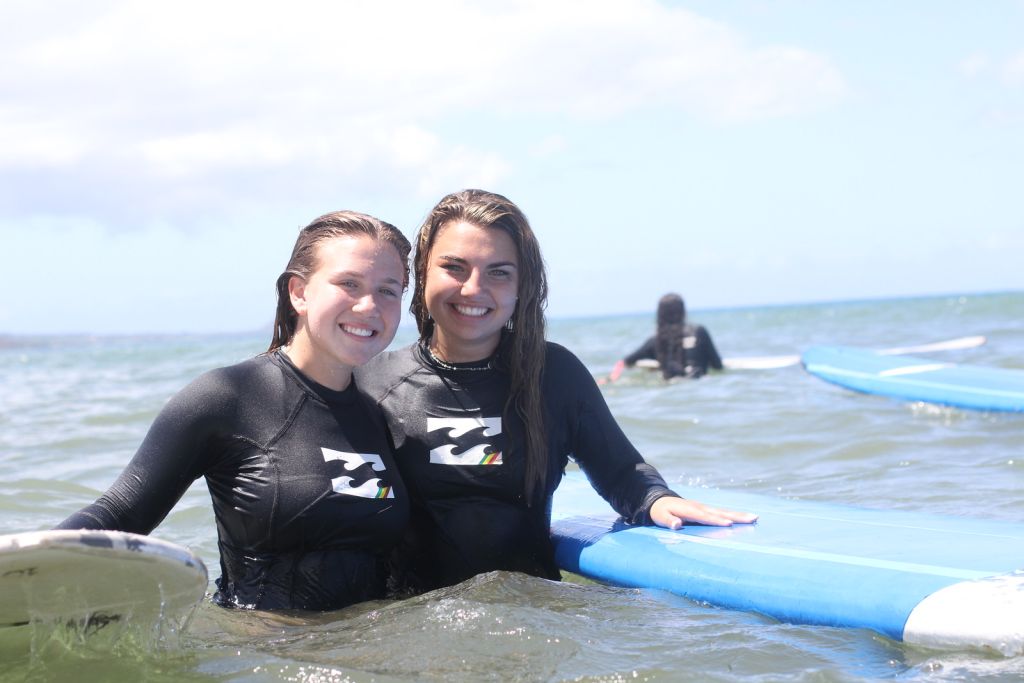 Due to the amount of rain that the Twin Falls area has received lately, our "stream studies" were restricted to the banks.  Not to be disappointed, though, Nature Ray told us about Ho'okipa Beach Park (ho'okipa means "hospitality" in English), which has been a highlight of our trip so far.  Nature's Ray and Jay really gave us the royal local treatment!  Sending us to Ho'okipa with fresh pineapple popsicles on sugarcane sticks after clearing the trails the first day, we got to cool off at Ho'okipa in a tide pool.  Here we even got a few photos of a sea turtle resting on the beach!
Day 2 with Nature Jay and Nature Ray was just as great.  These guys know how to mix fun and work! In addition to trying more and more edible plants, we discovered the fleshy trunk of a banana tree smells like watermelon rind! Who'da thunk! We capped off our two days with them by having a bonfire in the private nature preserve.
From Nature Jay and Nature Ray in the mauka, we ventured back to makai for surfing lessons! Even though most everyone couldn't wait to get wet, we were a little apprehensive, though that was overtaken by excitement the second we got on the surf ramp.  After a few good test runs, every trip member got up on the board!  Every. Single. One. We had all officially surfed in Hawaii!  At Kihei, we also had our first shave ice of our trip to these islands, and enjoyed some more spectacularly clear water on our fourth beach (so far) of the trip!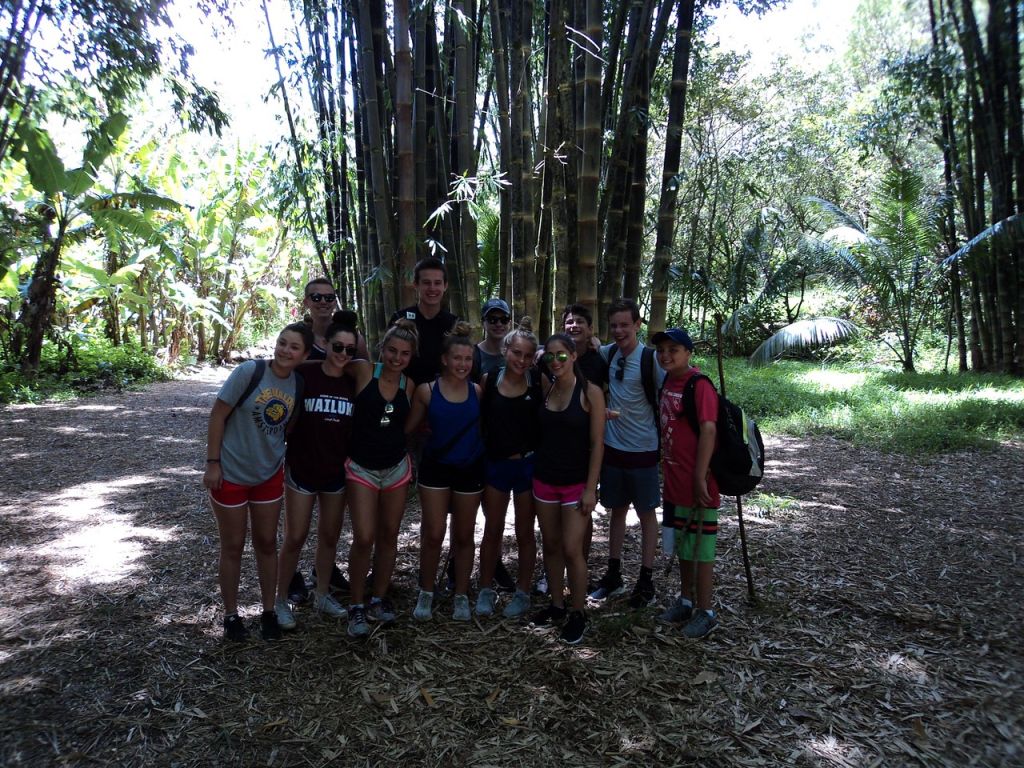 With everything we got to do on Maui, including the events that didn't even make the blog (Paia Fish Market, Lāhainā, and car ride games, for example), it's a miracle that it was all only in the first half of the trip!  Our beautifully scenic 22-minute flight to Oahu landed us at our second half.  
We've spent the past couple days now working with the Boys & Girls Club in Nānākuli.  As in Maui, our trip members programmed and played games with the kids. New games this round include freeze dance, party, watercolor, and pickle (a surprisingly simple combination of cricket, baseball, and catch).  Goodbyes were even tougher with this round of kids – they were younger, and quickly took a very strong liking to us.  
Next up for us: a visit to Pearl Harbor, switching service gears to working at the Habitat for Humanity Restore, and certainly more time at the beach.  Mahalo!
Until Next Time,
The Westcoast Blogger
Do you want to make a difference? Volunteer with our 18-day Hawaii community service program, for an incredible opportunity to explore its islands, its people and its culture.