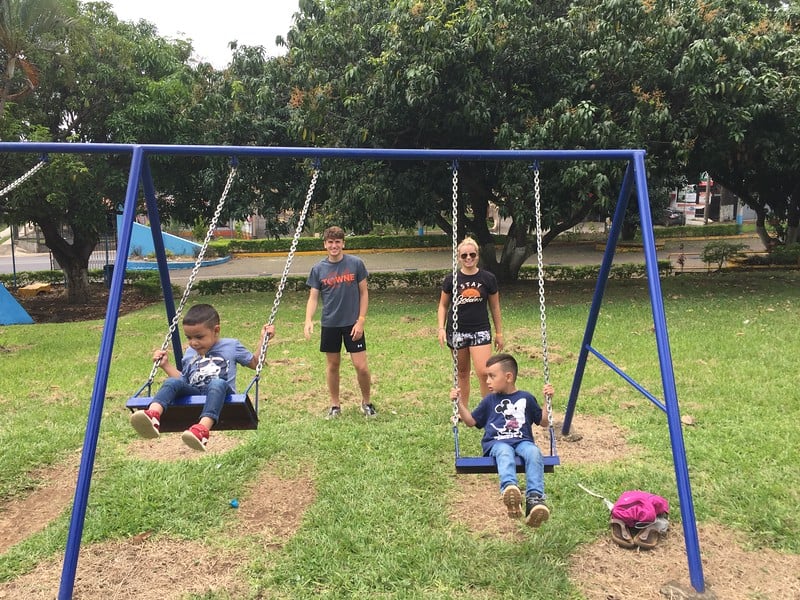 Saludos de la provincial de Guanacaste! After finishing our service in San Jose, we traveled to Costa Rica's province of Guanacaste on the Pacific Coast. Upon arrival we had one of our most exhilarating afternoons catching waves that are perfect for surfing at Playa Tamarindo. We took lessons at Iguana Surf School and it was quite a sight to see all the trip members decked out in their rash guards, holding their giant blue surfboards. After practicing standing up on the sand we were ready to hit the olas. We learned that there are two surfboard stances, and one is called "regular" and the other is "goofy". Sydney preferred the "goofy" stance and rocked it! Stevie and Tori also stood out as naturals. We ended our evening with a stop at the city square where we enjoyed some delicious homemade ice cream.
The next morning we began our community service with Siempre Amigos. Founded a decade ago by three Costa Rican teenagers, the organization strives to provide help to Costa Rica's poorest communities. For our project we traveled to a rural guanacasteca village to help a small construction crew build a kitchen in a family's home. When we arrived, we saw how the family had been cooking outdoors on a makeshift charcoal stove, likely for years. Boy, what an impact a new kitchen will make! The local crew directed a group of us to begin mixing concrete for the kitchen floor. Arielle and Shannon ended up making twice as much concrete as they had expected and the team was so impressed! The rest of us took out paint brushes and began painting the kitchen's woodwork. "I can't believe how fast we're getting this done!" Bethany exclaimed as she finished painting the doorframe a beautiful bright orange. Halfway through our morning, the local kids came out to entertain us and Deana and Alana played a quick game with them.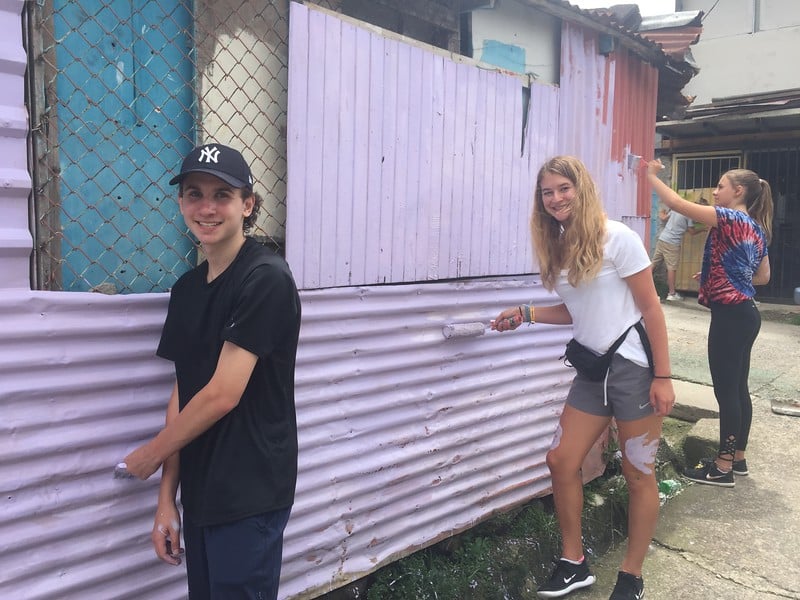 By the afternoon, it was time to cool off at the beach. The fact that we didn't have surfboards today didn't seem to stop Nico and Mateo, as they began bodysurfing the waves as effortlessly as dolphins. After a delicious dinner at an Italian restaurant, we went back to the beach for one of the most anticipated activities of the trip; the beach bonfire. Izzy put her camping skills to work and got the fire blazing within minutes as the rest of us ran around gathering firewood. Once the fire was going, we relaxed, stargazed, chatted, listened to music, roasted marshmallows, took walks on the beach, played games, and bonded with each other. It really feels like everyone is becoming siempre amigos – friends forever.  
The Westcoast Blogger
Are you interested in making friends and giving back to the community in Costa Rica? Learn more about our various service opportunities here!