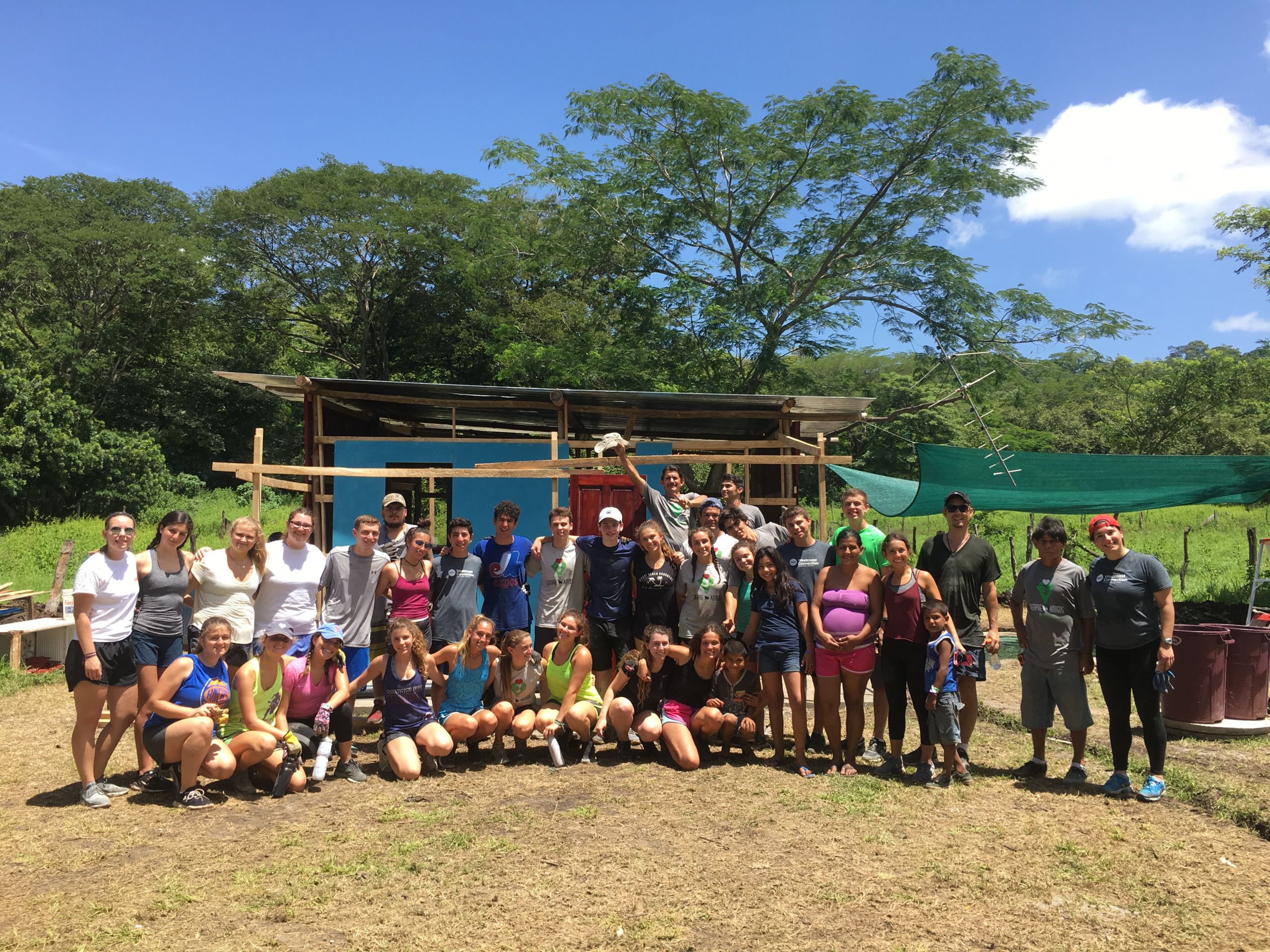 What an action-packed week it's been in Costa Rica! Last week, we volunteered for a second day in La Carpio where we once again had the opportunity to play with children at the community center, as well as help lay concrete in homes. The people there are experiencing a level of impoverishment that we could not have imagined. Neighbors are sharing walls with each other, homes have dirt floors, and there are multiple people living in a home the size of a single bedroom. Nevertheless, the families we helped and community members we worked with were welcoming, offered us food, and were saying "Pura Vida" whenever they greeted us. 
Our next stop was La Fortuna, a town centered around the Arenal Volcano and Arenal Lake. However, once we hopped on the bus, the group was surprised to see it decorated with balloons, streamers, and messages written on the windows all in celebration of Brooke's 17th birthday! We sang her "Happy Birthday" and then played her Stevie Wonder's "Happy Birthday" song. The trip members found hats, glasses, and Canada Day accessories on the bus seats because we were also celebrating Canada Day! We decorated our arms and cheeks with rub on tattoos of beavers, hockey sticks and maple leaves, all while singing "O Canada" in both English and French. After spending a relaxing evening at the hot springs, we had dinner at a restaurant at the top of the springs and finished off Brooke's birthday with party blowers and chocolate and vanilla cakes.
The next day, we were fortunate enough to play a formal soccer game on a breathtaking field with a beautiful view of the Arenal volcano in the background. During shootouts, it was Grant who carried captain Dylan's team to victory! In Rincon de la Vieja, we played a game called Quest, where the group is split into 3 and each group has to perform a task as quickly as possible, or gets a point for performing the task the best. We all had fun participating in musical performances, dancing and cheers.
Sophie, a talented trip member and experienced blogger, would like to share some of her trip highlights with us: "On the Fourth of July, we went on a thirty-minute hike to a magnificent bright blue waterfall with extraordinary views; it had the brightest and clearest water I have ever seen. We all immediately threw on our water shoes and hopped in the refreshing water. We swam for hours and relaxed under the bright Costa Rican sun on the surrounding rocks. On our hike back, we were accompanied by several little friends: an abundance of furry caterpillars (green, yellow, and black), two butterflies, and a group of horses (that were with guides of course)."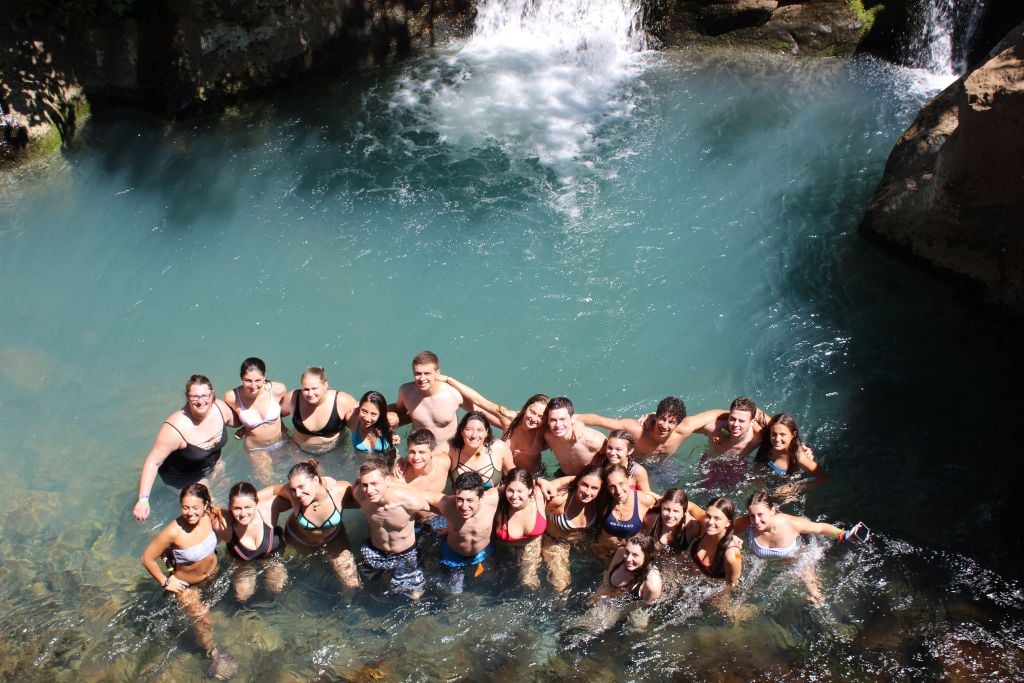 On July 5th, we were all so excited to partake in another birthday festivity for our Trip Leader Carolyn! We kicked it off by spending the afternoon at Playa Tamarindo, where we relaxed and spent a warm afternoon swimming and eating brownies from the shop on the beach. At dinner, we surprised her with a birthday song and she was so overwhelmed with joy and really appreciated us making her birthday so special!  
Our next adventure was spent doing service in the Guanacaste area where we worked with our partners at Siempre Amigos (meaning "Always Friends") to help improve a home for a family. The couple had 5 children, and the mother was 7 months pregnant with her 6th. They were planning on sharing that home with another two people, meaning it would have to fit a total of 9. To give you a comparative context, the house was relatively the size of a large hotel room with two queen size beds. It was humbling to see how their needs were met with so little, and how grateful they were to have a space to sleep safely and comfortably. We divided into groups and over the course of three days, we successfully replaced the entire dirt floor with cement, dug a hole deep enough to fit two septic tanks and made at least three dozen batches of cement. The staff from the organization were incredibly helpful, accommodating, friendly, and grateful for our service.
The perfect way to finish off our time in Siempre Amigos was to let loose riding the waves. Peri was a first-timer and was definitely a show-stopper with her excellent form and confident stance. Don't be surprised to see her in the 2020 Summer Olympics! Danielle, who has been assisting our photographer, was sure to capture the moments when we were able to get up on our boards. Also, trip member Lilas (from France) has been patiently teaching her new friends how to say basic French phrases. It's been fun seeing the trip members practicing their French with some members of our group that are from Montreal, Canada.
Between zip-lining, canyoning, and beach days, we've had a rewarding balance between service work and adventurous activities! We couldn't be happier to do new service projects in the Central Valley for the next week.
That's all for now! C'est tout pour le moment! Hasta luego!
The Westcoast Blogger
Would you like to make a difference in Costa Rica? Check out all the incredible community service opportunities here!