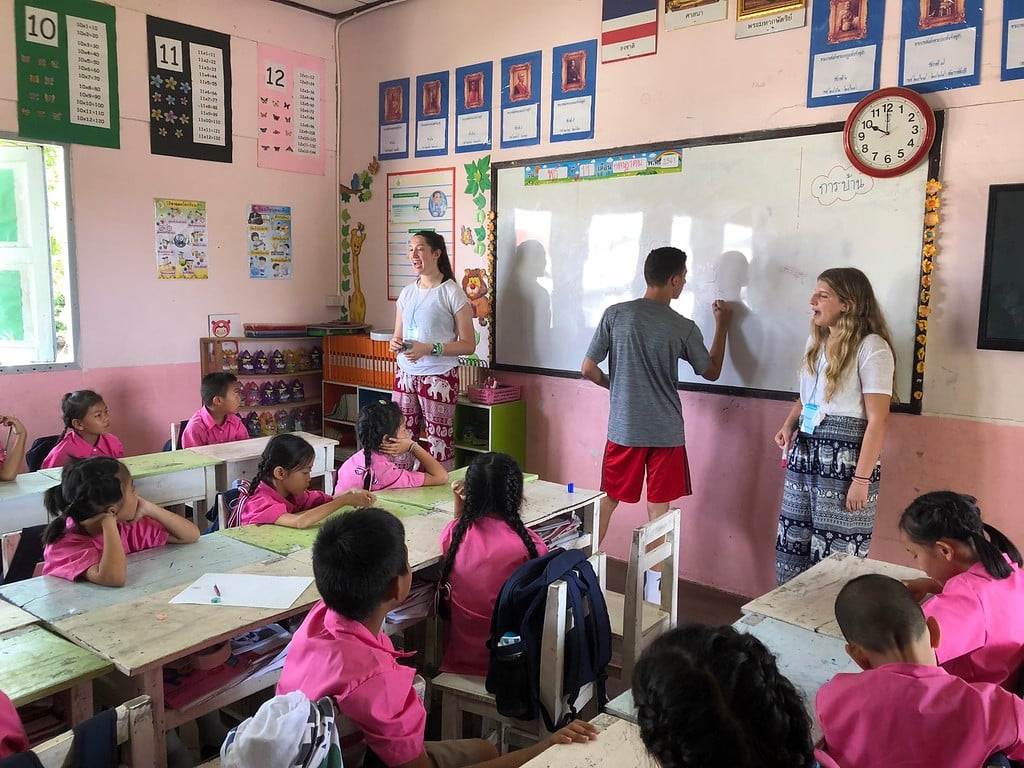 Hello again! Our group is currently on the southern shores of Krabi, Thailand, where the beaches are breathtaking and the food is jaw-droppingly good.
Our time in Chiang Mai began with a Thai cooking class! We do not mean to brag, but we're all experts at cooking pad thai and green curry chicken now. The instructors did an amazing job of walking us through the ingredients and what steps were needed to ensure that our stomachs were full and there were smiles on our faces. Isabel remarked, "I had no idea I was that good at cooking!" and Ethan added, "I can't wait to cook this for my mom at home!"
The following day, we began our final service project of teaching English as a Second Language to a diverse group of learners at a local school. The group worked with students in grades one through six, creating lesson plans centered around playing games, singing songs, and just making English fun to learn. We also ate lunch and played outside at recess with the students! Hannah summarized it best when she said, "I will never forget how big their smiles were." At the end of the day, it was really heartwarming when the entire school came outside for a goodbye ceremony, and it's safe to say that there was not a dry eye in the house.
Afterwards, we had a great time on our trip to Eagle Trek for some zip lining in one of the province's oldest forests. The group had an awesome time zipping from tree to tree, not only getting their adrenaline pumping, but also getting a great up close view of the forest. The longest zip line was 800 meters long, and gave everyone an adventure to remember forever.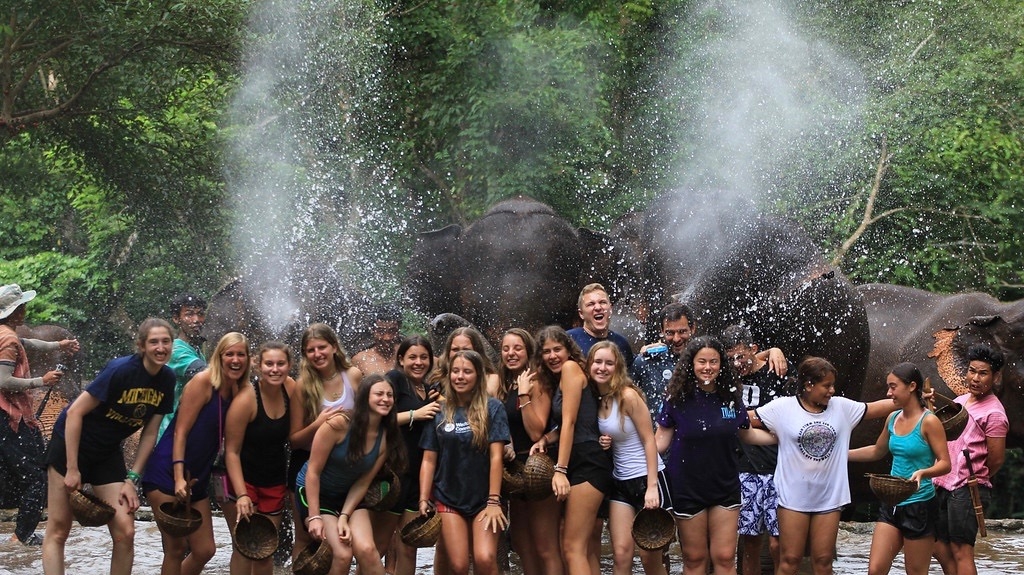 Following a night of exploring the night market and viewing our first ever Muay Thai fight, we set off to Wat Doi Suthep, Chiang Mai's most famous and revered temple. Everyone was totally taken aback by its history, as it was built near the end of the 14th century and is known as a major pilgrimage destination during the important Buddhist holidays. Some of us were even blessed by one of the monks there, and witnessed local college students making the 10km trek up the hill to see the temple. It was clear how cherished this temple is to the Buddhist people.
That afternoon, we were able to spend our time at a famous Muay Thai camp gaining knowledge and a hands-on experience about this martial art, which is also Thailand's national sport. Learning from professional athletes who have won competitions all over Asia, we practiced the popular sport by stretching, learning the moves and sparring. We thought we were getting pretty good at it, or so we thought – until we saw the demonstration by our trainers. Let's just say that none of us are quite ready to become professional Muay Thai fighters just yet.
Our entire time in Chiang Mai was incredible, but we truly saved the best for last with our trip to the Patara Elephant Farm. It was truly an experience beyond words, but Skylar said, "This was probably the coolest thing I've ever done!"  Firstly, we learned about the elephants and the farm, which included a presentation on elephant welfare and conservation. Next, we met our elephants for the day and were given the opportunity to interact with them. Everyone enjoyed feeding, bathing and brushing them.
We look forward to the beautiful beaches that Krabi has in store for us!
The Westcoast Blogger!
Want to experience the Thai culture while giving back to a community in need? Check out our 25-day community service opportunity!