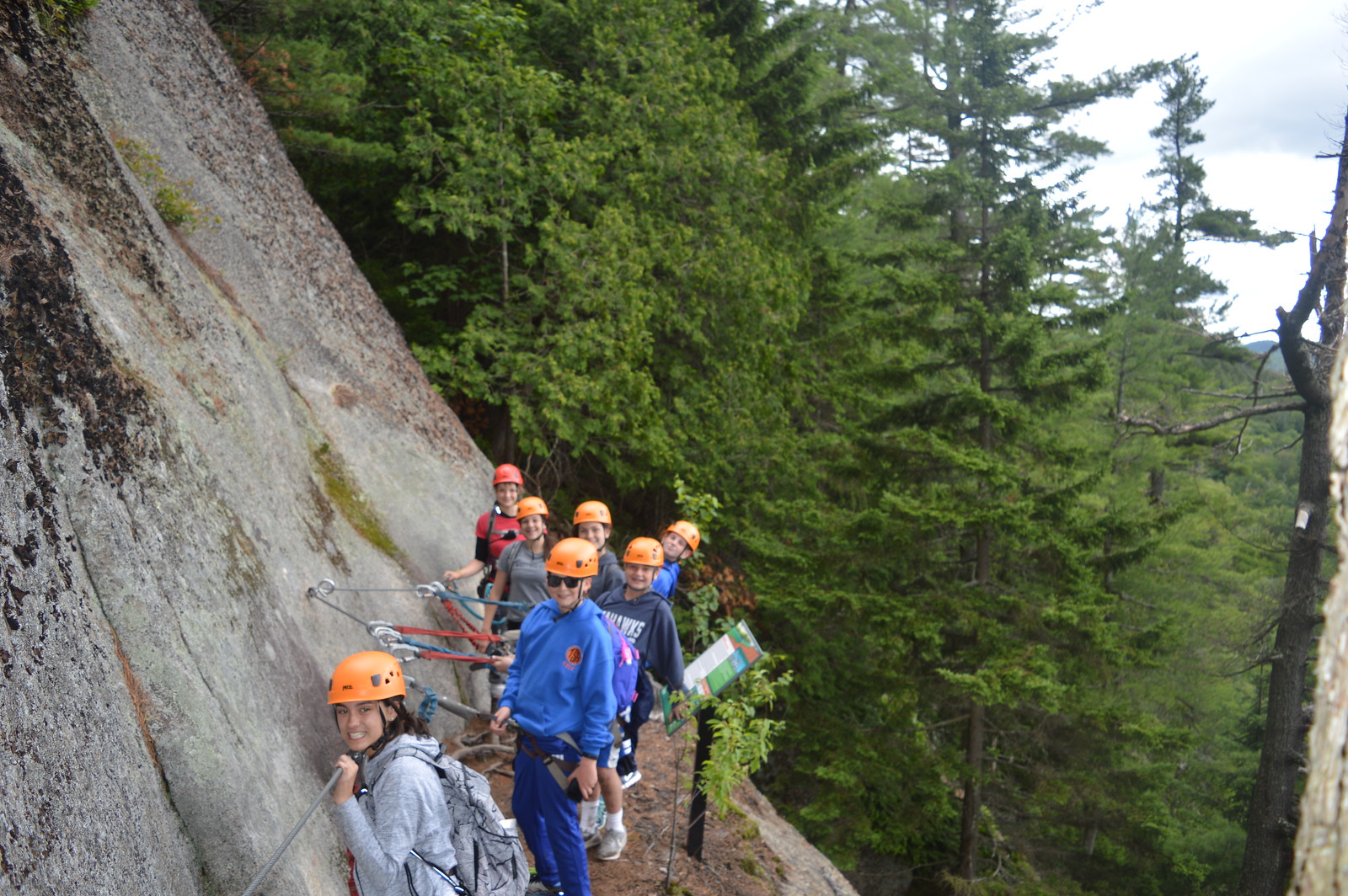 Hello again!
We all had a blast in Canada. After leaving Niagara Falls, we explored the heart of Toronto. Kensington Market was a fun place to walk around and have lunch – it was full of cute shops and healthy eateries. Queen Street was a mix of funky stores, historic buildings and statues. After dinner, we walked to the CN Tower while playing another of our ongoing games, the carabiner. We circulate the carabiner amongst our group by discreetly clipping it onto people's bags when they aren't looking. At the end of the day, the person who has it has to do a task like sing a song for everyone or give everyone a compliment. We ascended to the top of the CN Tower with Connor, the hilarious elevator attendant, who joked around with us and told us fun facts about the tower. At the top, we enjoyed a beautiful sunset over Toronto, walked around on the outdoor walk, and took pictures on the glass floor where you can see the street below. A few of us were interested in the Air Canada Centre, where the Toronto Maple Leafs and Toronto Raptors play, so we went to see the statues of famous hockey players, including Tim Horton (the founder of the popular Canadian restaurant).
We also spent an amazing day at Canada's Wonderland (the country's largest amusement park), where some of us conquered our fears by riding the two largest roller coasters: Leviathan and Behemoth. We all enjoyed floating in the lazy river, and some of us discovered our new favorite dessert: Beaver Tails – – – a Canadian pastry made of fried dough rolled in cinnamon sugar.  Between all the amazing activities, we also have been having lots of laughs playing a game called "gotcha!" where each trip member tries to prompt someone else to say a specific word, but no one knows who has them or what word they should avoid saying.
Being in Canada did not stop us from celebrating July 4th with some USA-themed trivia. All the group members competed against our two Canadian trip leaders and beat them by a mile!
Armed with great memories of Toronto, we stopped for lunch at the picturesque Byward Market in Ottawa and then made our way to Quebec. Our first stop was Mont Tremblant, a ski village in the winter and a resort destination in the summer. This was a favorite stop for many of us because of the village's cute European-style, fun shops and restaurants, and amazing adventure activities. We navigated the village by gondola – soaring over colorful roofs and quaint chalets with the gorgeous lake and evergreen trees acting as a backdrop. The lake isn't just for pictures, as we spent a day going waterskiing, wakeboarding, or tubing. Between activities we relaxed on the beach, swam, played some volleyball and even went paddleboating. The fun just never stops on the Eastcoast Encounter so after a quick walk, gondola ride, and ski lift ride, we were at the top of the mountain again and rode the luge down! Picture bumper cars without the bumping, while winding down the track. Everyone drove their own cart and had so much fun racing each other!
We stayed in a gorgeous condo-style hotel which has amazing views. We took advantage of all the facilities and enjoyed their fitness center and outdoor pool – we even cooked family-style dinners in our units' kitchens. The dinners allowed us to shake up who we hung out with a bit and we all had some great conversations.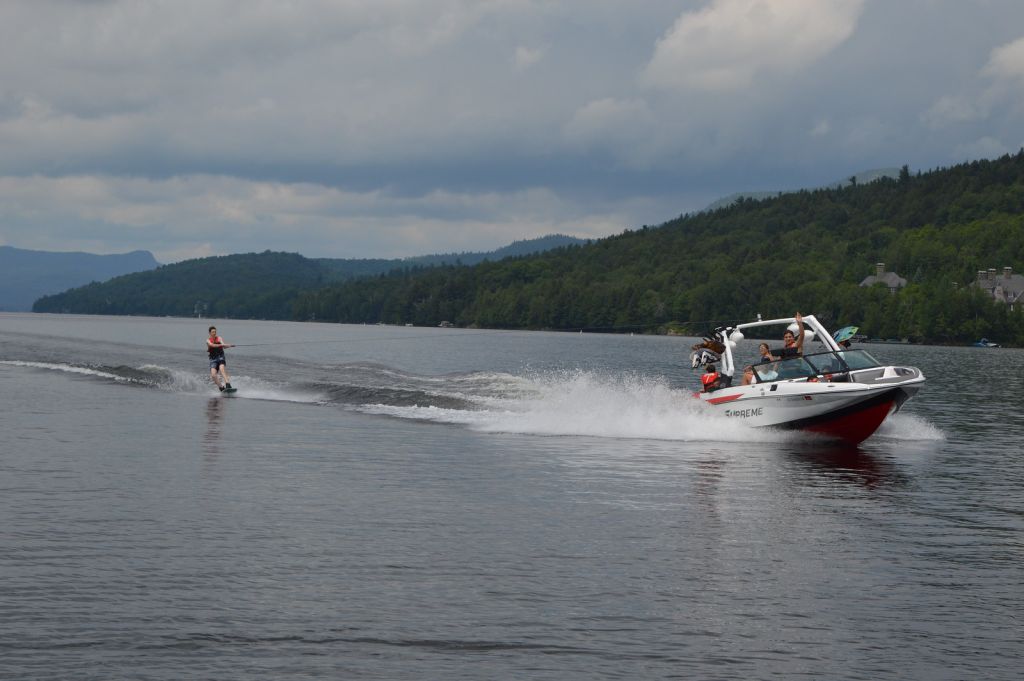 The next day, we whitewater rafted on the Riviere Rouge (Red River), which is red because of iron deposits in the water. With the help of our rafting guides, we learned the commands: easy forward, forward, hard forward, backward, left back, right back, and down. Each boat worked as a team to get their raft through the rapids and some of us got very wet, what a thrill! Our last activity in Mont Tremblant was the via ferrata in Mont-Tremblant National Park, which is a combination of hiking and mountain-climbing. Our guides taught us how to move our carabiners along the cables and steps to secure ourselves onto the mountain side, and many of us conquered our fears as we ascended over a picturesque view of the valley below. There was a small tightrope we walked across, a balance beam, and a swinging bridge!
On our way to Montreal, we stopped at a trampoline park where we all played trampoline dodgeball and practiced our gymnastics skills. We organized a Westcoast Connection versus everyone else game on the dodgeball court and eventually came out victorious! Before we knew it we were checking into the dorms at McGill University. Staying right downtown allowed us to walk around and really explore the city like locals. Our time in Montreal was jam-packed. Ice Skating was particularly cool (pun intended) because the experienced skaters in our group spent a lot of time helping the beginners get the hang of it. And we all appreciated spending a morning volunteering at the largest food bank in Montreal. Food was a big part of our Montreal experience – from poutine and smoked meat, to Orange Julep and dipped ice cream.  The food fest continued to Maine where we already enjoyed a lobster bake dinner!
We'll fill you in more next time…
Until Then,
The Westcoast Blogger
Does adventuring along the East Coast sound like an amazing summer to you? Check out the full itinerary for our 15-day and 21-day Eastcoast Encounter tour.