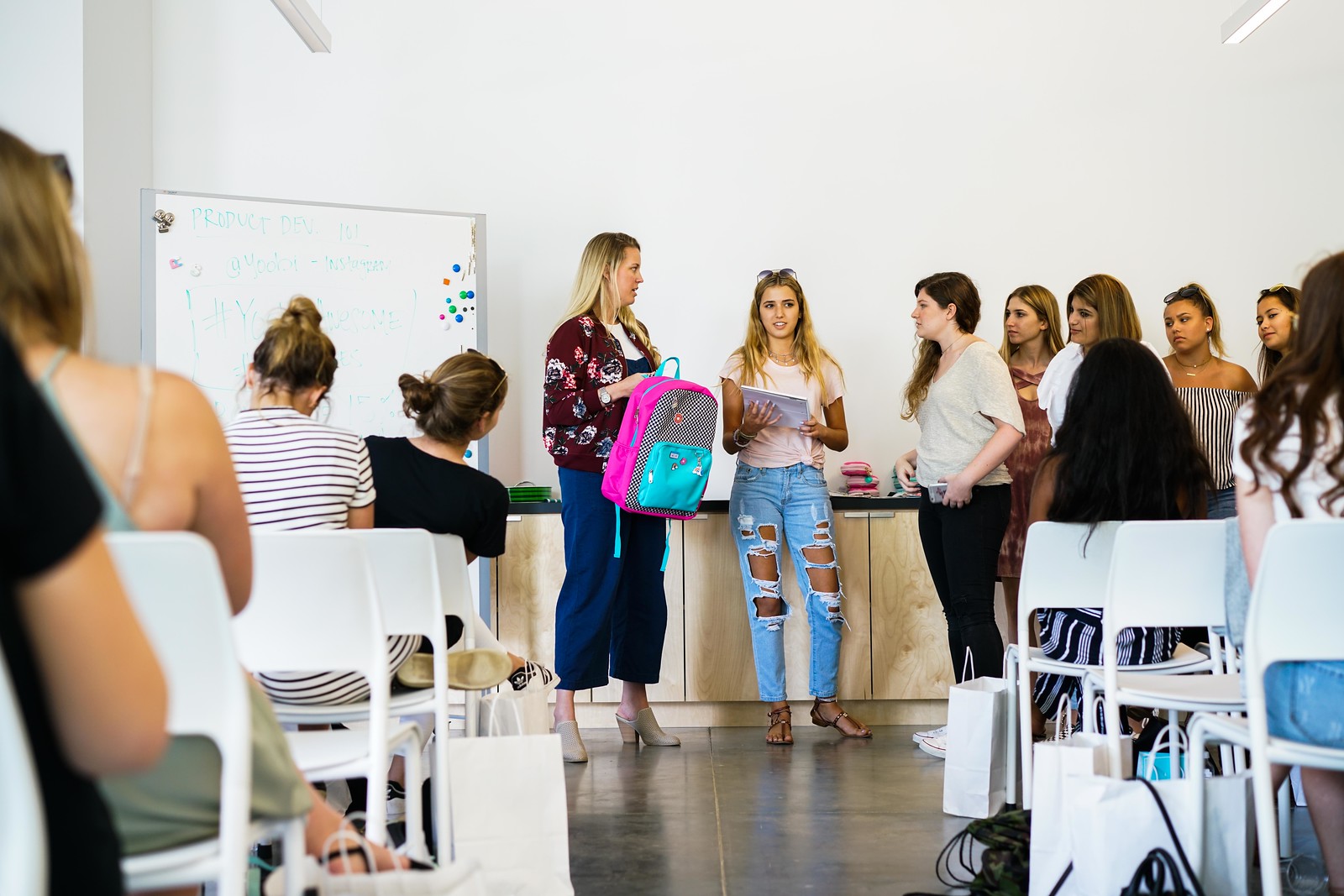 Our first full week of classes exposed students to excitement, fun, and the challenges of their chosen subjects.
Film students learned about how to direct actors and set up a shot to prevent confusion for the viewer. They began to prepare ideas for one- to two-minute short films, which will be filmed next week on the Universal backlot. Each film will be about a powerful moment in the character's life.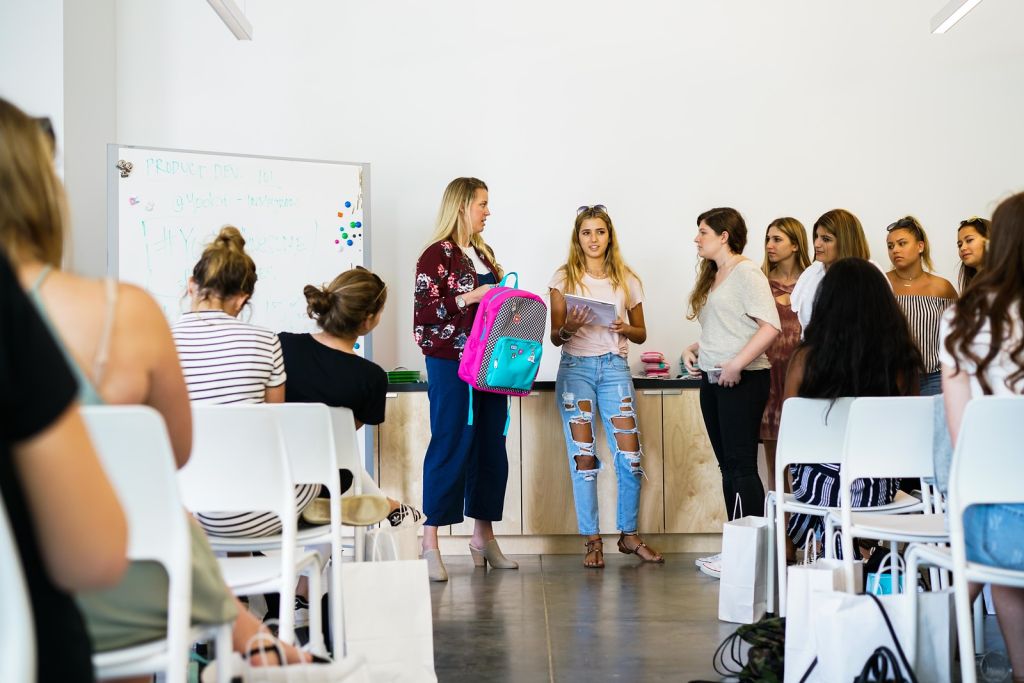 Our Seventeen Fashion Experience visited the Bikini Lab, where they designed mood trend boards to get an idea of what makes a style catch on. Winning groups took home their own bikinis! They also visited the Chaser Brand and learned how graphic t-shirts are created.
The Popular Mechanics program met up with M-Rad architecture, learnt about their unique approach to building design, and built a city mockup to see if they could match M-Rad's gusto at city planning. The next day, they learnt about aerodynamics, and got the opportunity to test it out at iFly indoor skydiving. You'd be amazed at what happened to water when it took a turn in the skydiving tube. The STEM students also celebrated Fred's birthday with an unconventional coke-themed birthday cake!
Full day community service visited a family shelter, where they cleaned, swept, and made the beds for the families. Our afternoon community service program played basketball with the kids and talked up some sports trivia. There were dance parties and EPIC games of duck, duck, goose. On Friday, they took a special trip to a food bank, where they helped sort over 8,000 pounds of food which will provide over 7,000 meals for people in need.
Cooking class at Sur La Table spent time whipping up a variety of dishes each morning. Stomachs were rumbling as the students described the dishes they created: cherry pie, chocolate éclairs, cheese puffs, monkey bread, chicken thighs, béarnaise sauce with roasted asparagus, and homemade ice cream with strawberry gastrique.
Psychology class paired new concepts on how the brain functions with fun activities to demonstrate what makes us tick. They created brain models out of Play-Doh and practiced multiple intelligences with Twister.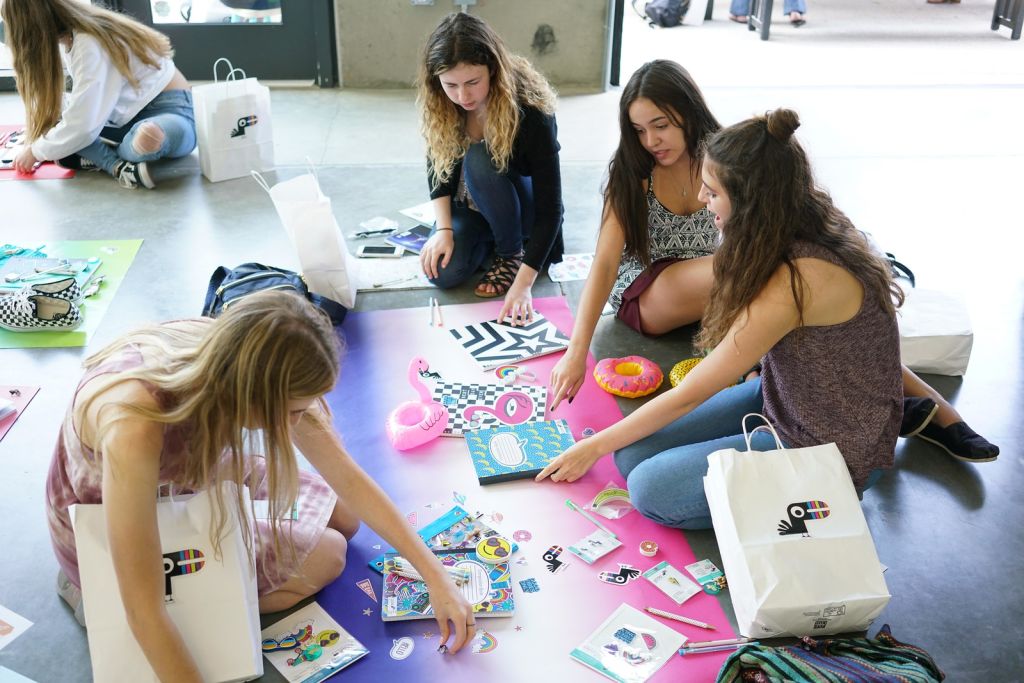 The entrepreneurship class has started speaking in business terms during daily group presentations, and has moved toward a final presentation about their new company. The group now has two companies focusing on translation products for differing markets, and two clothing companies trying to solve problems of weather fluctuation and tan lines.
Photography had the chance to visit Venice Beach, where they took dynamic pictures of the characters on the boardwalk. Later, they went to downtown L.A. to shoot some architecture, the fashion district, and the flea market. They presented their best snaps and got feedback on how to bring their shots to the next level.
College prep had an info session, tour of UCLA, and started talking about general applications.  They're learning how to spend senior year building a resume that colleges will love and the SAT class set their benchmarks by taking a PSAT test.
Classes are providing a glimpse into the college experience, but there is more to the program than that! The students got to participate in a Chinese auction, where everyone bid fake money on mystery "prizes". Some student's large bids 'won' them a round sitting under a table, while some luckier ones got the chance to pie a counselor! They also participated in a trivia night where questions featured information on the various places our students live, pop culture, and program member trivia. Friday night we visited a roller rink for a quick session of roller skating.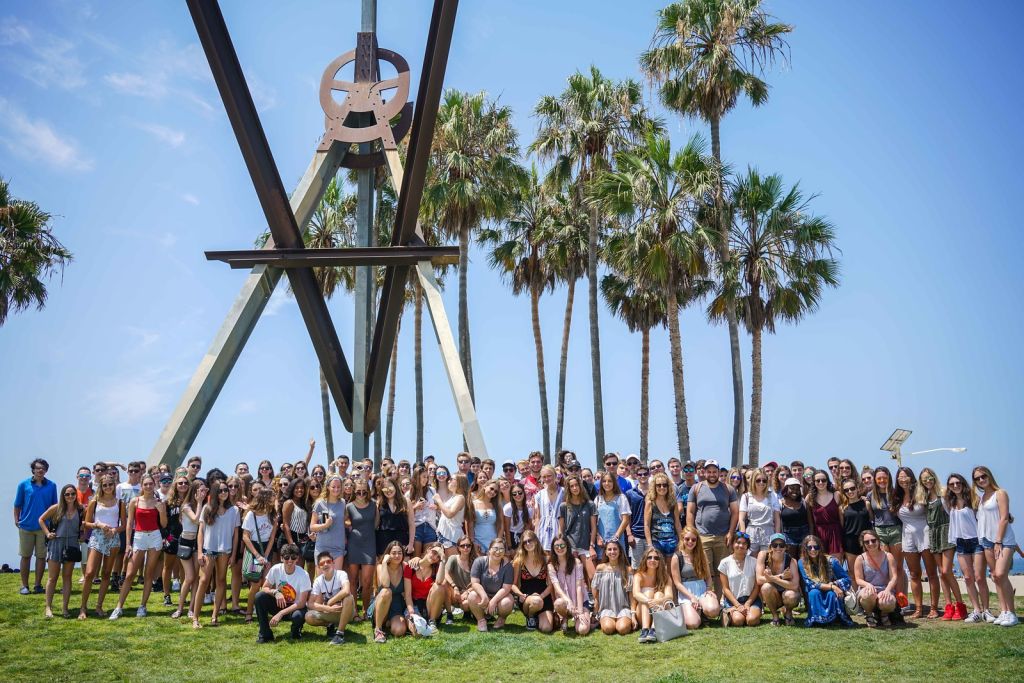 Our weekend kicked off with an informative session on the college admission process. After that, we boarded a bus to Universal Studios Hollywood. Students loved the Harry Potter attractions and Butterbeer; many ran there as soon as we got through the gates! In the afternoon, we took over more than one tram on the Universal backlot tour, where our film students will soon be working. We went to nearby Universal City Walk, where we saw the indoor skydiving tube the STEM class had visited. On Sunday, we went to Venice Beach to see the sights and pick up souvenirs. After the beach, we explored the shops and restaurants on Abbot Kinney, followed by a relaxing student-choice dinner in Westwood.
Of course, you can't visit Los Angeles without a few celebrity bump-ins! Early in the week, some students got pictures with Odell Beckham Jr. from the NFL's NY Giants. He even featured a photo of our group on his Instagram! One evening, Dwyane Wade was spotted casually shopping at the Westwood Target.  The Seventeen Fashion Experience girls were in for a treat when a recent cover model – Maddie Ziegler, well-known for dancing in Sia's music videos – happened to stroll into the In N' Out Burger where they were eating!
We are nearing the 14-day mark but it feels like we've known each other for years, and we're all probably a couple years wiser now, as well. As the days fly by, these teens are learning what UCLA and college life in general can provide — new friends, exciting experiences, and a whole lot of good times!
Until Next Time,
The Westcoast Blogger
Do you want to learn, prepare yourself for college, and have fun at the same time? Check out our 14-day, 21-day, and 28-day pre-college enrichment programs.