This second week together was fast-paced and we can't believe it's already come to an end! It kicked off in Los Angeles by spending our first day at Universal Studios. The majority of us couldn't wait to go to the Wizarding World of Harry Potter, and it was just as magical as everyone thought it would be! The kids drank the famous Butterbeer and some even chose to buy their own wands! After a fun-filled day of rides and exploring, we headed over to the City Walk, where we enjoyed a nice dinner at the Hard Rock Café. Just when we thought we had seen it all, Evan S. spotted famous rapper 21 Savage walking the streets! A bunch of our boys had the pleasure of taking a picture with him, and this was definitely a lasting highlight of our time in L.A.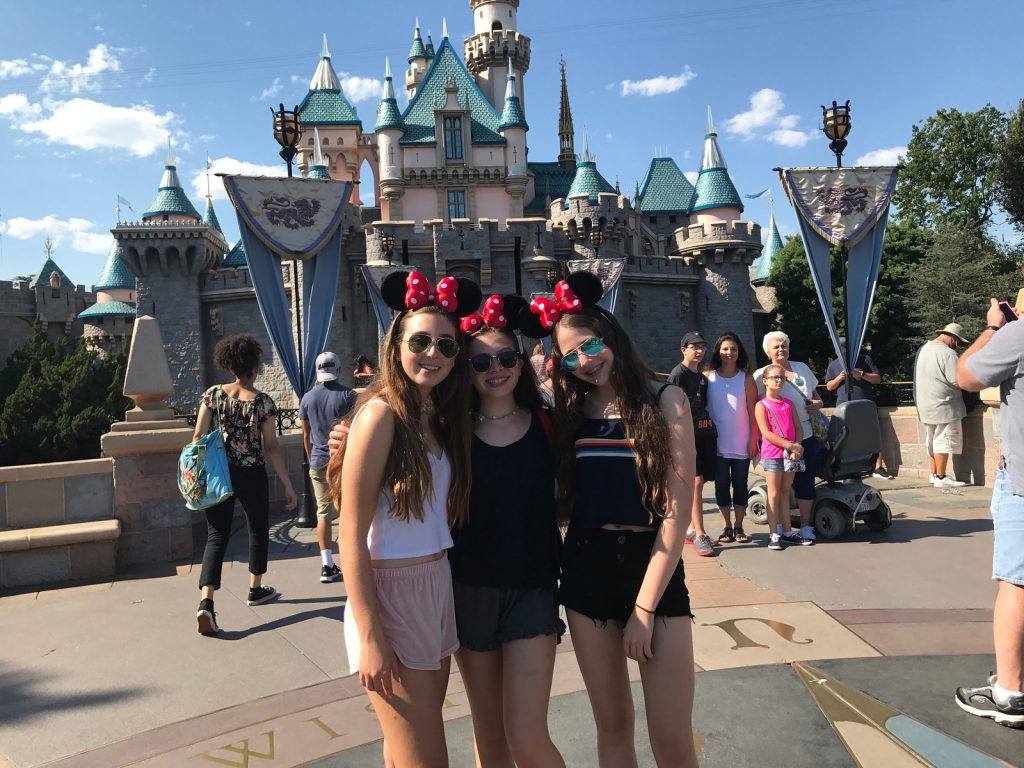 The following day in L.A. was spent exploring the city. The first thing we did was go to Venice Beach, where we got to see a street-dancing performance along the boardwalk. The rest of our day was spent living like real UCLA students, eating lunch at the local In 'N Out, hanging by the campus pool, and playing some basketball on the courts. After checking out the Hollywood sign and the Hollywood Walk of Fame, we were surprised by a beautiful projection picture show at Mann's Chinese Theatre. As part of its 90th anniversary celebration, a montage of movie scenes from various well-known films like Mary Poppins, Breakfast at Tiffany's, the Titanic, and others were projected on the outside of the building. We were so lucky to have been there to see it!
We also had the chance to give back to the community we were visiting. We volunteered at the L.A. Regional Food Bank, where our group was tasked with sorting through boxes of donated food. The staff at the food bank were impressed with how productive and enthusiastic everyone was, and we're so happy to share with you that we were able to sort through 19,000 lbs of food! We then went to the most magical place on earth, Disneyland! One of our members took on the role of 'tour guide' for his group and proved to be very knowledgeable about Disney history! We ended our day watching Disney characters parade down main street, and listened as Julie Andrews narrated the show.
We started our last day in L.A. by visiting the UCLA campus bookstore, where we all decked ourselves out in Bruins swag! Some of us bought the signature blue UCLA sweatshirt, while others opted for baseball caps.
We then made our way to the Museum of Tolerance where we learnt about segregation, women's rights, genocide, and played interactive ethical-thinking games. Everyone was very involved and independently chose to spend some time afterwards talking with the tour guide, Walter, about what they had learnt and his personal connection to the Holocaust. The museum was an enriching experience for our group, and we continued our discussion about important social and global issues on the bus ride afterwards. After, we walked around Rodeo Drive, where everyone was tasked with completing a photo scavenger hunt. Some of the challenges included: a picture of the nicest car, a picture in the fanciest bathroom they could find, and who could take the most selfies with a mannequin! A bonus challenge was to find a celebrity, which some of the boys claim to have done when they saw Jackie Chan walking to his car!
Our night ended off at the famous Hollywood Improv Comedy Club, where we met up with another of our tours and laughed the night away. After the show, we went to another famous L.A. hotspot, Diddy Riese, for some ice cream! We all got to indulge in some of the best ice cream sandwiches and shaved ice of our lives!
Next on our itinerary was San Diego, and day 1 was all about embracing the SoCal lifestyle. We went straight from UCLA to Moonlight Beach, where we were given lessons on how to catch some 'gnarly' waves. We all had a blast and everyone who surfed was able to get up and hang 10! We had a lot of fun and many of the trip members mentioned how much they were looking forward to surfing again in the future.
You can't visit San Diego and not go to the famous San Diego Zoo, so we headed there for our final day! We began by taking an open-air bus tour of the park and our group was lucky enough to be on the upper deck, which made for some great views of the animals. We saw elephants, giraffes, lions, cheetahs, and more! Some of our members fed the giraffes, while others roamed the park looking for that perfect picture with their favourite animal. After dinner, we played laser tag, where top spot was shared by Leah P. and Jarett G.
With Southern Cali all done, we are now in Vegas and will update you again soon.
Until Next Time,
The Westcoast Blogger
Interested in learning more about Westcoast Connection's tours through California & The Canyons? Check out our 14-day California Dreaming tour, and our 21-day tours for middle school and high school students!