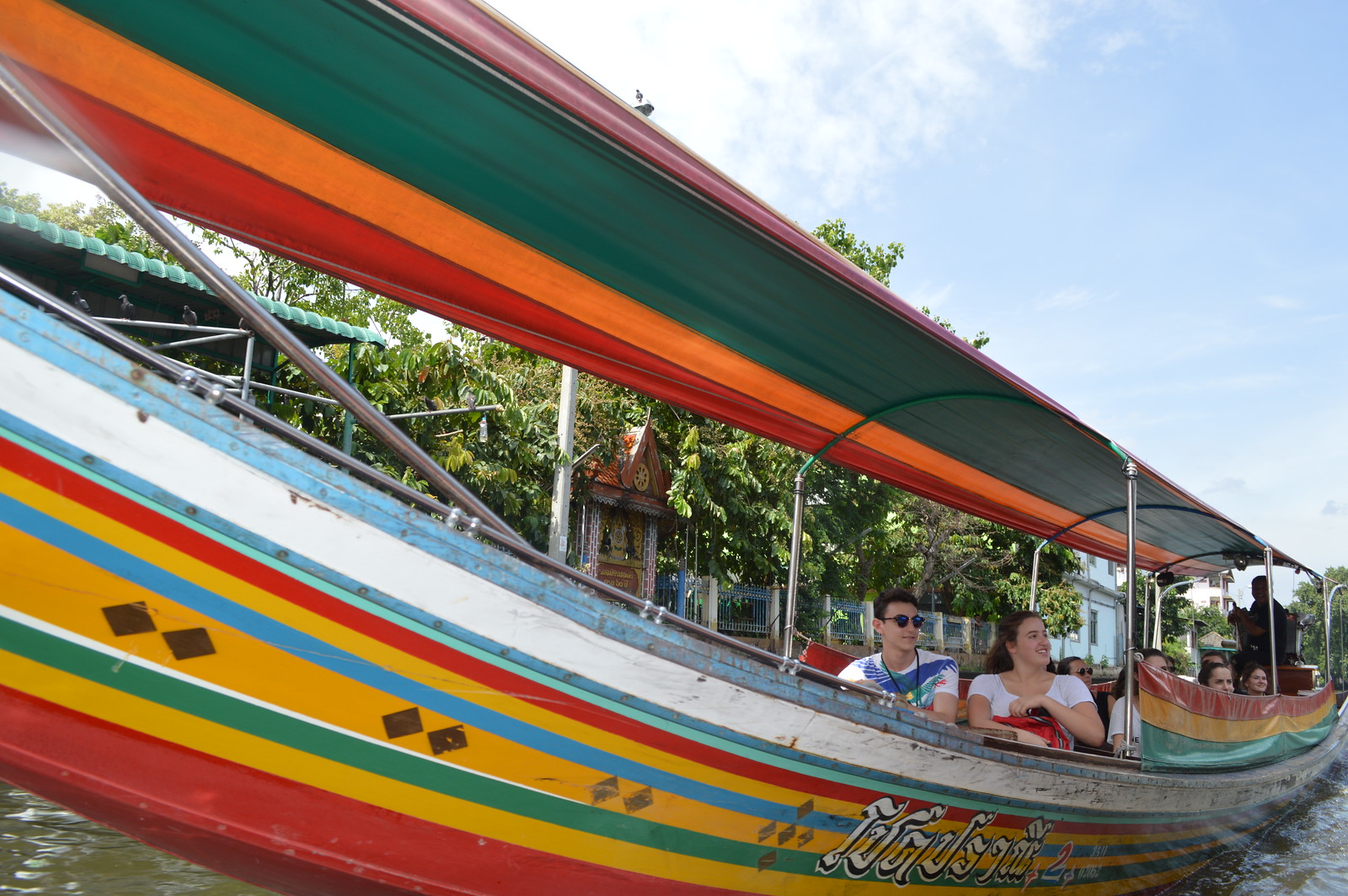 Sawasdee! We are thrilled to report back on an amazing start to our Thailand community service trip. We may have touched down only a few days ago but we already feel like one big, happy family.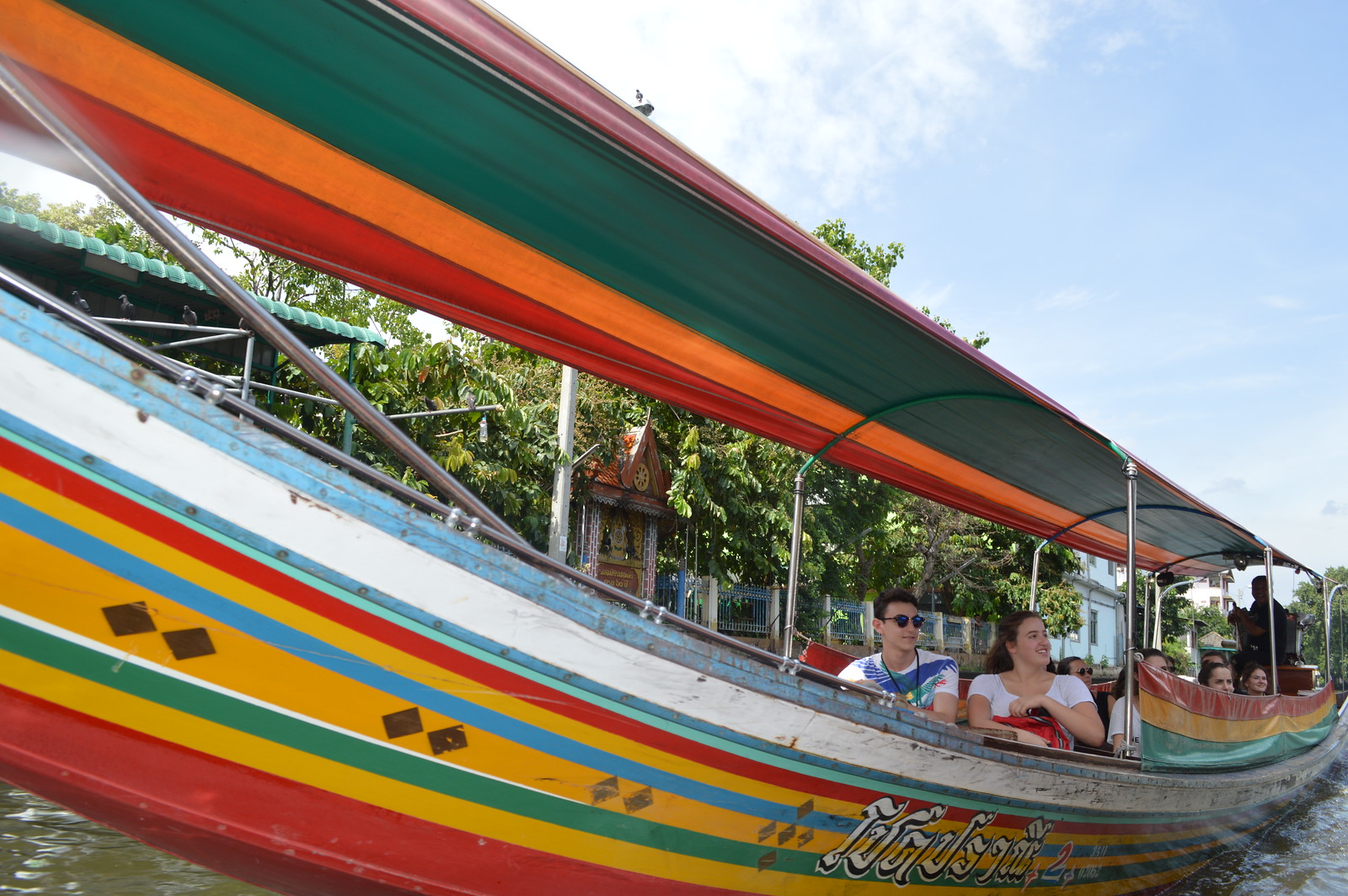 After landing and settling into our hotel, we got right down to exploring and seeing all the incredible sights of Bangkok. We hopped on the Skytrain and made our way for our first authentic Thai lunch, where we were treated to incredibly refreshing iced teas and coffees, before jumping even further into the culture. We learned how to make beautiful floral bracelets which we sported around our wrists all day. Our hilarious guides, Po and Pey, challenged us to purchase exotic Thai fruits from the market using the native currency, the Baht. Our palettes were delighted by all the new flavours as we sampled the different fruit. That night, everyone had a rejuvenating sleep and woke up bright and early to continue the adventure.
Clad in our brand new elephant-patterned pants, we set out to discover more treasures of Bangkok. We saw amazing sites like the Grand Palace, where droves of people gathered to pay tribute to the holy site on the national holiday. We explored the city more by canal river boat, where we spotted a HUGE water monitor! We stopped at a canal community and laughed over feeding the swarms of hungry cat fish, and then it was off to Khao San Road via the famous Thai tuk-tuks! Carly, one of the trip leaders, got her hair braided in cornrows and she's rocking the look! Many of our trip members decorated their hands with gorgeous henna designs. We put our bargaining skills to use and picked up all kinds of awesome souvenirs. Everyone passed on the fried scorpion, maybe next time!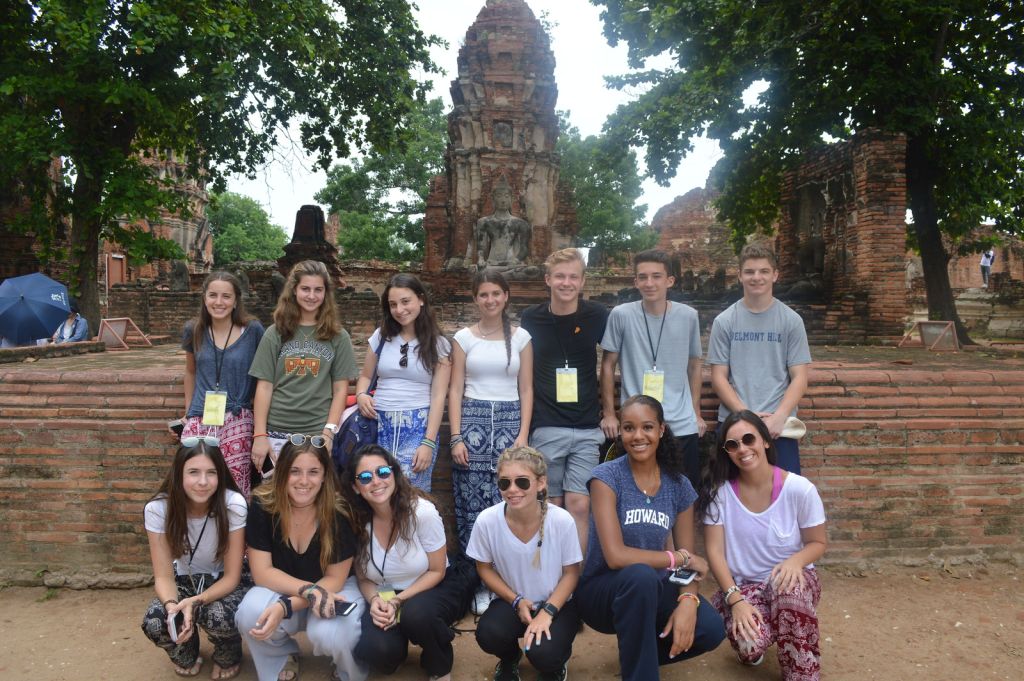 On Monday, the journey continued as we immersed ourselves into the rich history Thailand has to offer. Every day, we are introduced to a new Thai delicacy and today was no exception. We watched as locals prepared a traditional dessert called roti, and some of our trip members got to get their hands involved and help in the process. Our guides quizzed us on what we've learned so far and Lexi walked away with some awesome prizes – nailing many of the questions and nearly mastering counting to 10 in Thai. Some bonding time at the rooftop infinity pool was the perfect way to relax after all the sightseeing.
Tomorrow we fly to the northern part of the country. Everyone is very excited to start our community service work and to see what this next chapter has in store for us!
Until Next Time,
The Westcoast Blogger
If Thailand is on your bucket list, check out all the details for this Thailand trip and get ready for a Thai experience of a lifetime!