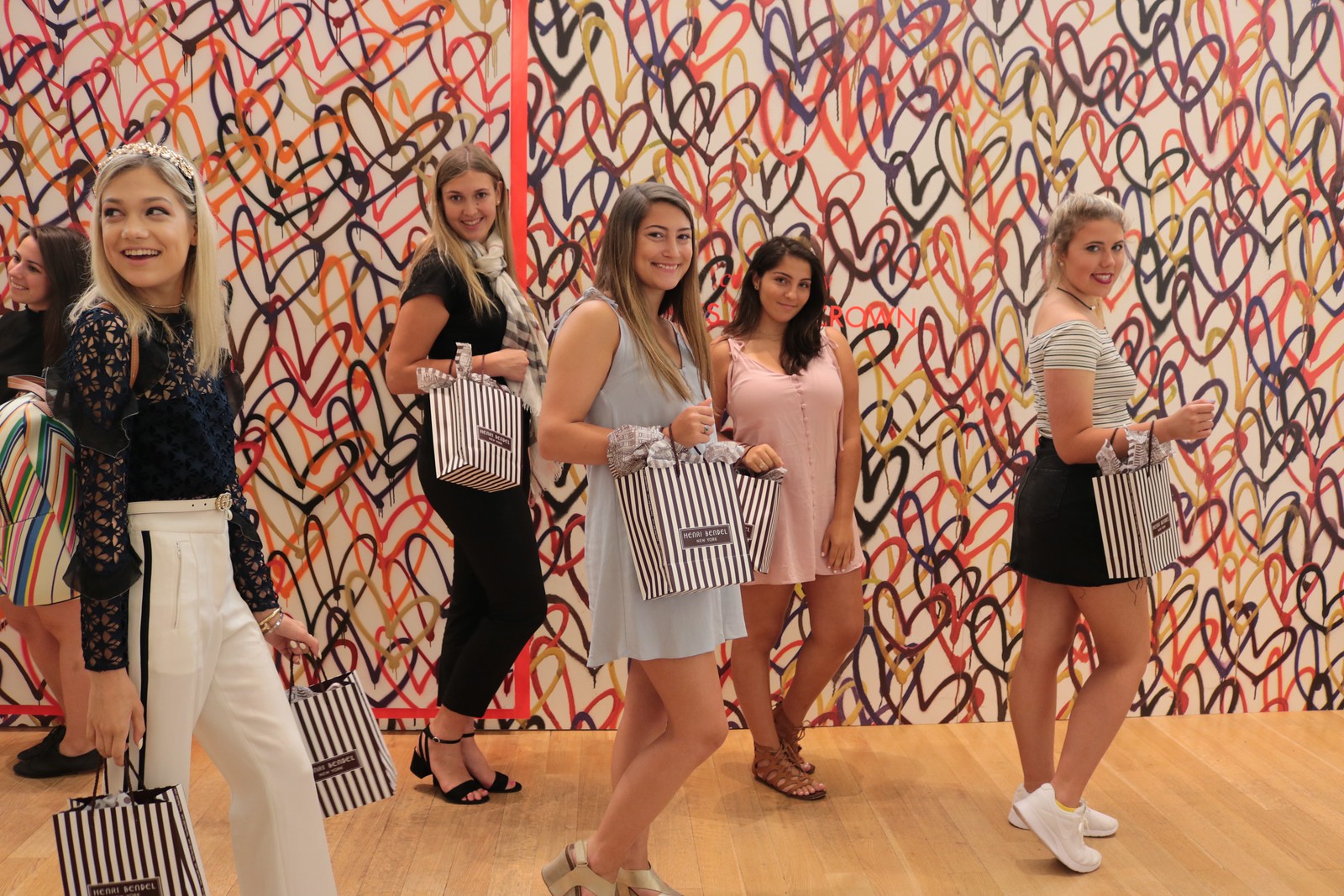 Our Seventeen Fashion Experience began with a family-style dinner in Times Square, where the girls shared delicious Cuban food and discussed their excitement for the two weeks to come. After dinner, we toured Midtown Manhattan and Times Square on an interactive theatre-style bus that transformed the streets of New York City into a stage. Rappers, ballerinas, and tap dancers greeted us at each landmark along the tour, while comedians on the bus shared history and fun facts about the city.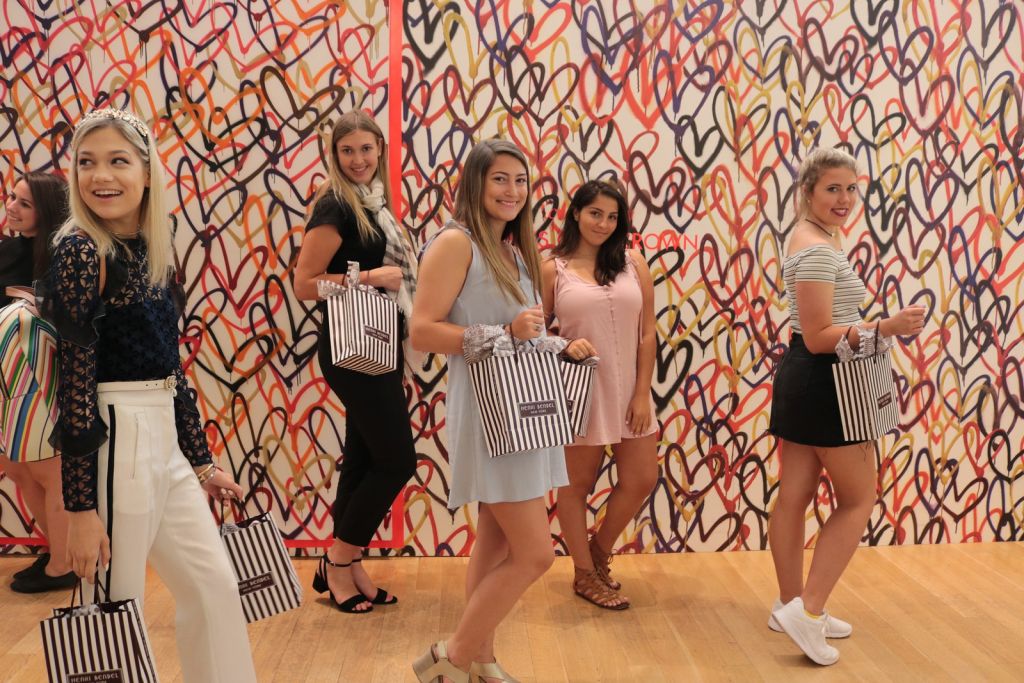 Day Two started with an exciting breakfast at Hearst Tower in which the girls were given the opportunity to mingle with the editors of Seventeen. During this time, the editors answered questions about the fashion industry, the life of a magazine editor, and tips on finding an awesome college internship. After breakfast, the group congregated in the Hearst Theatre where they were welcomed by President of Hearst Magazines, David Carey. Throughout his speech, he emphasized the importance of doing your homework and being proactive and prepared. He was so impressed by the thoughtful and detailed questions that the girls asked him and explained how valuable asking questions is in a professional environment. Next, the girls heard from Donna Kalajian Lagani, Publishing Director of Cosmopolitan Magazine. After seeing that the majority of our girls came on this trip on their own, she told us that we embody the spirit of "fun, fearless, females", which Seventeen's sister magazine, Cosmopolitan, promotes. She confidently told the girls that women can do and be anything they want as long as they work really hard, and by participating in the Seventeen Fashion Experience, our girls are well on their way!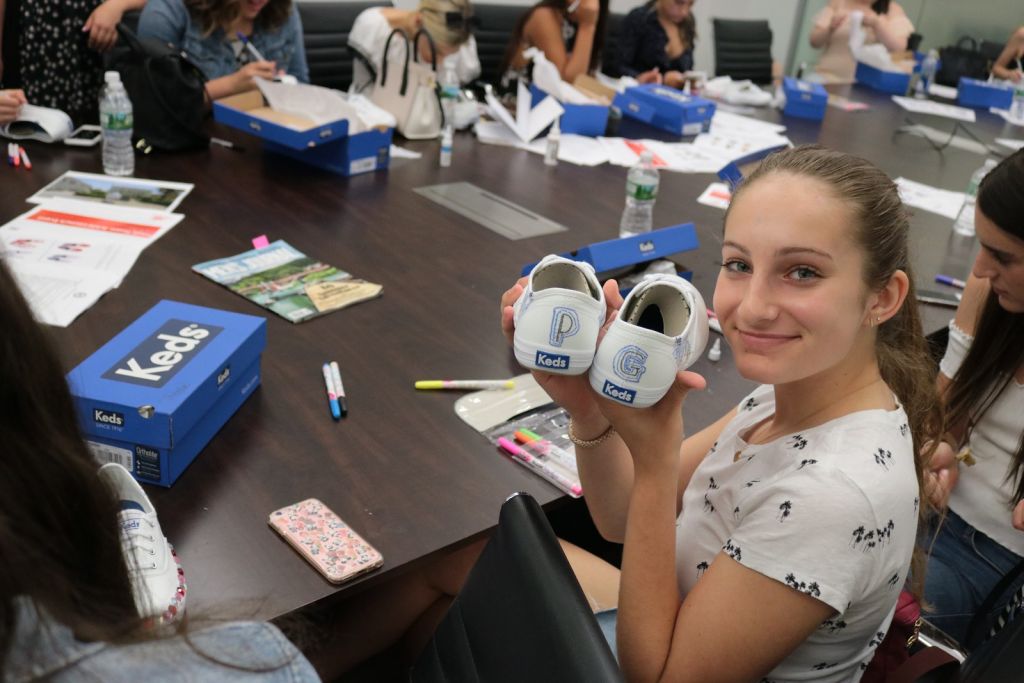 Our third day in New York City began in the Hearst Theatre where we met with the executives of athleisure brand Terez, which was started by best friends Amanda Schabes and Zara Terez. The girls were so inspired by the brand's story. Our trip member, Carrie, reported some inspiring and interesting details from our visit with the women of Terez:
As I walked into the Hearst tower theater, I was immediately struck by the presence of six incredibly fashionable females seated on the stage. All 40 girls sat down, dug into their bags to search for their notebooks, and eagerly awaited for the women to speak about their renowned fashion brand, Terez.
Amanda Schabes, the cofounder of Terez with her childhood bestie Zara Terez (they met in clarinet class when they were younger!) began by familiarizing her teenage audience with the company's mission. It is not only an athleisure brand aimed at girls of all ages, but also a positive movement filled with authenticity and positivity. Terez's designs are original, imaginative, and vibrant, engineered for an active lifestyle (although Amanda makes it known that "netflix and chilling" in their famous leggings is also acceptable). However, the well-known brand's future did not always look bright: Zara used to make handbags in her basement and spent exorbitant amounts of money trying to get her name out in the world through trunk shows. Thankfully, at an accessories trade show in the heart of New York City, executives from large department stores including Neiman Marcus and Urban Outfitters finally recognized Zara's talent: they overwhelmed her with orders for her printed makeup cases!
Zara analyzed what was driving the interest and helping her brand take off: her unique prints! She decided to make a legging collection with the same printed fabric, hoping that children would be open to her "craziness." In order to reach success, she used Instagram and other social media as a means to finding out what her followers wanted to see. This inclusive environment she created for consumers is what made the label popular and buzz-worthy. It speaks to all types of girls; there is something for "a girly girl, a tomboy, and a goth girl who loves to wear black" Amanda says, gesturing to her chic black leggings with mesh cutouts. Amanda also assured the audience that the brand has been successful because it is built on "family, love, and trust." Terez's courage to take risks (they entered the world of women's athleisure in 2014) is what propelled their company even further, earning them a loyal celebrity following (Lena Dunham, Kelly Ripa, Sophia Bush…the list goes on!). Sam, who is in charge of all of Terez's social media pages, always makes sure that the brand's message is represented across all channels.
As for the future of Terez, they are constantly looking for new partnerships to further advance their brand. Miley Cyrus is definitely on their radar: "she's all unicorns and rainbows, and we're all unicorns and rainbows!" Sam exclaims. Terez also is looking for more Disney products, since they enjoyed their collaboration with Trolls so much. And (drumroll please)…they are thinking about opening a flagship store! Amanda asserts that if they opened a store, it would surely embody the aura of their brand: "we would go all out…we could have dragons spitting fire!" For now, Terez can assure its customers one thing: they will spread joy and make people feel comfortable and confident in what they are wearing for as long as they can.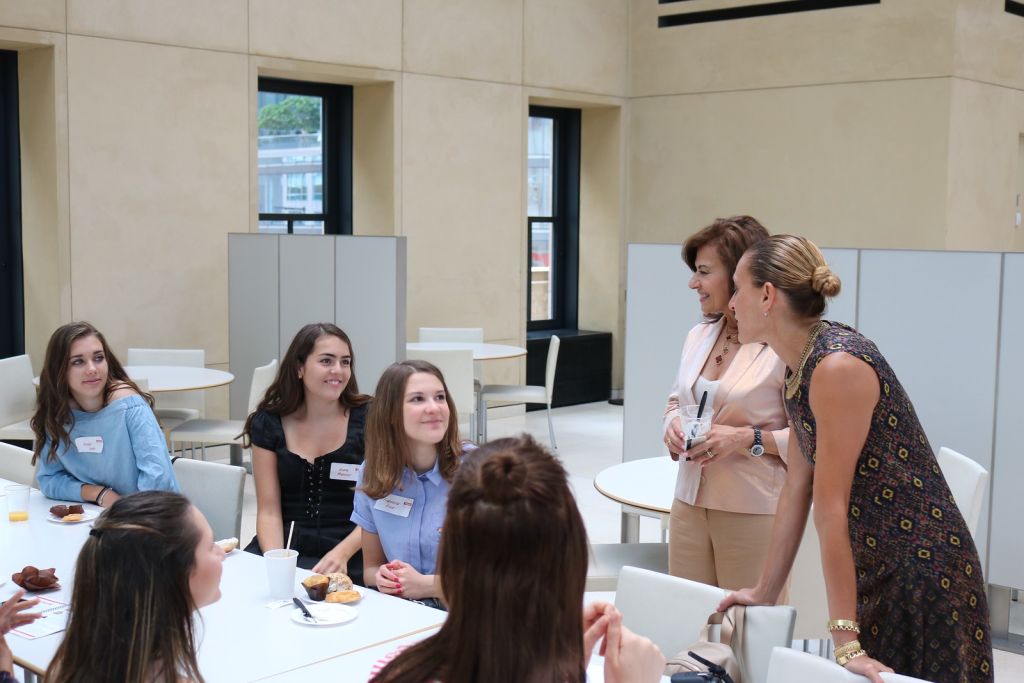 After speaking with the ladies of Terez, our trip members heard from the Seventeen Digital Team. The panel of Seventeen.com editors shared their journeys of how they got to where they are today and emphasized the importance of diversifying talents. They explained that in the digital and social media world, they all act as multimedia producers. The editors encouraged the girls to get any experience they can, as all experience is good experience in diversifying talents. The panel was so excited to get feedback from our group about their favorite celebrities, what they like to see on the Seventeen Instagram account, and their preferred social media platforms.
Day Three ended with a trip to the Top of the Rock where the girls snapped photos of the gorgeous views and even witnessed a marriage proposal on the observation deck! It was so exciting!
The next morning, we met with the Henri Bendel team in their Fifth Avenue flagship store. On the upper floor, there was a glass room set up for the girls with gift bags on each chair. Delicious macarons greeted us at the front of the room. Inside the gift bags were signature brown and white striped Henri Bendel makeup bags – SO cute! The Henri Bendel executives then shared some tips for future interns, encouraging the girls to always take notes and ask lots of questions – two skills that are being developed on the Seventeen Fashion Experience! After hearing from the Henri Bendel team, the girls were given the opportunity to speak with the executives. It was an exciting morning to say the least!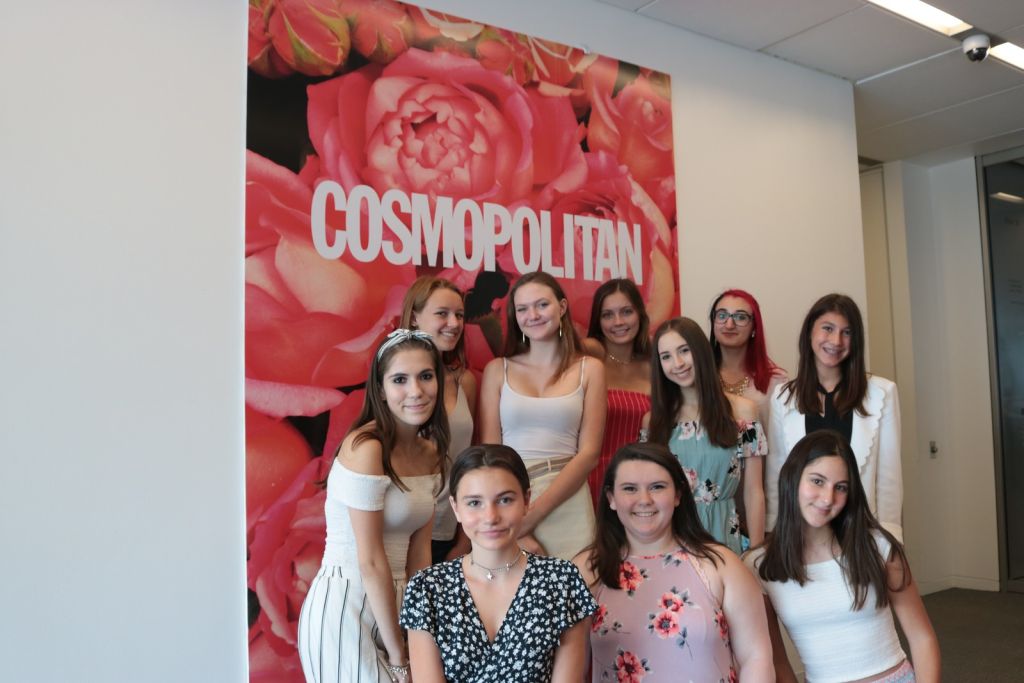 Following a delicious lunch at the Food Hall in the legendary Plaza Hotel, we headed back to Hearst Tower and met with the Seventeen editors in the Seventeen and Cosmopolitan offices. The girls got a chance to speak with editors from the beauty, fashion, art, and features departments. The editors welcomed all feedback about what the girls like in the magazine and what they would like to see in future issues. After hearing that many of the girls would like more political stories in the magazine, the editors looked at each other and nodded their heads in agreement that they had a story for their next issue. The art department even showed the girls an exclusive sneak peek of the upcoming issue of Seventeen!!
The next day began with a trip to public relations firm DKC, where we were greeted by fresh NYC bagels. The DKC staff shared the ins and outs of the PR industry and explained the value of a celebrity and social media influencer endorsement for brands. They then provided the girls with white sneakers from one of their most important clients, Keds, and encouraged the girls to decorate them and express their creativity. What a fun activity to kick off Day Five!
We then headed to Cotton Inc. where we learned about the importance of trend forecasting – and even got to indulge in a delicious candy bar! The girls then created Pinterest-esque style boards to predict future trends and become style forecasters. Today's fabulous company visits definitely got the girls amped for more hands-on activity in the days to come!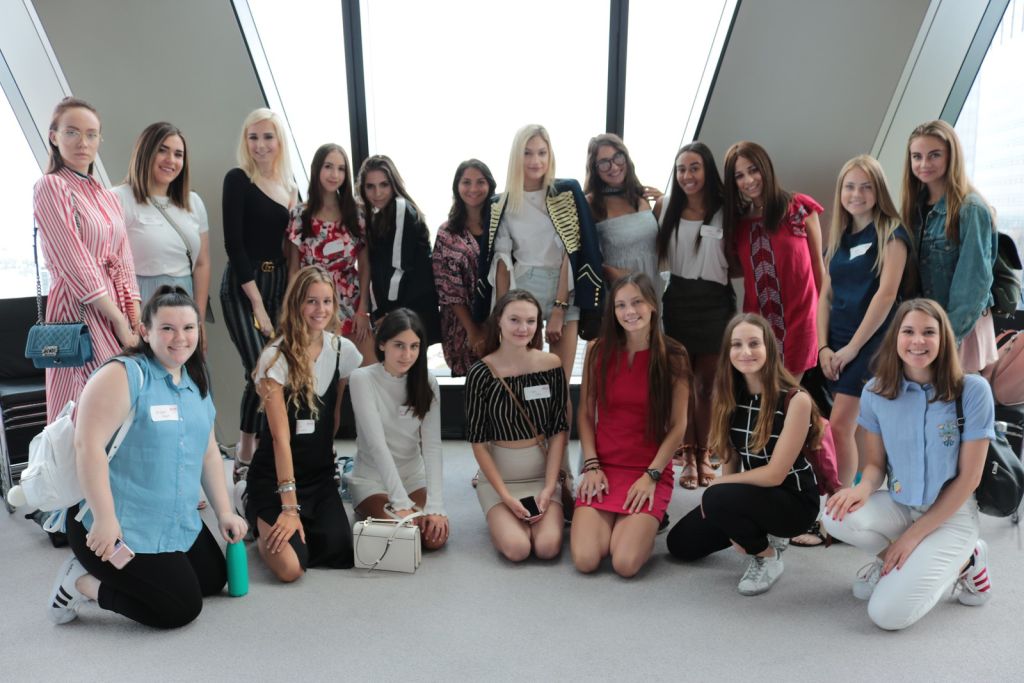 Wow – we can't believe the first week is already coming to an end! After a jam-packed week meeting with New York City's brightest fashion executives and magazine editors, our weekend kicked off with a trip to the Flatiron District where the girls enjoyed authentic Italian pasta and pizza at Eataly, delicious treats at the Nutella Café. We then headed over to the museum at the Fashion Institute of Technology where the girls got a taste of the FIT campus and saw some awesome garments, including one by Alexander McQueen. Next up was a visit to the 9/11 Museum and Memorial sites where we paid our respects to all those involved in and affected by 9/11. Our night concluded with a trip to Regal Battery Park cinema where we watched Spiderman: Homecoming and Despicable Me 3.
This week has been mind-blowing to say the least. Everyone has been living the dream as fashionistas in New York City and are truly having a blast exploring what the big city has to offer! We can't wait for another fashion-filled fun in the week to come. Looking forward to catching you up soon!
Until Next Time,
The Westcoast Blogger
Explore Westcoast Connection's summer fashion programs for high school students and starting planning your own stylish adventure!