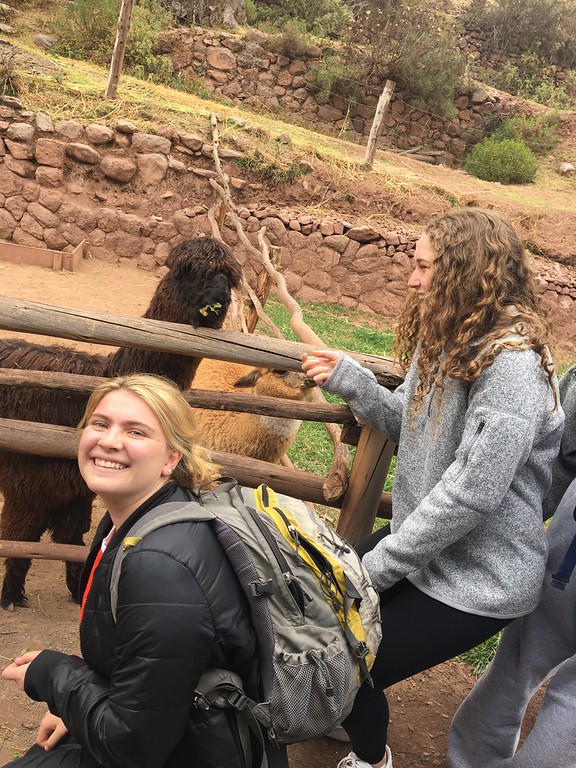 The first few days of our trip have been amazing! We had a great time exploring the city of Lima and even made friends with some pigeons that were flying in formation above the convent of San Francisco. We ate some traditional Peruvian chicken and French fries as we got to learn about each other through some fun games!
We then flew to Cusco, where we got to meet and feed a few of our new best friends – alpacas! Some of them were more excited than others and made some noises as we approached. We went to a local marketplace where we saw some locals weaving llama and alpaca wool into beautifully-colored blankets, and we got to see how they dyed the wool using leaves. One of our trip members has been practicing his Spanish while speaking with all the native Peruvians and is even learning some new words. As we walked the streets of Pisac on our way to lunch, we loved seeing all the beautiful colors and aromas that filled the market. At lunch, a few of us decided to try roasted alpaca, with the best description being: "It tastes like steak, but better!" After a fun travel day, some trip members decided to play Settlers of Catan back at the hotel.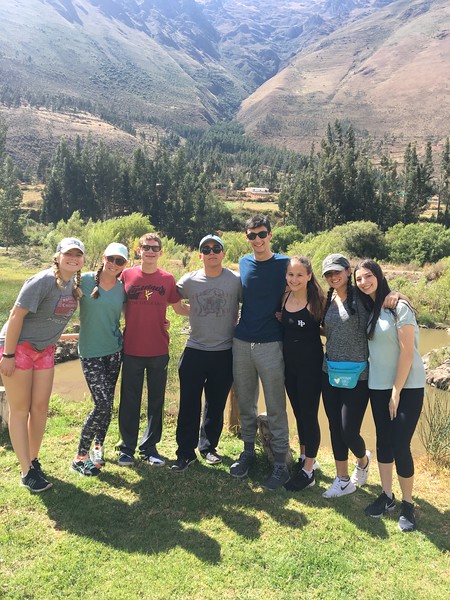 We also got to experience white-water rafting on the Vilcanota River in the beautiful town of Ollantaytambo. Rafting was so much fun and, with the permission of our guide, some of us even jumped off the boat to swim in the river. After rafting, some of our trip members went to see a local festival to celebrate Inti Raymi, the Day of the Sun, which we learned is an important holiday for the Incans. In Ollantaytambo, there was a performance on the massive Inca Steps on the side of the mountain. While watching the dancers in the beautiful colors, there is only one word to perfectly capture that experience: "WOW!"
Another one of our adventures was the fun bike ride through the farms and mountains of Ollantaytambo. On the bike, we rode past animals, trains, and through grassy fields. Trip members finished the ride with huge smiles on their faces, excited and so proud of themselves. "We did it!"
We also had a great time learning and experiencing the way of the people of the Cachiccata-Sillkinpunta Community. We ate meals with them and got to enjoy the traditional Peruvian meal of Pachamanca, in which the meal is cooked in an actual hole in the ground. Trip members were placed in charge of taking the veggies out of the ground after they were cooked. We also helped make clay bricks with the people of Cachiccata – Sillkinpunta to build a house for their guinea pigs, which is a big part of the culture here in Peru. We learned that the guinea pig is not kept as a pet here, but instead is used for medicinal purposes and even eaten as a delicacy. The trip members remarked how they are so excited to learn more about Peruvian culture, see Machu Picchu, and maybe even try Cuy (guinea pig) when we get to Cusco!
Until Next Time,
The Westcoast Blogger
Interested in taking your own Westcoast Connection trip? Learn more about our first 11-day, second 11-day, and 21-day trips to Peru, Ecuador and the Galapagos Islands!