¡Buenos días de las Amazonas! No podemos creer que pasemos casi una semana juntos. Teníamos muchas experiencias divertidas e interesantes en Perú.
Nuestros estudiantes aprendieron mucho sobre Lima, el capital de Perú, de nuestro guía de la cuidad. Vimos una iglesia, la plaza central, y aprendimos la jerga de Perú también. No estarán sorprendidos si regresamos al América de Norte hablando como peruanos verdaderos.
En Iquitos teníamos la oportunidad para hacer un poco de servicio. Limpiamos un vecindario y conocimos a muchos niños en la escuela que está cerca. Ellos nos compartieron como funciona su escuela. Nuestros participantes se sentían agradecidos para tener tantas buenas cosas en su vida y querían hacer más para la gente allá.
Después de Iquitos, ¡estábamos preparados para entrar la selva! Pasamos cuatro días en las Amazonas haciendo muchas cosas: pescamos pirañas, nadamos con delfines y vimos muchas ranas, serpientes, monos y osos perezosos. También hicimos un día de servicio. Teníamos mucho orgullo cuando salimos por barco y pudimos ver las redes de mosquitos que hicimos para la escuela.
Como pueden leer, hicimos mucho esta semana. La semana próxima vamos a Iquitos otra vez, Valle Sagrado y Aguas Calientes, ¡dónde está Macchu Pichu, para hacer más memorias increíbles juntos.
¡Hasta luego!
El blogger de Westcoast
Good morning from the Amazon! We cannot believe that we've already been together for almost a week, and we have so many fun and interesting memories to share with you!
We learned a lot about Lima, the capital of Peru, from our tour of the city. We had the opportunity to see a church and the city's central plaza, and we picked up some Peruvian slang on the way. Don't be surprised if we return to North America speaking like true Peruvians!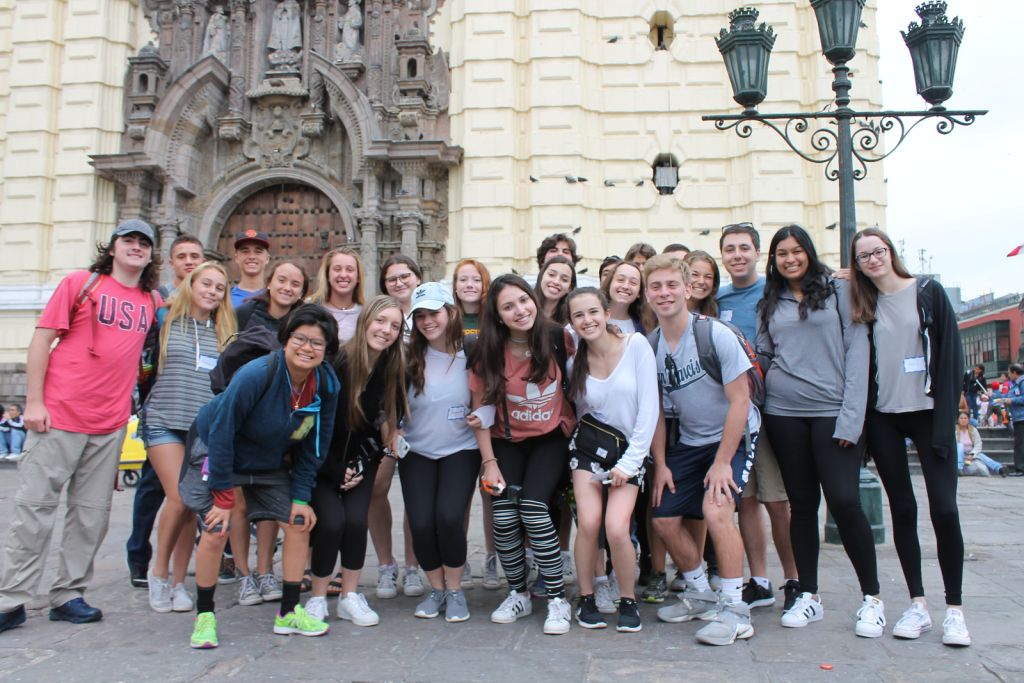 In Iquitos, we started our community service by cleaning a neighborhood and meeting many local kids who attended the nearby school. They shared with us how their school operates, and we all felt very grateful for the chance to help out.
After Iquitos, we prepared ourselves to enter the jungle! We spent four days in the Amazon fishing for pirañas, swimming with dolphins, and pointing out the many frogs, snakes, monkeys, and sloths that we saw all around us. We also had a day of service, creating mosquito nets for the school. As we were leaving, we all felt so proud of the work we had done.
As you can see, we did a lot this week. Next week we're going to Iquitos again, Sacred Valley, and a town called "Hot Waters" (where Machu Picchu is located) to make more incredible memories together.
Until later!
The Westcoast Blogger
Have you always wanted to explore the wonders of Peru, such as Sacred Valley and Machu Picchu? Click here to learn more about our Peru 28-day community service trip!