Our arrival in Madrid was smooth and exciting. As soon as the luggage was dropped off, the group headed off to CentroCentro and from its tower took in panoramic views of Madrid in the cool breeze and clear skies.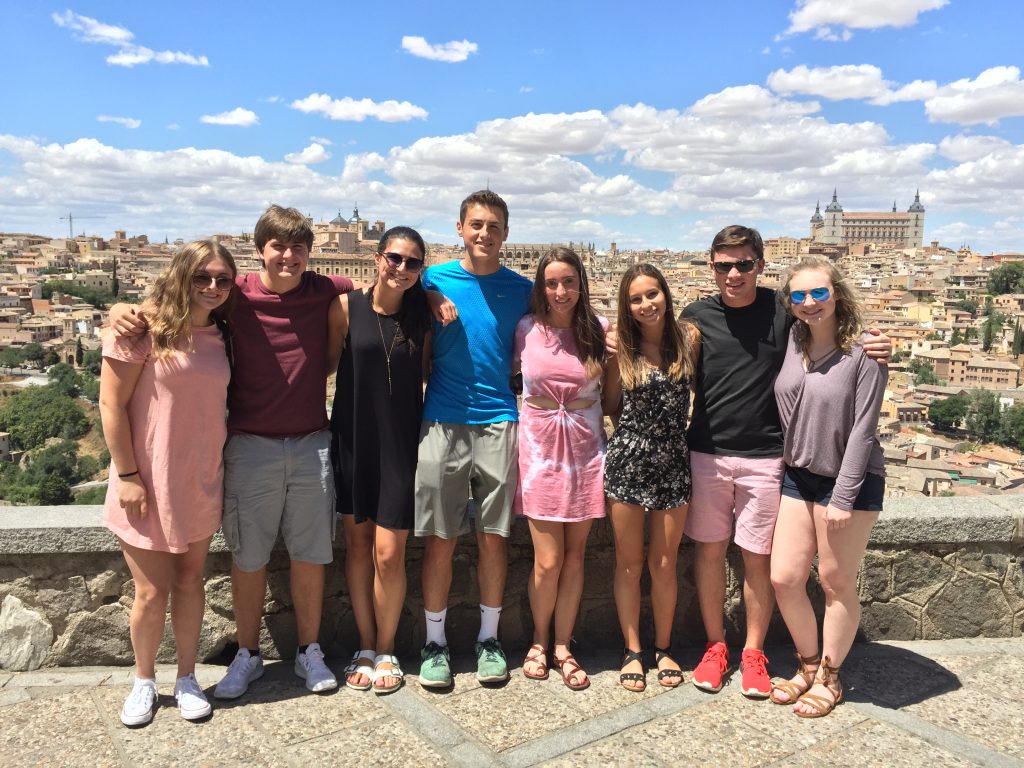 For our first meal we sampled different tapas and jugos (juices) at the upscale San Miguel market. Nothing better than a full stomach to power through the walking tour of Madrid we then embarked on, discovering the different neighborhoods, learning about its history and familiarizing ourselves with its royal dynasty.
We continued our 'foodie' tour of Spain by enjoying typical Spanish meals at Mesón Don Carnal. Of course, the first day in Madrid wouldn't be complete without churros at world-famous Chocolateria San Giles, where even hungry teens weren't able to finish the sweets offered to them!
The following day, after discovering the local district in groups, we went to a new food market, La Platea, where we had another opportunity to enjoy the wonders of Spanish food culture. Our first official museum visit followed at the Prado museum, which is the Spanish equivalent of The Louvre, where Spanish artist La Goya's paintings can be admired. Then we were off to the former Royal Gardens turned public parc, El Retiro, to admire some funky-looking trees, a crystal palace, perfectly-manicured lawns and – most importantly – to enjoy a rowboat tour of the lake. Needless to say, some splashing kept anyone who might have been tired awake!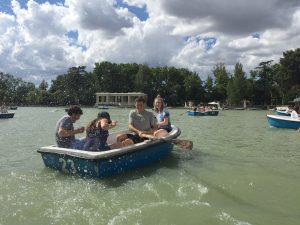 On the way back, few could resist their first taste of Spanish gelato (before supper, shame on us! ☺️). After some rest, we headed to La Favorita, where we were seated in a private room and sung to by some of the best opera singers we have ever encountered in our lives! It was absolutely mesmerizing. The delicious food only made this experience better.
On our final day in Madrid, the group got to feel extra luxurious by visiting Madrid's Royal Palace, where the kings and queens of Spain used to take up residence. Room after room, we were in awe of the colors, the textures and the art all around us.
Afterward, we were off to Toledo, where we were thrown back into the Middle Ages, in a city where Jewish, Muslim and Christian cultures coexisted harmoniously for many centuries. After learning more about the Jewish heritage of this town-upon-a-hill, and being amazed by what was once Europe's most beautiful cathedral, we ate a quick dinner and returned to Madrid to attend a free outdoor concert at the family-friendly World Pride Madrid festival. Even though we didn't know the artists on stage, the energy of the crowd and the thumping of the bass had us swaying our arms as much as any local! Needless to say, it was the perfect ending to a great start in Spain's capital!
Until Next Time,
The Westcoast Blogger
Do you want to be part of a Spanish adventure? Check out our 12-day, 18-day, and 28-day trips for the adventure of a lifetime!