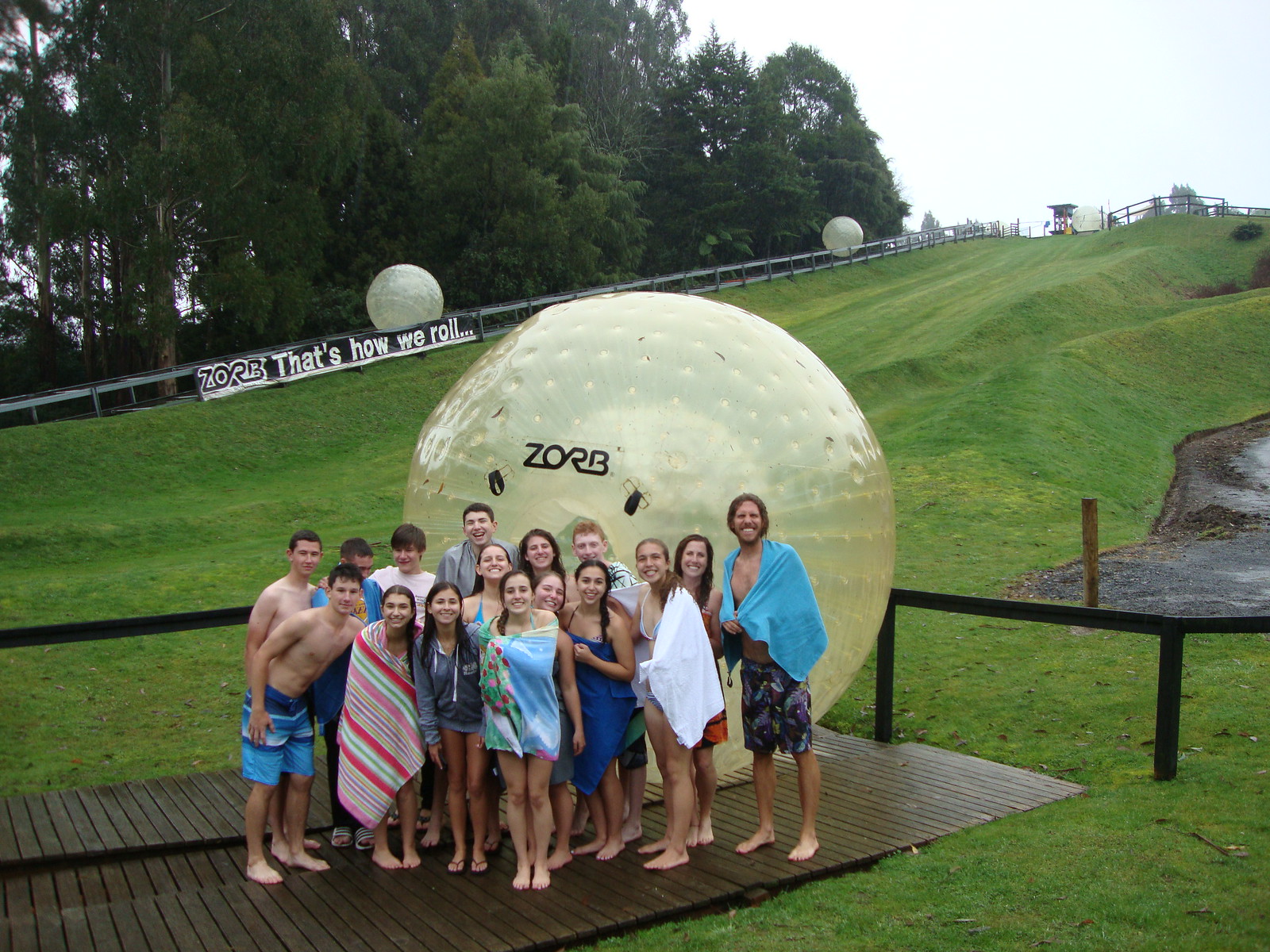 Kia Ora from New Zealand! We are having a wonderful time and wanted to let you all know about the first week of our adventure.
We arrived in Auckland and were greeted by our tour guide, Lego. She showed us some of the awesome sights, like Mission Bay Beach, which has some great views of hills and volcanoes; Mount Eden, which has beautiful views of Auckland and a giant crater; and the city of Auckland itself. We ended our day with a walking tour of the city and then went out for an Italian dinner and celebrated Ally's birthday!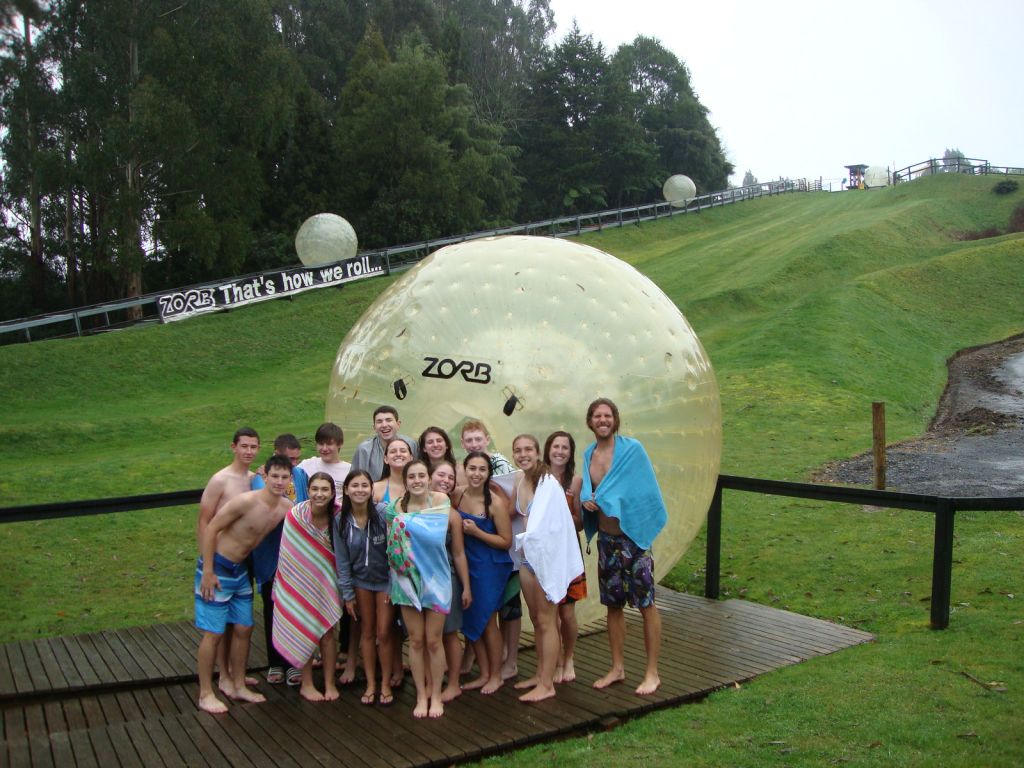 Following our stay in Auckland, we drove south to Rotorua, a place you can easily tell you're getting close to by the smell of sulfur. The whole area is full of thermal steam coming from the ponds and lakes, so it's like driving through a town that's literally smoking! Our first adventure in Rotorua was white water rafting, which we were all super stoked for. We showed up ready to experience the largest commercial waterfall drop in the world: 21 feet! We all had such a great time and captured some awesome GoPro footage of the entire thing. That night, we went bowling and Will blew us away (and possibly himself, too) when he got 4 strikes in a row! Wow!
The next day, we headed into town and explored the little shops and the thermal park near the lake. We also went zorbing, which is a giant round ball you go inside and then roll down the hill. It originated in Rotorua and was simply amazing! Everyone had a blast going down track two, which was the most scenic route. After zorbing, we immediately went to the mud baths and thermal pools, which felt so good after such a cool and wet day. We took some awesome pictures in the mud, got our bodies exfoliated, and then dunked ourselves in the freezing cold water to close our pores. And to top off our eventful day, we had dinner and a private Haka lesson, where we learned about the New Zealand native people and their history. We even dressed up in traditional Haka attire, which was a new experience for everyone!
After breakfast on the following day, we made our way towards Waiotapu, which is another thermal area with an active geyser and really neat pools of thermal mud and water. We saw a lake that was dark orange and blue called Champagne Lake, another pool called Artist's Pallet (which was all different colours of mud), and a pool that was lime green. There were also many craters, caves and steaming rocks everywhere. It was really cool! We then all loaded onto a giant Tamaki bus and went to a local Maori village, where we watched a live show, got to join in on some traditional Maori games and customs, and had a feast.
When we woke up the next morning, we began heading towards Blue Duck Station. En route, we went through the beautiful city of Taupo, where we got our first real glimpse of the mountains (with the sun shining above them). Lego let us get out to take pictures and skip rocks on the lake, which we learned is the largest on New Zealand's North Island. It's so big that it would fit the entire country of Singapore inside it.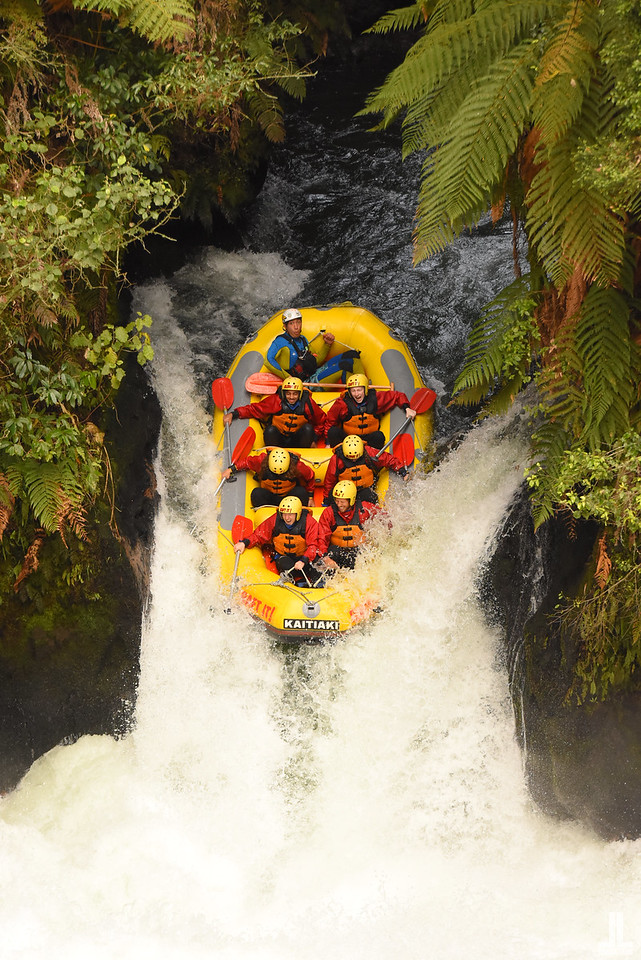 Once we arrived at Blue Duck Station, we were greeted by Farmer Dan and Farmer Mel who showed us to our rooms and kitchen area. We all felt like we were in Jurassic Park, because the views of the rainforest were unreal. They then took us on an amazingly muddy four-wheel ride through the rainforest and taught us about the farm and the blue ducks (which are endangered native species to this area of New Zealand). As if saving the best for last, they also took us on an enchanting kayak ride through a cave-like river.
That night, we went for a yummy lasagna dinner at the café and watched half of the rugby game that was on. It was the most important game of the season, with the New Zealand All Blacks playing the England Lions. Most of us had never watched a rugby match before, so it was very interesting for all of us, and the game ended in a tie! Later, we headed back to our camp where we started a fire (on damp wood), roasted some marshmallows and s'mores, and shared some stories before bed.
The next day, Farmer Dan taught us about sheep shearing and farm life. We got aboard the 4-wheelers and went for another muddy, exhilarating ride up the mountains to learn more about the farm and take in the beautiful views. At the top of one mountain, we tried some local manuka honey that was made on the farm. It was fantastic! After lunch atop the mountain, we packed up and headed towards the national park, where we sat in a hot tub and relaxed for a bit, had some dinner, and got ready for our exciting trek up the Tongariro Glacier tomorrow!

We are having a great time traveling through this beautiful country, seeing the sights, meeting new friends, and learning local customs. It's hard to believe it has already been a week, but we are looking forward to more unforgettable memories in New Zealand before we head to the South Island and then Australia! We are sending our love to everyone back home.
Until Next Time,
The Westcoast Blogger
Can you imagine exploring beautiful New Zealand with a bunch of new-found friends? Check out our 12-day tour of Australia, 14-day tour of New Zealand, and 23-day tour of both!