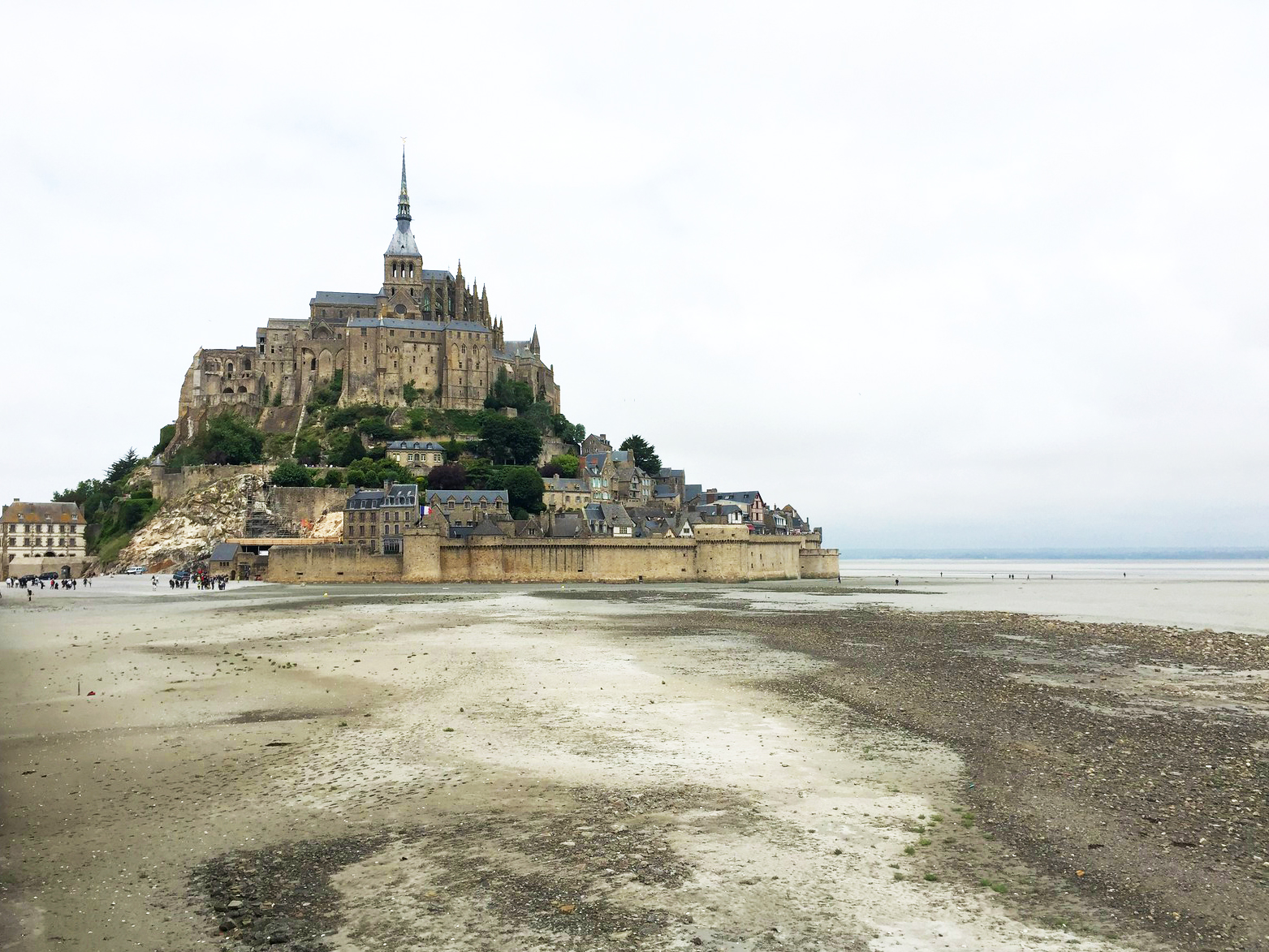 Trains, Planes, and Automobiles!
Well not trains… but we did drive our tour bus onto a very large ferry boat that took us across the English Channel!  The view was spectacular as we crossed the open sea. It was so exciting to have everyone arrive in London from all over North America.  Our driver, Pieter, from the Netherlands is super cool; a fan favorite among trip members and staff alike!  We arrived in Caen, France by night.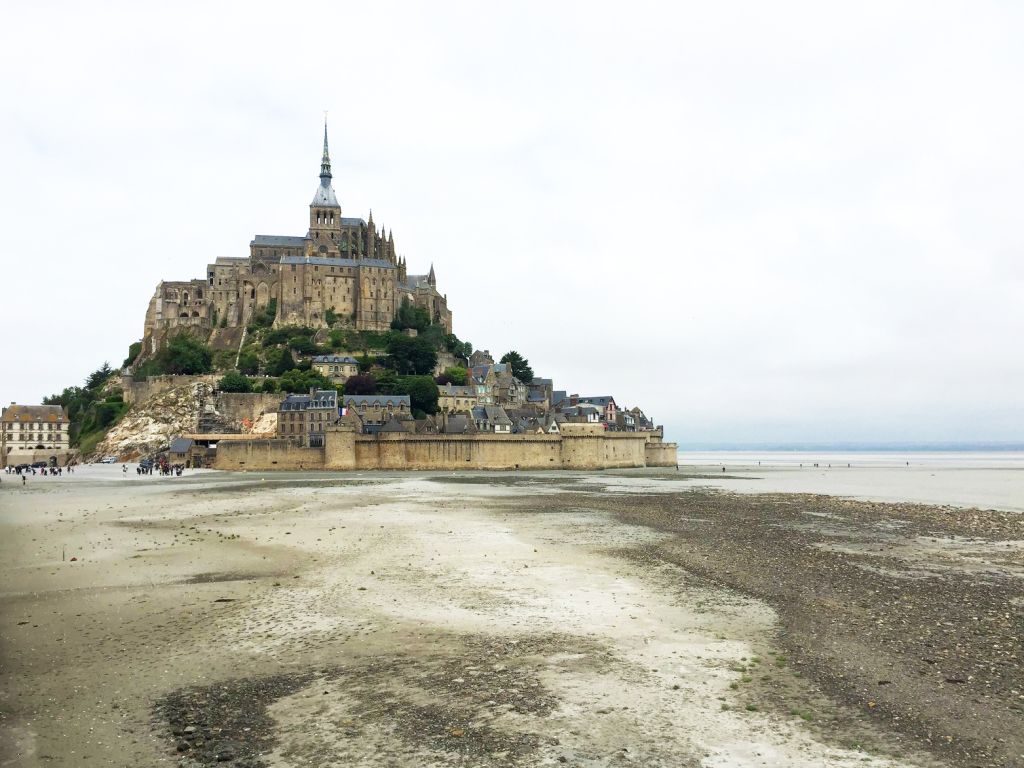 Baguettes, Croissants, and Chocolatines!  
Breakfast at our hotel is authentically French and pretty great; fresh baguettes, Brie and Gruyère cheese, croissants, and chocolatines are among the local delicacies offered.
We started our morning with a little "Speed Dating."  Everyone matched up with one another to introduce themselves.  They were given a topic of discussion to share their experiences, interests, and to get to know their partner for a minute before rotating to meet someone new with another topic for conversation.  It was nice to see everyone embrace the activity with enthusiasm!
Our first stop was the enchanting Mont Saint-Michel (if you have never seen this place, check out the incredible photo above, one of many!).  We walked up and down the narrow pedestrian streets, around the castle walls, and stopped for lunch in cute little French restaurants.
After lunch, we set out towards Saint Malo beach town.  Also surrounded by fortress walls, we were able to catch beautiful views from the coast; protruding islands, rock formations, and the glistening sea.  Along our way we found "Maison du Quebec," a very cool historical site, as this was the port in which Jacques Cartier set sail en route to being the first European to discover Canada.  We explored the cobblestone streets before sitting down for dinner on a French terrasse.
The Invasion of Normandy
We were fortunate enough to get a guided tour of the beaches of Normandy.  Our guide, Jacques Perreau, and his D-Day stories made this experience very real.  He survived attacks in Caen as a child and retells his story as if it were yesterday.  On site at Pointe du Hoc, we walked along the once German stronghold, observing remnants of turrets, bunkers, barbed wire, and a command center atop the cliffs.  Jacques explained the combat strategy in great detail as we all listened attentively.  The photographers and historians of our group took aim with their cameras as they captured views of the incredible landscape and looked out from the command center to the sea.  In the stillness of the cloudy day, we played out the events in our minds, as you could feel the presence of what had taken place only a lifetime ago.  At Omaha beach, the eight flags of the allied forces were raised in front of the American memorial to honor the united effort to take the beach.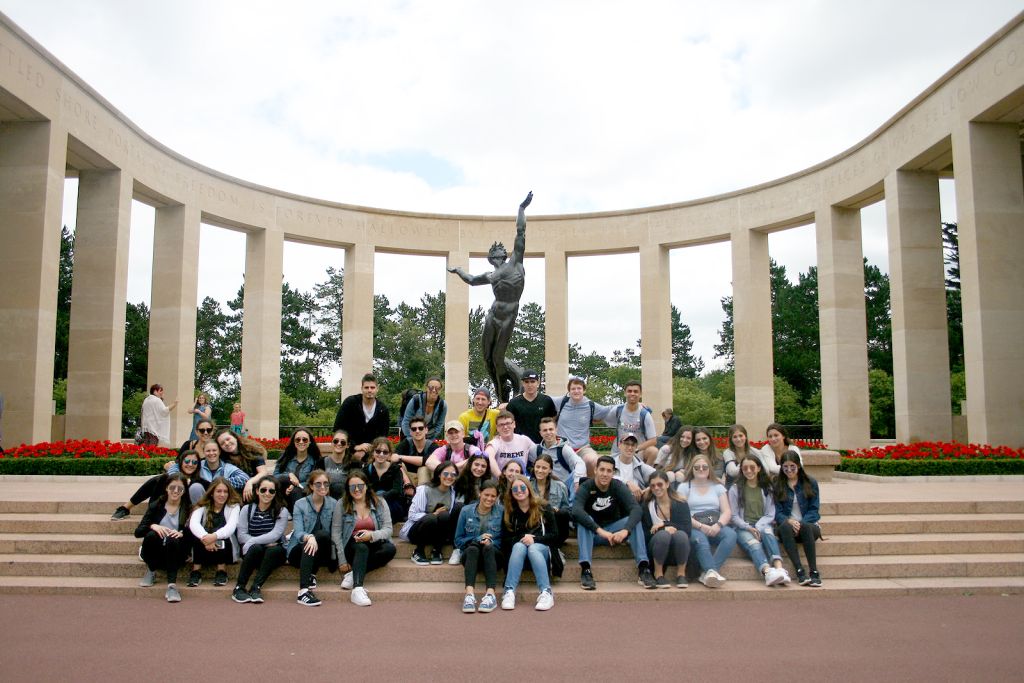 We visited the American and Canadian cemeteries to pay our respects to those who perished under foreign skies.  Deep in reflection, we all observed, asked questions, and even searched for the graves of war heroes that we had learned about in history class.  Some were overcome with emotion as they read the stories on the tombstones.  A few trip members laid small stones on the graves of Jewish-Canadian soldiers; a gesture of peace and honor intended to endure over time like the stones themselves.
After we headed over to Arromanches seaside resort for lunch, where we participated in a scavenger hunt to explore the little town and search for local artifacts.  We enjoyed laughs over the creativity of our participants, as one group took a photo of their 'Boat' brand shoes instead of an actual naval vessel, while one group of girls were happy to find the answer to a clue from the blue-eyed Wisconsin boy working at the beachside ice cream parlor.  For dinner, we ate at a cozy crêperie that closed for us to have our own Westcoast dinner.
Until Next Time,
The Westcoast Blogger
Have we piqued your interest? Explore our 20-day and 28-day European teen tours and start planning your own adventure with Westcoast Connection. It will be the travel experience of a lifetime!