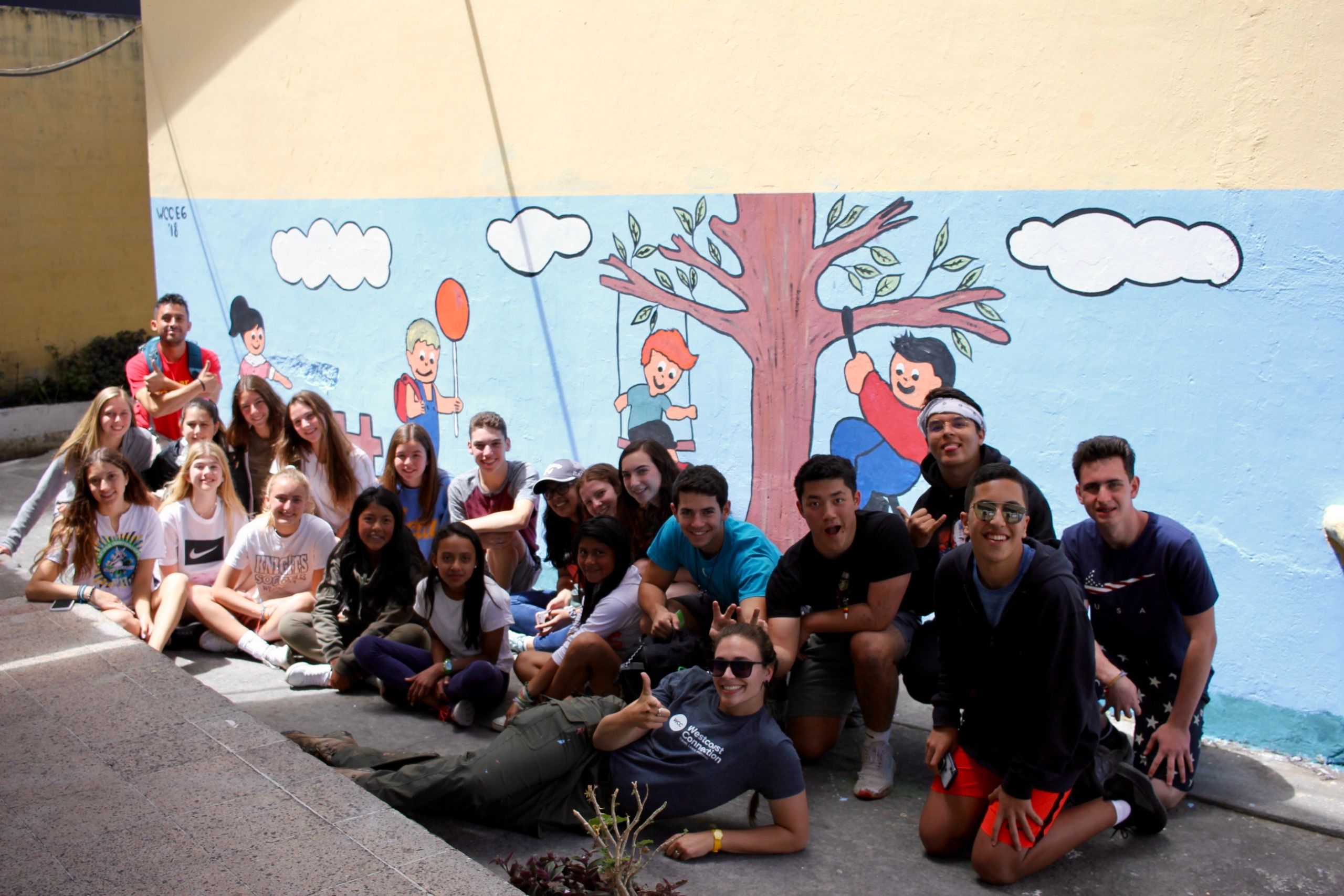 Hola from Ecuador!
Our group has been off to a great start in Quito, which in Spanish means "the center of the world."  On our first night we were greeted at the airport with a very warm welcome by our Trip Director, Charlotte, and our Ecuadorian tour guide, David. On our first day of exploration, David gave us an excellent tour of the old city, which was the very first place to be made a UNESCO historical site. Our tour included the Basilica del Voto Nacional, the largest neo-Gothic church in the Americas and some of us even made it to the top of the tower! The view was incredible as we could see Panecillo, a large aluminum statue of Mary with wings atop a hill, as well as the beautiful city of Quito. We also explored the main square called Plaza Grande where we saw our first glimpse of the Ecuadorian culture and locals. It was here that Reid and Justin purchased beautiful scarves from one of the locals, which they looked great in!
At Mitad de Mundo, the equator line, our guide had us do experiments such as observing the Coriolis effect, where we watched water drain either clockwise or counterclockwise, depending on which hemisphere we were standing on. Morgan, Justin, Jyoti, Driss, Reid, and Amanda participated in a strength experiment and they learned that while they were on the equator line, it was harder to hold a pinch with their fingers and their arms up high. Then there was the challenge of balancing an egg on a nail on the equator line- Brooke, Reid, Gia, Morgan, and Driss tried their best at this task. We finished the tour by getting our passports stamped with an official "Latitude: 00°00'00" stamp!
On our first day of service, our group was excited to meet children from the Quintiliano Sanchez School and help paint the bare walls of the courtyard. The mural that we painted was beautiful and colorful. We hope the students at the school will appreciate our efforts. It was amazing to see everyone eager to help out in any way they could. Gia made sure that our paint job was excellent by using a sponge and water to wipe away excess paint. Emily, Amanda, Morgan, Aidan, and Jyoti put their drawing skills to use by designing a beach mural for one of the walls. The program members played many games of basketball and Spike with a small group of children. Emily was happy to learn that one of the local girl's name was also Emily (Emilia in Spanish). We even learned a few salsa moves during a salsa lesson with an instructor and the children.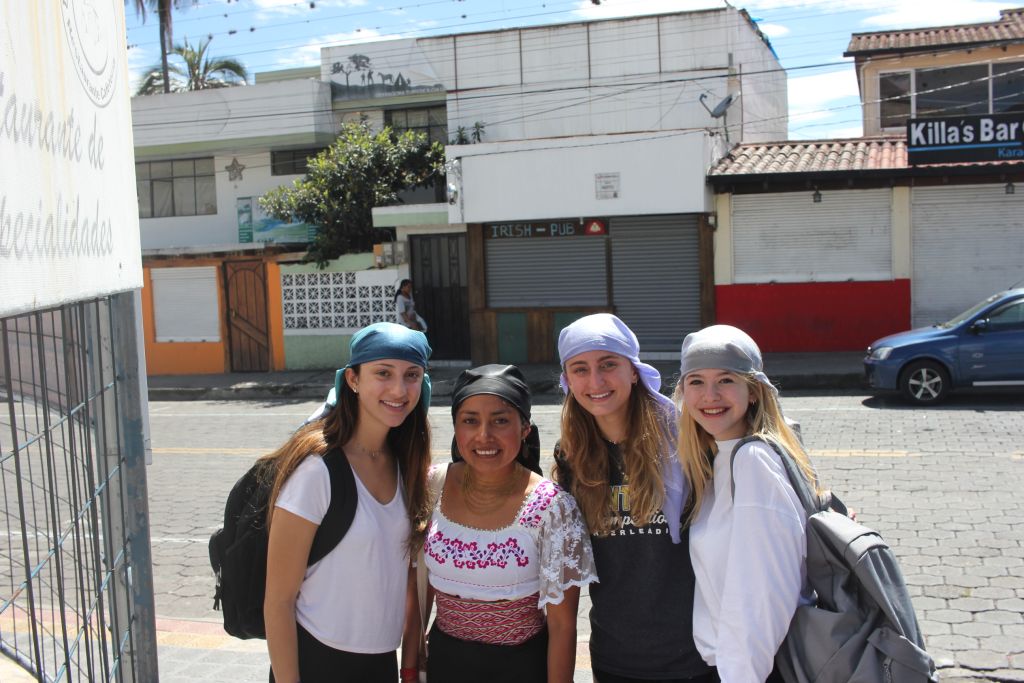 We also learned about the diversity of Ecuador's environment and native tribes. On our bus ride to an indigenous community, a woman dressed in traditional Ecuadorian clothes joined us on the bus, talked about her clothes, and sang us a song in her Native language. At the indigenous community, Jose made a pajas flute and played it for us, as well as other instruments. We had a special performance by Jose and his family and afterwards we all got to try out the different instruments. Particularly enthusiastic were Gia, Scarlett, and Joelle who played the drums and danced to music. After the music, we were treated to lunch and some of us were even brave enough to try guinea pig, or "cuy" in Spanish!
Below, a program member describes the experience of trying a new delicacy:
"It was a really unique experience to try guinea pig. It is a huge part of Ecuador's culture and I'm glad that I got to be a part of it." – Aidan
Everyone loved seeing all of the locally made products in Otavalo. We all enjoyed the outdoor market and bought souvenirs, from alpaca sweaters and scarves, to authentic Ecuadorian musical instruments. During this shopping experience, we learned some Gituja words such as "allibunja" which means "good morning" and "pai" for "thank you".
On July 4th, we were surprised by a dinner at Azuca with special decorations just for us. It was a nice gesture from our tour guide David, who wanted us to feel at home. So far our trip has been a great time making new friends, filled with sightseeing adventures and service days to give back to the community. We have just arrived in Latacunga and can't wait to see more of Ecuador.
A passionate program member shares her thoughts on the trip thus far:
"It's been a really eye-opening experience in a positive way! It's been physically exhausting, but very rewarding. I've enjoyed all of the service work we've done as well as the adventures and activities. I just love it! Everything about it. Working with the kids makes me feel accomplished, like helping paint and finishing a project. There's a real family-feel in the group and meal times are always fun. I enjoy getting to know everyone on the trip. I look forward to all of the different places we're going, the volunteering we'll be doing, and making many more memories." – Morgan
We can't wait to report on more, next time! Ciao!
The Westcoast Blogger
Does a rewarding cultural experience in Ecuador interest you? Check out our 18-day and 25-day community service programs!