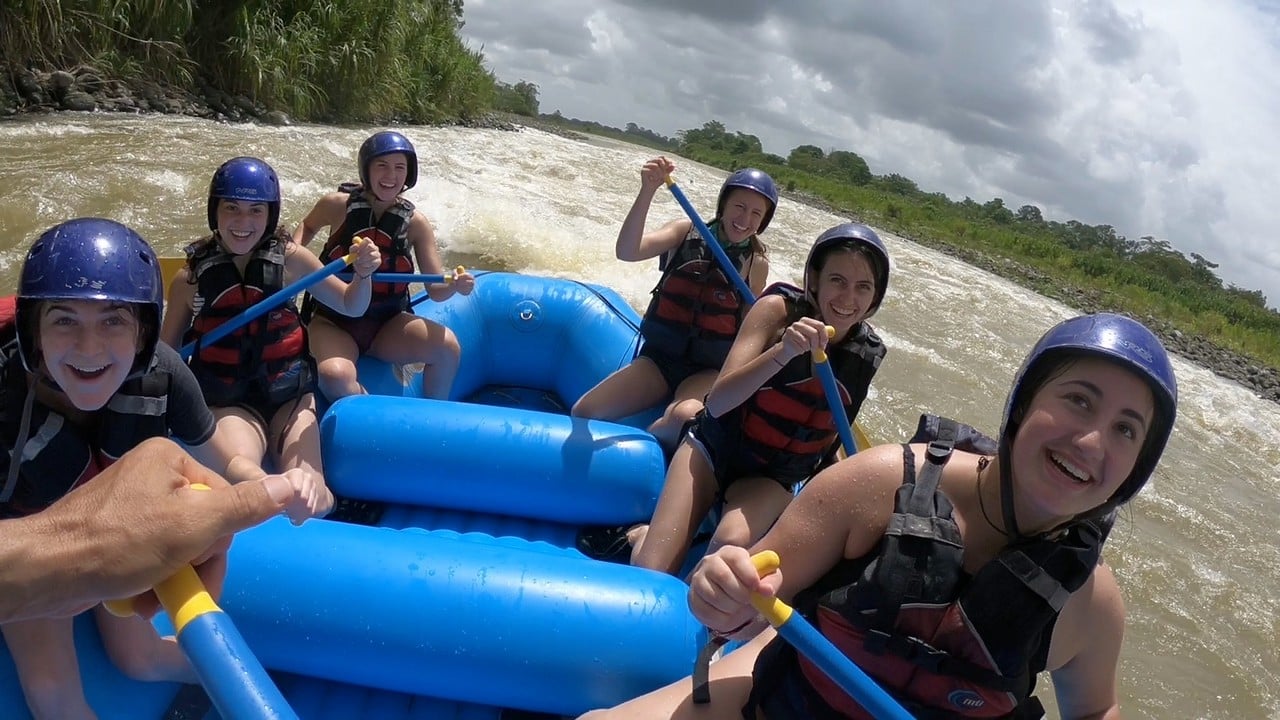 ¡hola! We have arrived in the beautiful green jungles of Costa Rica! Our trip members shared that they're excited to meet new friends, go on adventures together and learn about how we can give back to communities here. The first friend we met is our local guide and translator, Diego. He's from a village outside of San José and knows all about Costa Rica, as he has traveled most of the country. He cheerfully told us about animals we might see on our trip, like monkeys, sloths (we already saw one!), and exotic birds. We also asked him to teach us some Spanish phrases such as, como estás (how are you), and muy bueno (excellent). We settled into our pink hotel with some tasty and authentic Costa Rican cuisine-beans and rice.
Our first day started with meeting David, our water rafting guide. He took us on a scenic drive to our location down the longest road in Costa Rica, which connects San José to the coasts and has the only tunnel in all of Costa Rica. After, we were greeted by Robérto, another guide who taught us about safety procedures in the raft, and how to get a six pack like him. The secret is all in padding hard!  
When we reached the river the sun was shining and everyone was eager to get in the water. With our life jackets and helmets on, we climbed into our big blue rafts and started our adventure with Robérto leading the first group towards the rapids. Our arms have definitely grown two sizes bigger today (the six packs are coming), and we enjoyed relaxing to the sound of the jungle all around us. As we rafted on through the canopies of trees, the guides pointed out different native birds and made monkey calls that were heard returning in the distance.
After our awesome rafting trip concluded, a special animal was waiting for us back at the start location. In the back of the property, hiding behind some leaves, was a mama sloth and poking out from her belly was a little baby! Our trip was totally fascinated, as most of us have never seen a sloth before, especially not in the wild.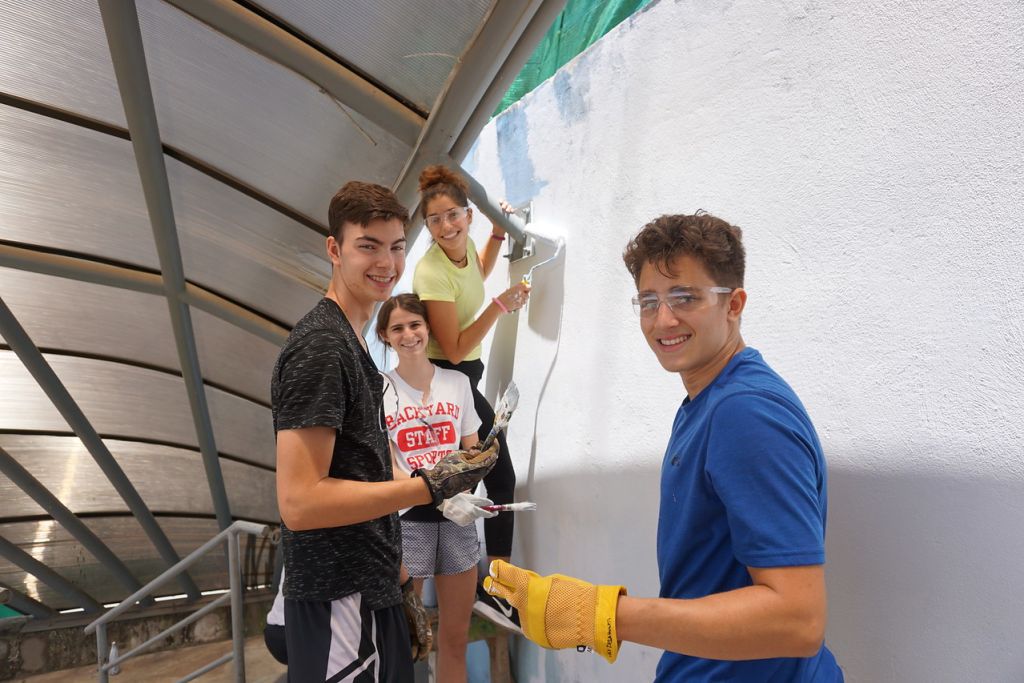 Our first day of service was spent with Gail, a former American peace corps personnel who worked in Costa Rica 45 years ago. She moved back to the United States for just one year before deciding to move back here and dedicate her life to serving the people most in need. We met her in the community of La Carpio, where Nicaraguan refugees built a village. Next we were brought to a nearby playground where a water-damaged wall required painting. While half our group painted, the other half played in the playground with the local children. Our group brought some materials and toys to play with, so arts and crafts and bubble blowing were a just a few of the fun activities the children enjoyed. We played pato, pato, ganso (duck duck goose) and learned new Spanish phrases from the children. Lastly, Gail led us on an afternoon walk around La Carpio where we saw the local houses and how the residents perform some day to day tasks, such as laundry.
Our trip is full of anticipation for tomorrow's continuation of service!
The Westcoast Blogger
Do you want a lush welcome and to perform meaningful work in Costa Rica? See our various service opportunities here!