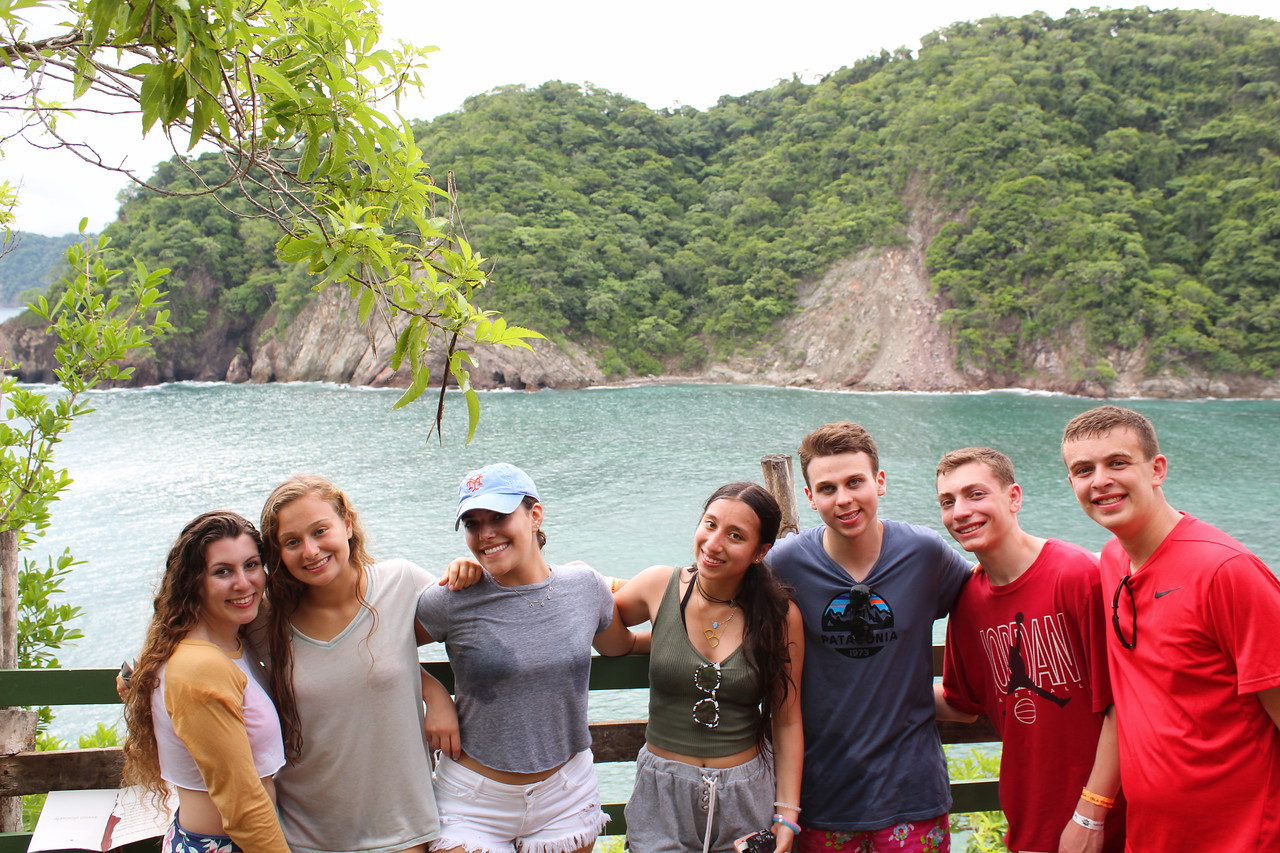 Pura Vida is the motto in Costa Rica, which directly translates to "pure life", but is commonly interpreted to mean "enjoy life," to live life to the fullest, and not to dwell on the little things! We have immediately adopted the notion of Pure Vida into our everyday life, and here is where it all began.
Luscious green forests, beautiful coasts, and endless amounts of bananas-we have landed in a dream! Shortly after arriving in the Alajuela province, with mango trees surrounding our hotel, we had our first pool party. Each and every one of our trip members found themselves playing volleyball, frisbee, soccer, and hacky sack in the area. The boys were keen to help inflate our floating volleyball net, and did so in record time. With music playing in the background, our group quickly found our vibe.   
Day 2 took us to Isla Tortuga (meaning Turtle Island). There we hopped on the catamaran and were blown away by Antonio, the most fabulous and diverse dancer we ever could have imagined. He got us clapping, practicing salsa moves, and even having our own dance battles. Antonio exemplified what it means to live a Pura Vida lifestyle. He was enthusiastic and so happy when he was able to get each one of us to dance! His vibe and smile were infectious and we wish he could have stayed with us for the rest of the trip.
On the island, we snorkeled and had a vigorous volleyball match, and took a beautiful nature walk. Chloe described the walk as having a "Moana vibe" because from the top of the climb overlooking the ocean,  there were two large rock islands that resembled Te Fiti (the Mother Nature character in the Disney film "Moana"). It was quite the sight!
On Day 3 we experienced our first day of service at the Costa Rica Humanitarian Foundation. It was founded by an American woman who arrived in Costa Rica in 1977 with the purpose of addressing poverty issues in the area of La Carpio. Our trip members were able to connect with the realities of the residents by having many opportunities to interact with locals. For example, helping them carry groceries up and down paths from their homes, assisting to level a home, playing sports and doing arts and crafts with local children. It was nice to learn a little Spanish and teach community members some English words. Sam said, "making connections with the kids without speaking their language is really moving because we're able to connect through play."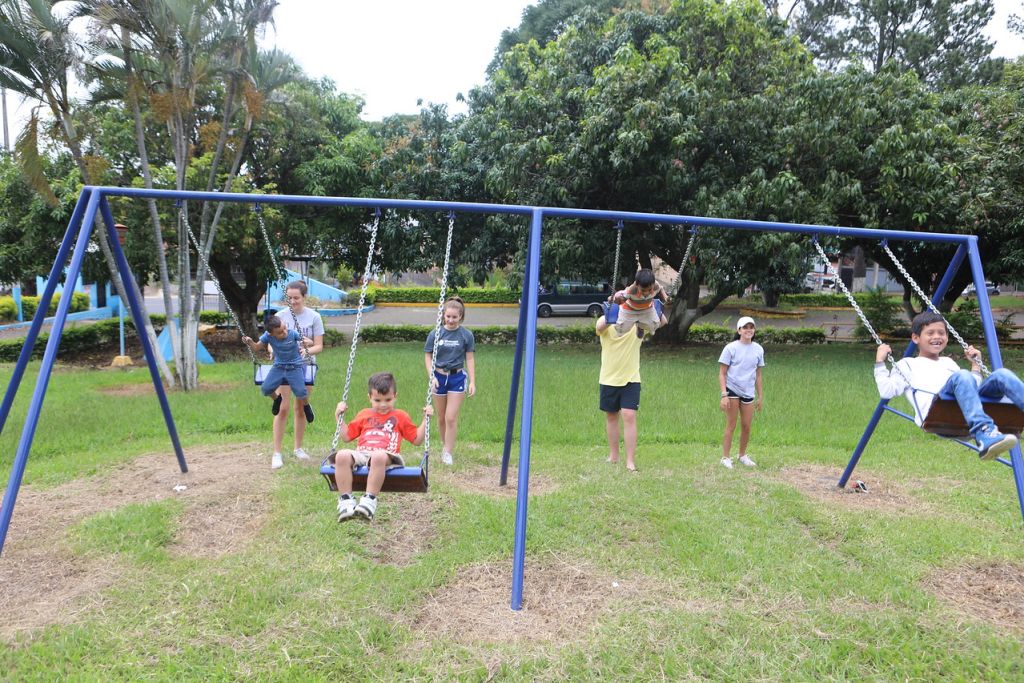 We have a sincere appreciation for the positive attitude of La Carpio's residents because they are genuine in their practice of a Pura Vida lifestyle. The residents live in severe poverty, however they are kind, welcoming, and generous with their time and care.
We were fortunate to have witnessed a community play performed by Nicaraguan women (the grandmothers, or "abuelas" in Spanish) who have resettled in Costa Rica to provide a better life for their children. They expressed how hard it was to leave Nicaragua under difficult circumstances and begin anew in Costa Rica. These women showed strength, solidarity, and a sense of empowerment. Sophie explained, "you don't know a person's story until you actually get to know them. There's much more to a person than what is on the surface."
In our evening debrief session, we were insightful and sensitive to our privilege and position as volunteers in Costa Rica. We were proactive in acknowledging our biases and preconceived notions of what it would be like to work in a poor community. Charlie insightfully acknowledged "we cannot stereotype and characterize the people we meet, because in reality we have so much in common with them." We also reflected on how much we have and how little people need to be happy.
The following day, our group had the opportunity to visit Ali, a young boy who has terminal leukemia. We went to his home and gave him cards we prepared for him with children at the community center. Ali was delighted to receive care and compassion from his new friends and the cards were quickly taped to the wall in the kitchen! What was most striking about the interaction with Ali's family was that Ali had 3 siblings. While his mother was most preoccupied with attending to him and his medical needs, one sibling was walking to school alone, one brother cooked meals for the entire family, and another brother was celebrating his birthday that same day. This was another moment that reminded us about our own upbringings and how fortunate we really are.
After only three days, it feels as if we have known each other for months. The cohesiveness and maturity that our group possesses has set an incredible tone for this trip and we look forward to continuing our service over the next few weeks.
Hasta luego!
The Westcoast Blogger
Are you seeking insight into Costa Rica? Learn more about our various service opportunities here!