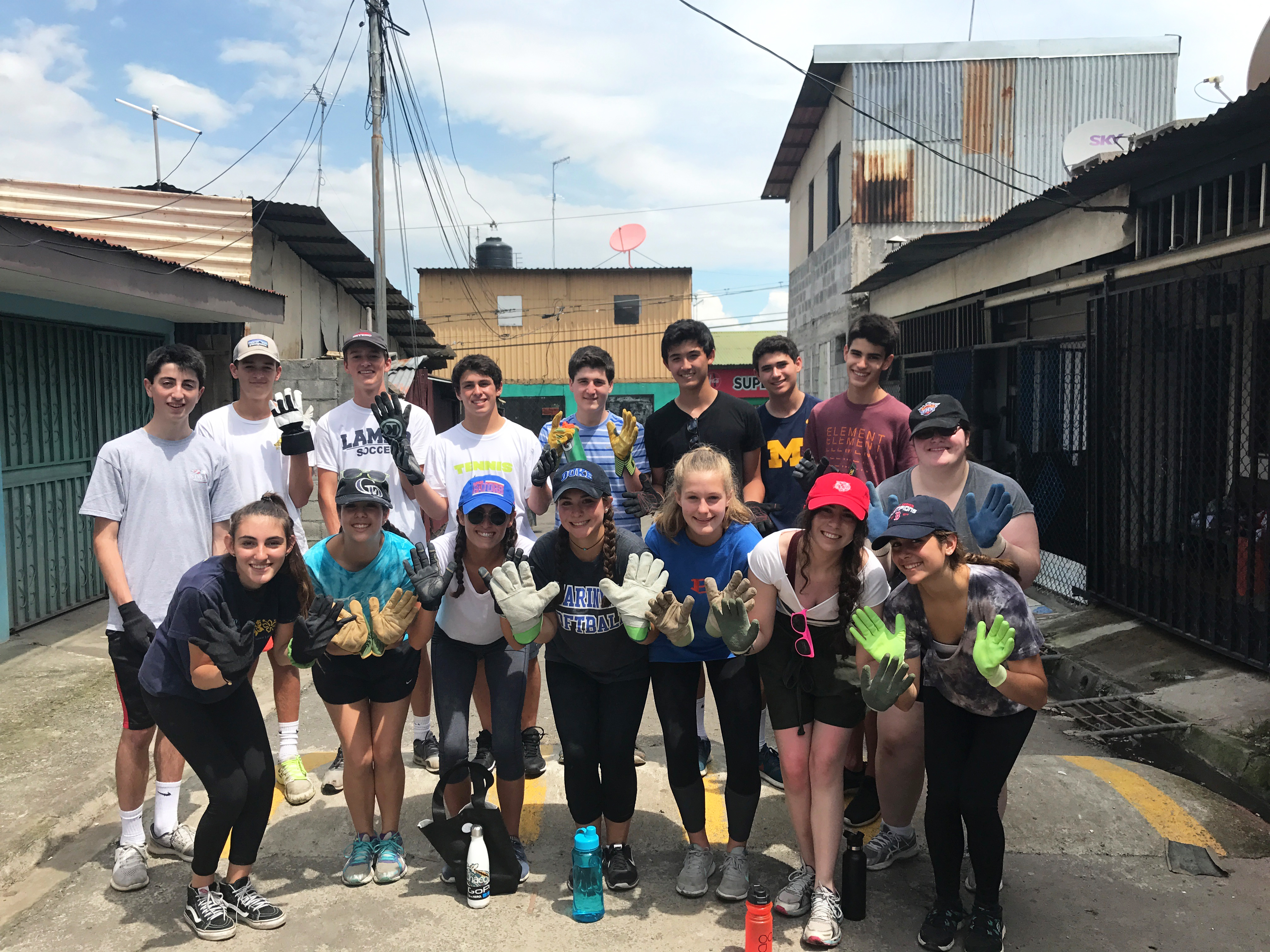 ¡Hola de Costa Rica! Even though we are just three days into our adventure, we have seen and done so much. From trying to converse with each other and with the locals in Spanish, to singing along to our Spanish song of the day, we've already started immersing ourselves into the culture that surrounds us.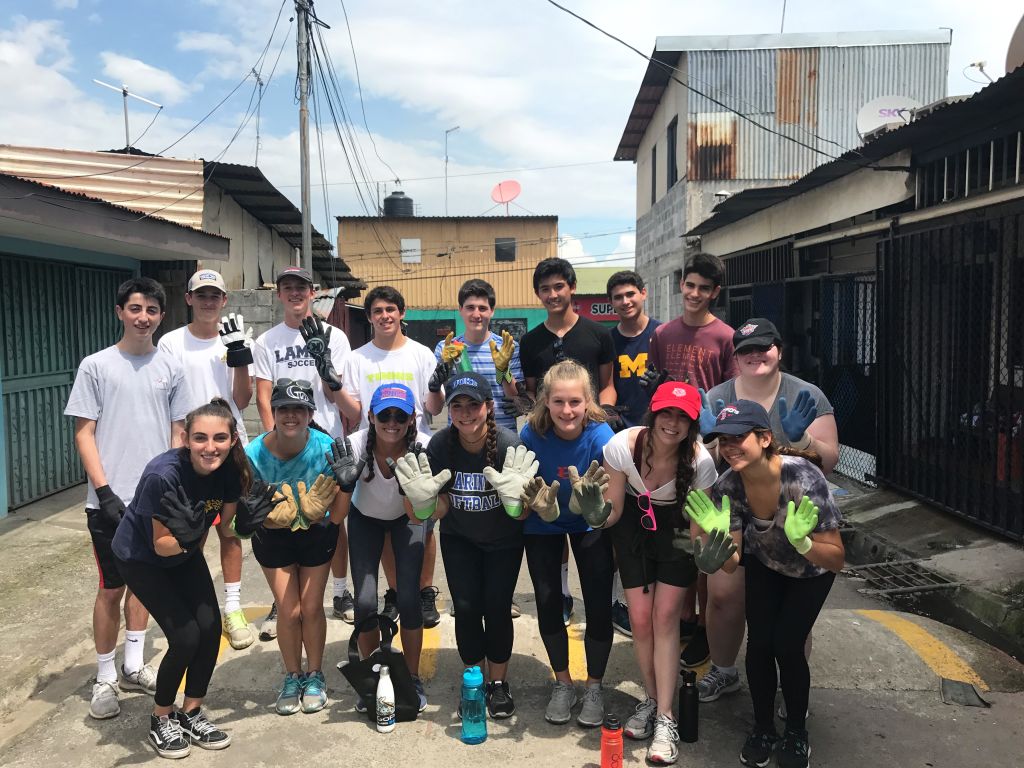 To celebrate our arrival in Costa Rica and the start of our time together, we held an impromptu pool party on the first afternoon. After a tasty pizza lunch, all the trip members put on their bathing suits for a swim in the charming and refreshing hotel pool. It was an early night because the next morning we left for our first exciting activity, white water rafting on the Pacuare River. Divided into three rafts – each equipped with a Go-Pro camera provided by Hannah, Davis, and Carly – we ventured into the Class III and IV rapids. Our guides had all of us working as a team and each raft was filled with the smiling faces of our trip members throughout! Halfway down the river we pulled ashore and the rafting guides prepared us a tasty picnic lunch of sandwiches, fruit, and fresh queso blanco. With our journey down the Pacuare River complete, we headed back to the hotel to meet with Gail, the founder of the Costa Rican Humanitarian Foundation and organizer of our community service project. She shared her fascinating story of how she ended up in Costa Rica working in La Carpio. We then said goodnight to Gail and headed to bed, excited to begin our community service.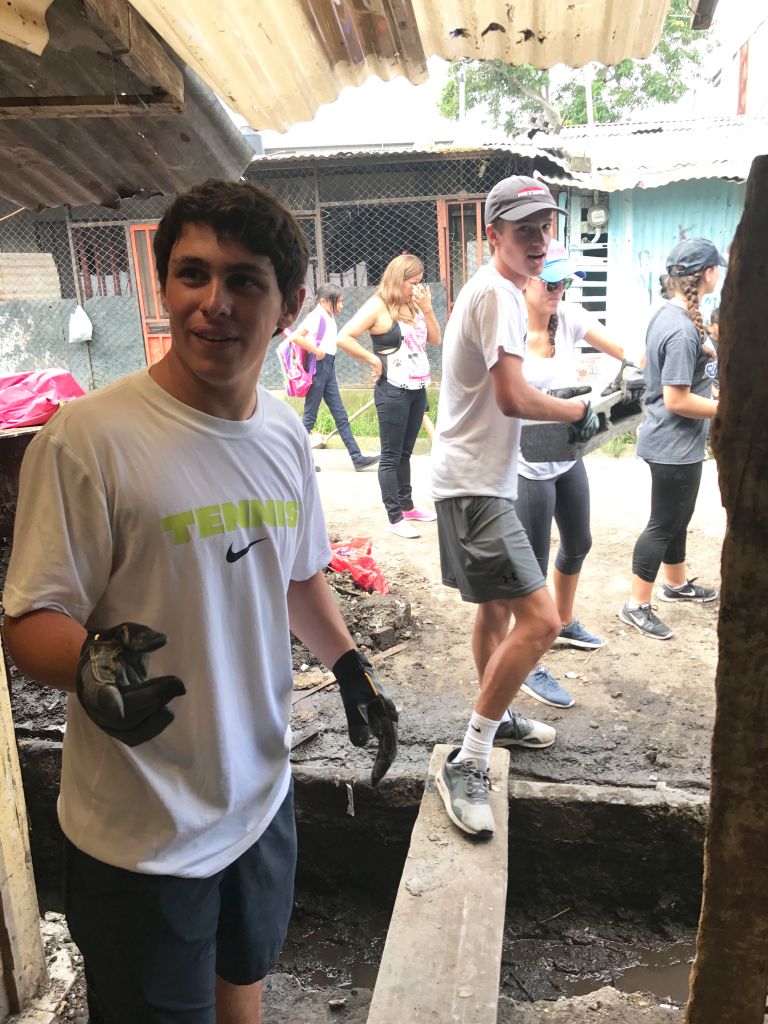 La Carpio is a part of San José unlike anywhere else in Costa Rica. Home to Nicaraguan refugees, it was the perfect place to host 360° Student Travel's community service project. We all met the family whose house we were helping to rebuild and got started on the foundation. The entire family and even some neighbors chipped in, working with the trip members. Our trip was the first to start on this project, so our task involved laying the foundation (literally) for all the future groups. Carly, Sam T., and Jack worked with Jose', the chief construction worker to prepare the iron cross beams that will support the concrete in the ground. Many of the girls went inside to play with the many children of the household. Sam M, Brandon, Jordan, and Oliver worked hard shoveling the dirt that had been dug up into bags for transport. Some of the bags were well over 100 pounds! Teamwork truly was the key to this task. Jessica and Erin graciously volunteered to pick up the trash that surrounded the outside of the house. They picked up every bottle, paper, and scrap they could find. The hours just flew by!
We completed Day 3 with our first Spanish class at Centro Panamericano de Idiomas (CPI)! Everyone was excited (and a little nervous) to begin their classes. After a brief interview, the teachers divided our group into specific skill levels and began conversing and listening in Spanish. Even after just one afternoon of classes, all the Trip Members have really improved their language skills and confidence. Everyone then contributed by helping to cut, chop, wash and prepare the ingredients for dinner after classes. Lucas, Halle, and Julia were master chefs when it came to dicing tomatoes, peppers, and cilantro.
Tomorrow we return to La Carpio to continue working on the house and to show off our new Spanish skills.
It's time to get back on the road… goodbye for now from Costa Rica!!
Until Next Time,
The Westcoast Blogger
If a Westcoast Connection adventure in Costa Rica seems like something you'd like to be a part of, check out our 14-day and 21-day language and community service programs!