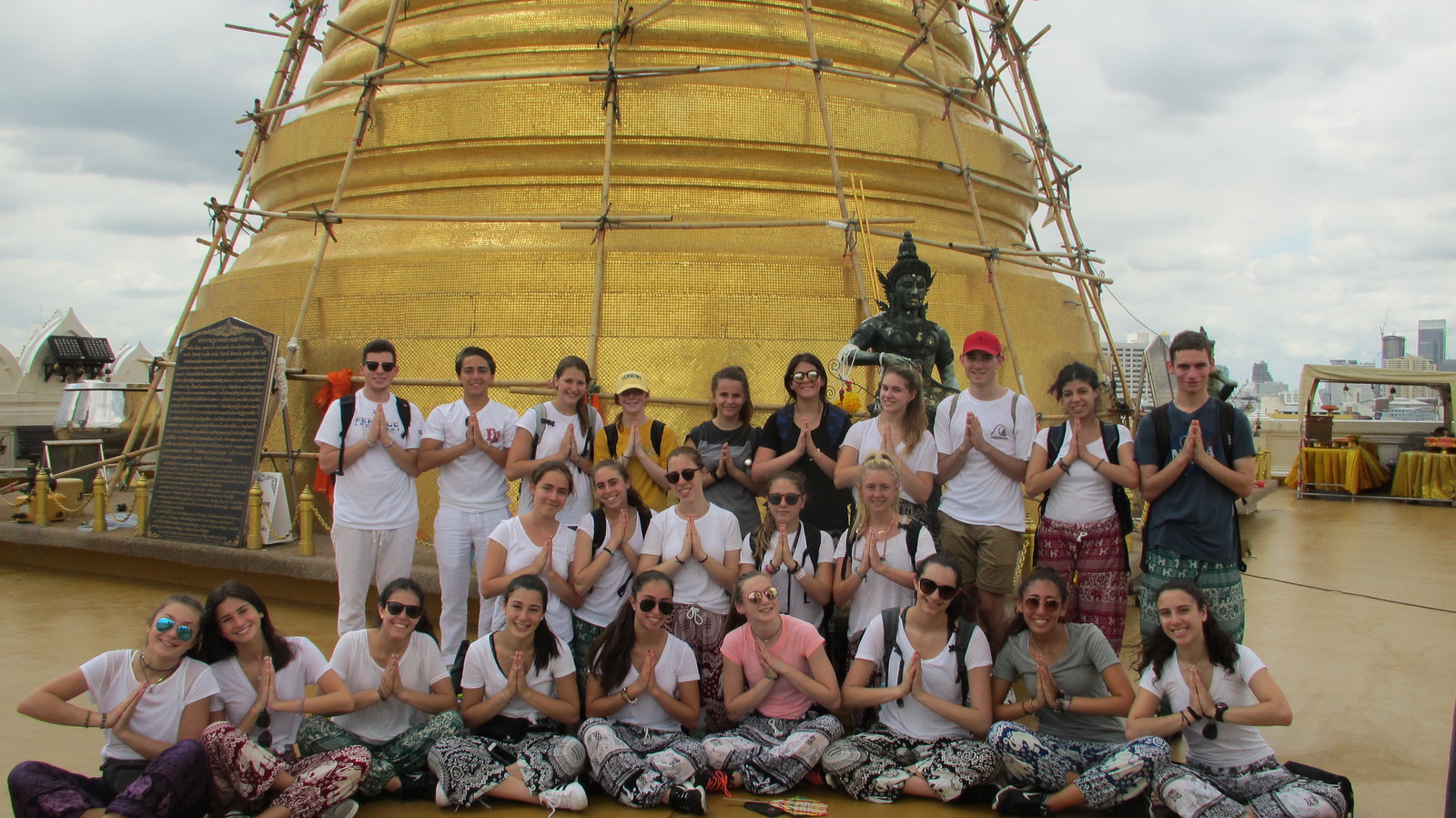 After many months of anticipating the day we would all meet to go to Thailand, it finally arrived! Playing Where the Wind Blows at the airport helped us get to know each other by exchanging interesting facts about ourselves. Adding to the excitement, we had lots of fun singing together to celebrate Pippin's birthday! After a yoga session enthusiastically led by Manee and Alex, we played the classic game I'm Bringing on a Picnic and Giselle won the game of Wah.
We were greeted in Bangkok with beautiful smiles from Nadia and Ann, our tour guides, as they taught us our first word in Thai: "Sawadika" which means "welcome". With big grins, we immediately said it back! We learned that "Thailand" in Thai means "the land of smiles" and that Bangkok is known as "The City of Angels". Next, our group set out to explore the city and go on a walking food tour. Our trip to the Flower Market area for lunch took us aboard a boat, which traveled along the river flowing through the financial district. The restaurant was lovely and everyone enjoyed their first taste of authentic Thai food and ice tea overlooking the river. Throughout lunch, Ann and Nadia continued to teach us common Thai sayings and important words, such as how to say thank you, "Kropum-kha (female)/krum (male)". The market was filled with new scents coming from foods like chicken skewers with peanut sauce, rambutan, mangosteen and the popular favorite, mango with sticky coconut rice. What would Thailand be without flowers? So our group learned how to make garland bracelets using jasmine flowers to wear for the night.
The next day, our first stop was The Golden Temple. Arriving by local boat, we experienced firsthand why Bangkok is also known as the "Venice of the East" thanks to its many canals! We were welcomed by the statue of the 3 monkeys and learned about our Buddhas, which are based on the day of the week you are born. We also got to make wishes according to a Thai ritual. Several brave group members also tried a new fruit called durian-which is sometimes banned from hotels due to its pungent smell! Then everybody enjoyed the lunch that many of us were waiting for: pad thai!
Next we visited the Golden Palace, where the royal family and their visitors reside. After reveling in all the gold decor, we went off to explore the well-known Khao San Road. Here many street vendors were selling local delicacies, including edible insects like tarantulas, cockroaches and scorpions.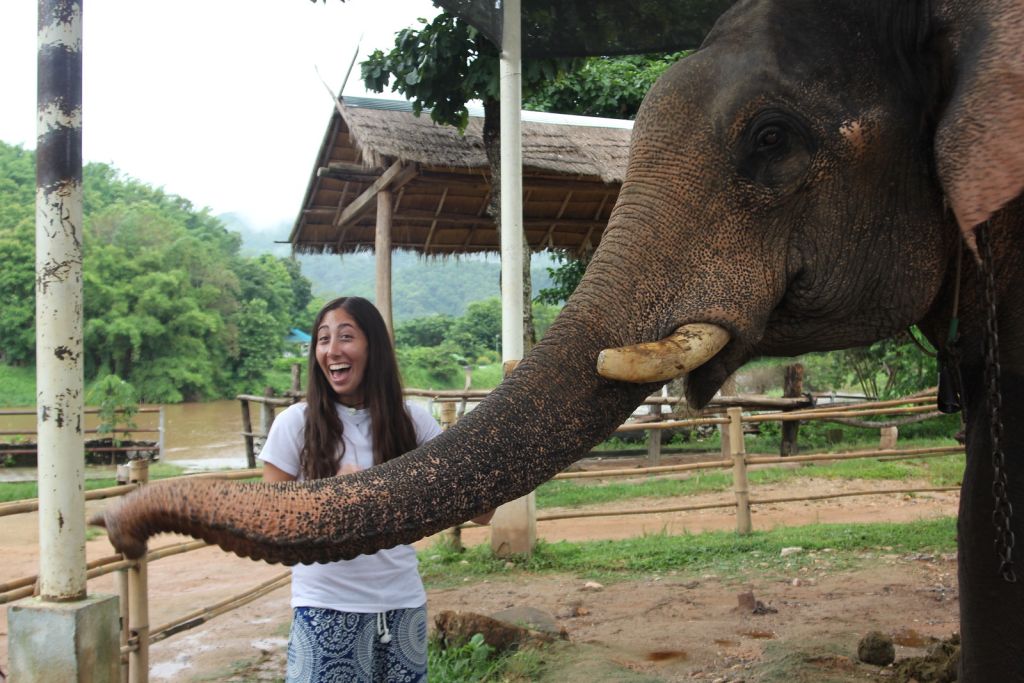 Our third day in Bangkok began with a great visit to the Athulya Temple and on our way we had a dance competition, which Carly won. Abby and Gisele won our second competition folding white lotuses and were treated to wearing traditional dresses and partaking in a fun photoshoot.
We all enjoyed a nice afternoon swim at our hotel and a very good family style dinner-complete with fresh coconut water and cashew chicken. To conclude the night, we listened to one another describe why we chose the trip and it quickly became evident that everyone here wants to make an impact on other people's lives.
The next day we arrived in the agricultural countryside paradise, Chiang Rai, which welcomed us with sunshine, fantastic views and beautiful elephants.
For more new tastes and adventures stay tuned for our next blog!
The Westcoast Blogger
Do you want to have a meaningful experience in the land of smiles? Learn more about our 25-day Thailand Community Service opportunity!