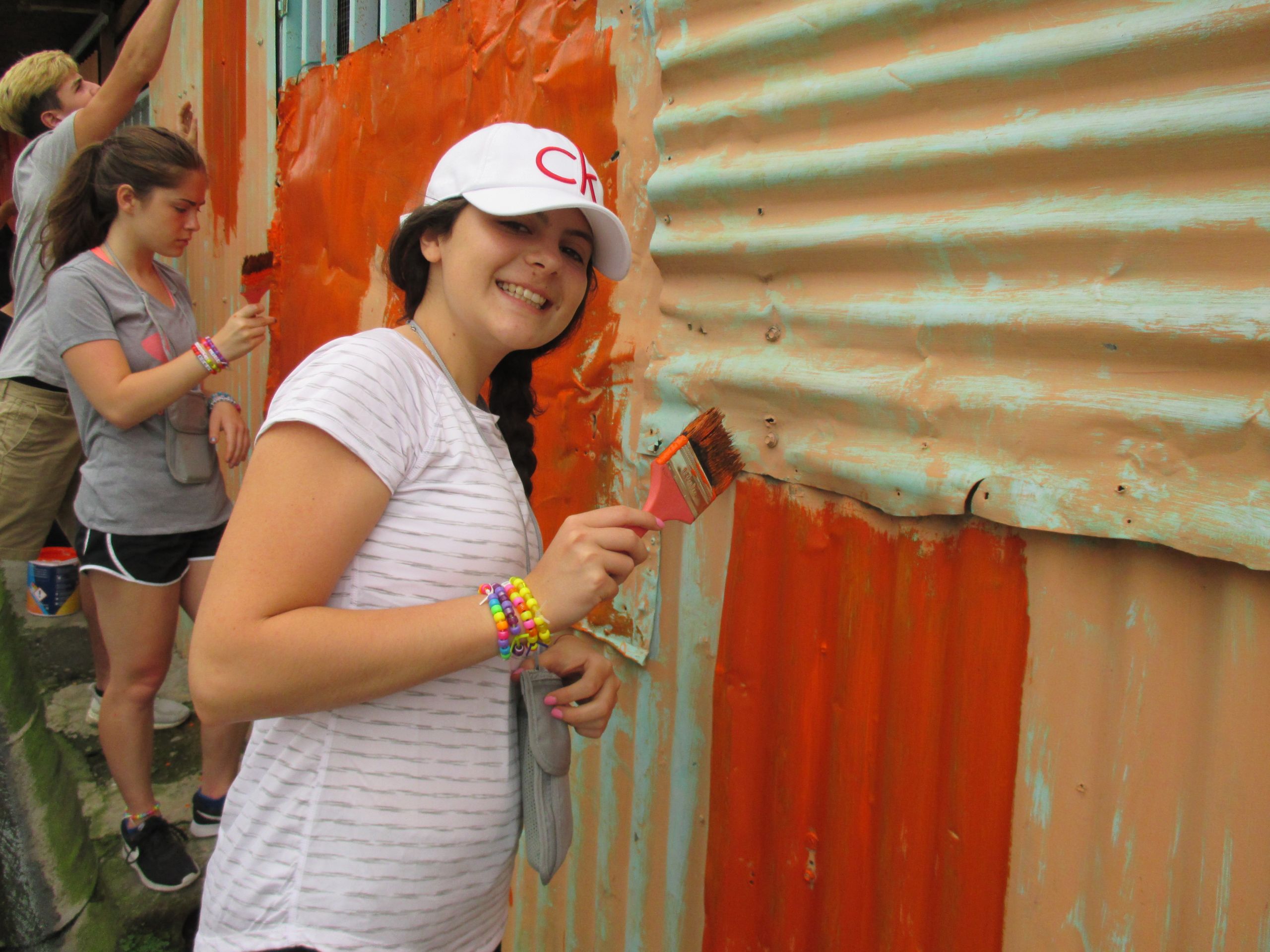 "Pura vida!" our guide Jefferson shouted as we cruised the rapids! That was our queue that it was time to raise our paddles high in the air and salute each other. "Pura vida!" we all shouted back! Everyone had a blast on our 18-mile journey down the Rio Pacuare, a river known internationally for its remoteness. Many of the plants were so lush and huge, but we still managed to spot an adorable family of sloths as we paddled through one section. Seth and Tori did a great job as captains and successfully led the groups.
The next morning, everyone was enthusiastic to begin our service! We spent the day at a local community center in La Carpio, a poor neighborhood in San Jose. "Verde, por favor!" little Ivan told us, as he waved outside of his window, politely requesting his family's house to be painted green. Arielle and Shannon began painting, while Sydney and Ally bonded with Ivan and his brothers. For lunch we were treated to a delicious meal of traditional gallo pinto, chicken and salad. Then we watched local community volunteers perform a play for us, where the elderly women who founded the community shared their story. The touching theme brought a tear to some of our eyes; seeing first hand the importance of our work today and what it must mean for these people! The women ended the play by giving each of us a small angel to remember their stories by. That night, after a delicious dinner of chicken, potatoes, and juice made from locally grown guanoabana, we all collaborated on writing a thank you card for Gail, the hard working leader of the community center. Nico grabbed some colored pencils and did the decorating – who knew he was such an artist!
The following day, we had a great time playing sports and pool games at a park with the lovely kids from La Carpio. Not everyone spoke Spanish, but that didn't seem to take away from the fun at all! Emily and Alena took a group of kids to the swings and the slides, while Logan brightened the day by using his soccer skills and the universal love for sport to start a game with a group of kids. Those of us who are learning Spanish in school seized this opportunity to bring our classroom to life. "This is why I'm in honors Spanish!" Sophie declared, as she proudly translated Pedro's story about his family. Our learning still wasn't over; after lunch the kids took us into a beautiful section of the park where they showed us how to pick mangoes from the trees! The group truly enjoyed every moment of our time working with the La Carpio community. We are looking forward to continuing our adventures and community service work in Guanacaste tomorrow!
The Westcoast Blogger
Would you love to experience La Pura vida in Costa Rica? Find out more about our various community service opportunities here!