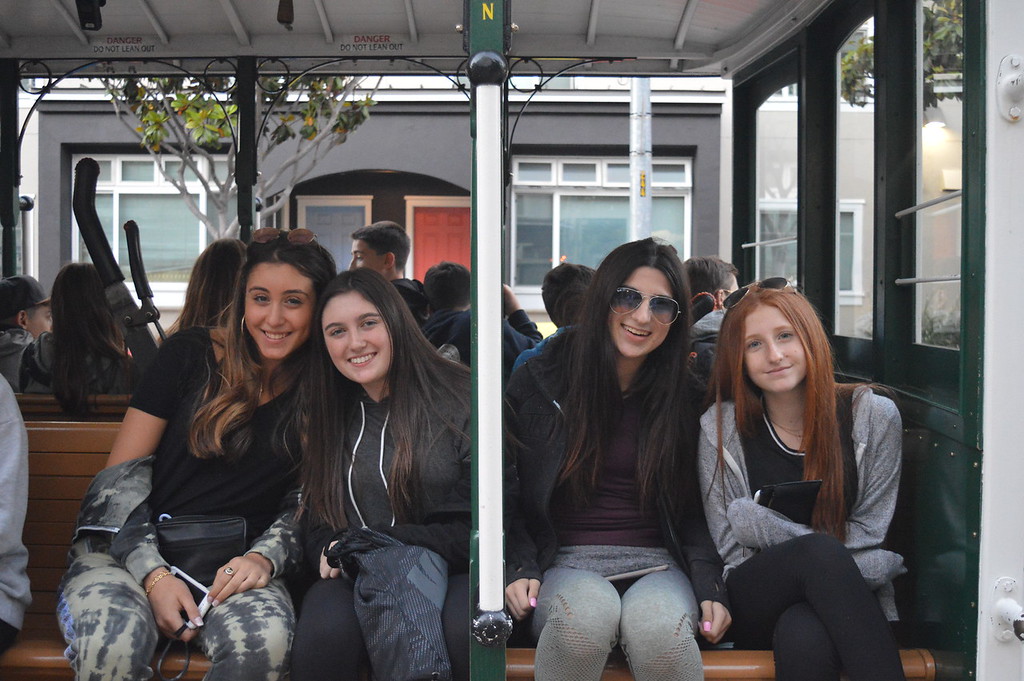 San Francisco, California was an opportunity for all of the trip members to get to know one another through different ice breaker activities, as well as our first chance to see new landmarks and experiencing new activities. We start each day with our morning song, "I'm On Top of the World" by Imagine Dragons, that is played on the bus. When everyone hears this song after the trip, we hope they will be instantly reminded of their summer and all it's amazing memories!
For lunch we had tasty burgers and played a trivia game to learn interesting facts about the trip leaders. Following a delicious Italian-style dinner, our group felt like the Tanner family from Full House, based on the surrounding scenery and riding the staple San Francisco cable car!
The next day started off with a bang, as we made our way via ferry to visit Alcatraz. Exploring the prison was not only incredibly fascinating, but knowledgeable as wel. Making our way from Pier 33 to Pier 39, the group set off to explore, with many of them excited to try the "Pier 39 famous" clam chowder bowl. Here, the trip mascot was introduced and each day a new trip member will have the opportunity to hold "Sharky" and take funny pictures of Sharky in action doing an activity. Next up, we went to Ghirardelli Square where we had the opportunity to play some sports after having tasted the delicious caramel milk chocolate squares! Crossing the bridge from San Francisco into Oakland provided us the opportunity to take in some more beautiful scenery! While indulging in snacks, the trip enjoyed watching the Oakland Athletics have a successful win over the Cleveland Indians. Our trip jumped and screamed with excitement when we finally made it on the jumbotron after several other attempts!
In the morning, we made our way to the iconic Golden Gate Bridge, which provided yet another great spot for photo opportunities. The scenery surrounding us was breathtaking and everyone was in awe of how beautiful the bridge truly is. We then headed down to the great city of Sausalito to explore and eat lunch. During the trip member's free time, they were given the task to perform! Each group of the trip members got a pen and they needed to see what they were able to swap the pen for with at local business. Some groups returned with a box of chocolate, a bracelet and Lego, but the winning group was able to trade up their pen for a candle. Next up was bowling, where everyone enthusiastically cheered each other on as their new friends got strikes and spares!
One of the highlights from Lake Tahoe, aside from seeing the beautiful scenery, was being able to do different water activities! Our group seized the opportunity to go rafting, water skiing, wakeboarding, and tubing. These activities were especially exciting, as it was the first time many of these trip members got to try them! Afterwards, we went on a nice boat cruise, where everyone was able to sit back, relax, and admire the beautiful view that is Lake Tahoe.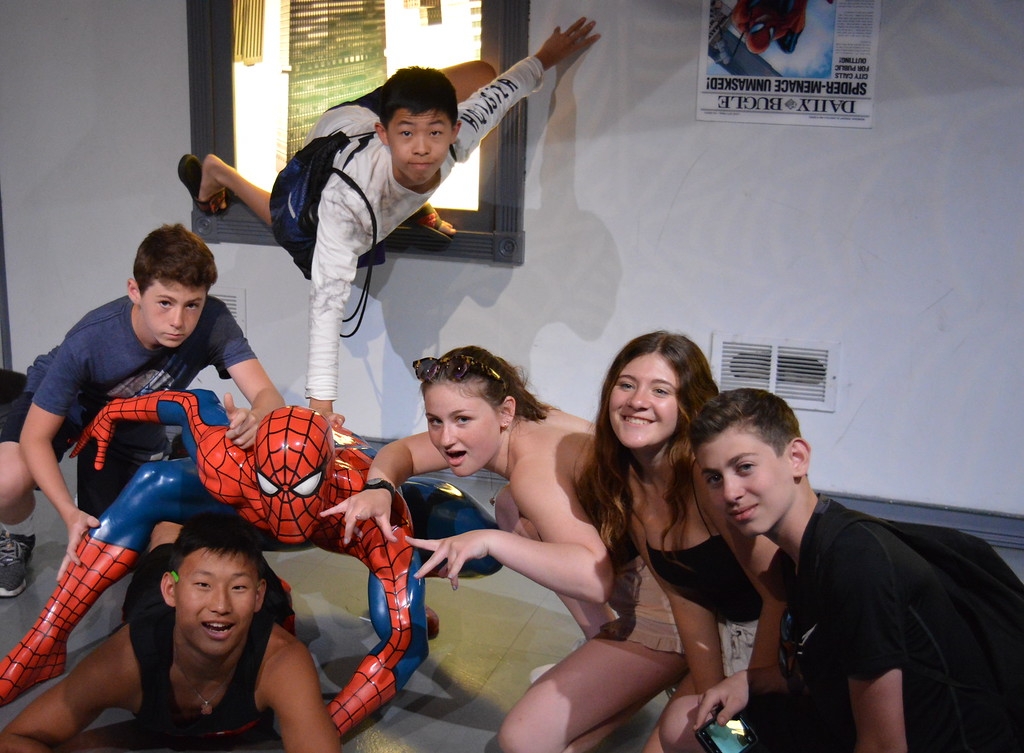 Our next stop was UCLA, a destination that many of us had been excited for and the hype lived up to the expectations, as everyone was able to have a preview of the college dorm experience! Our four days in Los Angeles were packed with fun-filled activities, such as Universal Studios, where the group took a behind the scenes tour of different studios and sets that some of our favorite TV shows and movies were filmed at. The favorite rides amongst the group included the Harry Potter simulation ride and The Mummy! We concluded the evening with a dinner at the Hard Rock Cafe.
During our time at Madame Tussaud's, the trip members took pictures with their favorite celebrities, including Beyoncé and Zac Efron, and we were all fascinated by how life-like these wax figures looked. Then there was our trip to Disneyland… where all the magic happens. This destination was a major highlight of the trip, as everyone was so excited to go on the famous rides, "Space Mountain" and "Thunder Mountain." It was an amazing day filled with rides, delicious food and incredible fireworks at night.
The next day at Venice Beach was a special one, as we also celebrated Robyn's birthday! We spent a fabulous night at an improv comedy club that got everyone was on the floor laughing! After the show our trip had delicious cupcakes and brownies for Robyn's birthday. Everyone has really been embracing every activity that we do, including surfing at Moonlight Beach, and going to the incredibly beautiful San Diego Zoo.
The relationships that have formed amongst trip members has been a magical thing to see and be apart of. Our group is very close-knit and the bonds we created will surely last a lifetime.
The Westcoast Blogger!
Want to see the famous Golden Gate Bridge in person? Check out our 14-day and 21-day California itinerary!