Hello from California,
What a week we've had! After everyone had arrived at San Francisco airport, our trip got off to a great start as we played icebreakers like 'look-up, look-down' and 'two truths and a lie' to create a unique bond within our trip family. That first night, we headed out to Chinatown for dinner and were surprised to discover that a few of us spoke Mandarin!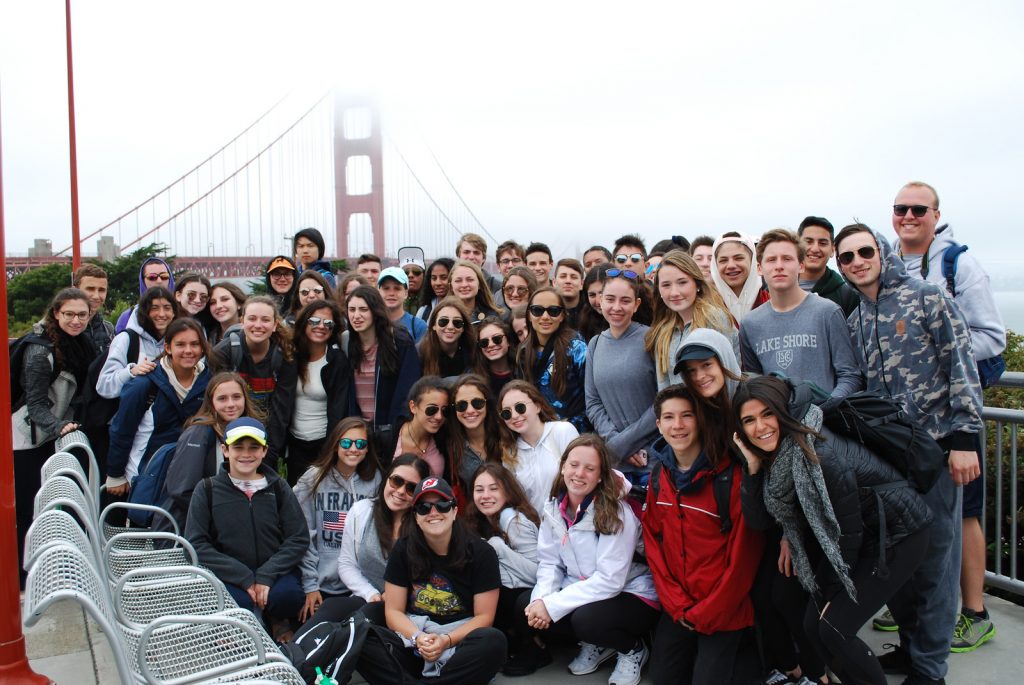 On day 2, we went to Alcatraz and were lucky enough to meet a woman who actually grew up on 'The Rock.' At least a dozen of us mentioned that Alcatraz was the perfect mix of slightly scary, informative, and fun! A major highlight of our first couple of days was when Charlie's Snapchat video of him arriving in San Francisco was featured on the official San Francisco 'Snap Story' and it had over 5,000 views! Go Charlie!
Our last day in San Fran was action-packed and full of activities. We introduced our 'Morning Song' based on suggestions from the group. The Hannah Montana theme song was the winner, and resulted in a massive sing-a-long on the bus! Later in the day, one of our very talented members taught the group an Italian hand game. Everyone was giggling and having a great time trying to learn the words and the rhythm of the game at the same time! Sausalito was our next stop of the day, and the teens explored the cute seaside town while playing the 'trade-up' game. Each group was given a packet of strawberry jam, and they were tasked with trading it for anything they could find from the lovely people of Sausalito. It was very entertaining to see what each group returned with at the end of our time there. One team won by trading their way up to a crossing guard's vest! Other teams brought back plush toys, keys to a tour bus, and even a baby! Don't worry… the parents were nearby!
Our final night in San Fran ended with an evening activity of bowling where Alexa A. beat trip director, Sydnee, by bowling a 117!
Our next stop was Lake Tahoe, woohoo! We kicked off our journey with a pit stop where we went white water rafting. The teens had a blast and took turns playing 'captain', where they were responsible for leading their boat crew. Many of us ended up jumping in and splashing around in the refreshing water! At the finish line of our rafting adventure, a picnic awaited, and we all hung out in the sun and dried off before heading down to the campground.
For many of our group this was their first time camping, and they took it like champs. After settling into their tents, some decided to hit the courts and play a game of basketball while others chose to take advantage of their downtime to shower and help prepare dinner. Our first night in Tahoe ended on a sweet note filled with s'mores, hot cocoa, and sharing our wishes for the trip!
Day 2 in Tahoe was mostly spent on the beach, with the majority of our squad showing off their water skiing, wakeboarding, and tubing skills. After a fun filled day on the beach, we went on a boat cruise on Lake Tahoe. The teens were amazed when the captain told them that we had actually crossed over state lines into Nevada, which they could see by the very clear dividing line on the surrounding mountains.
We finished off our second camping stop in Ventura where we saw a movie, spent time around the campfire and got some well deserved down time to get us ready for LA.
We are thrilled for our second week as a group to begin. Our members could not be more excited to meet and room with new friends as we continue our journey together. We are so excited we are now in LA!
Until Next Time,
The Westcoast Blogger
Interested in learning more about Westcoast Connection's travel tours through California & The Canyons? Check out our 21-day tours for middle school and high school students. It will be the adventure of a lifetime!