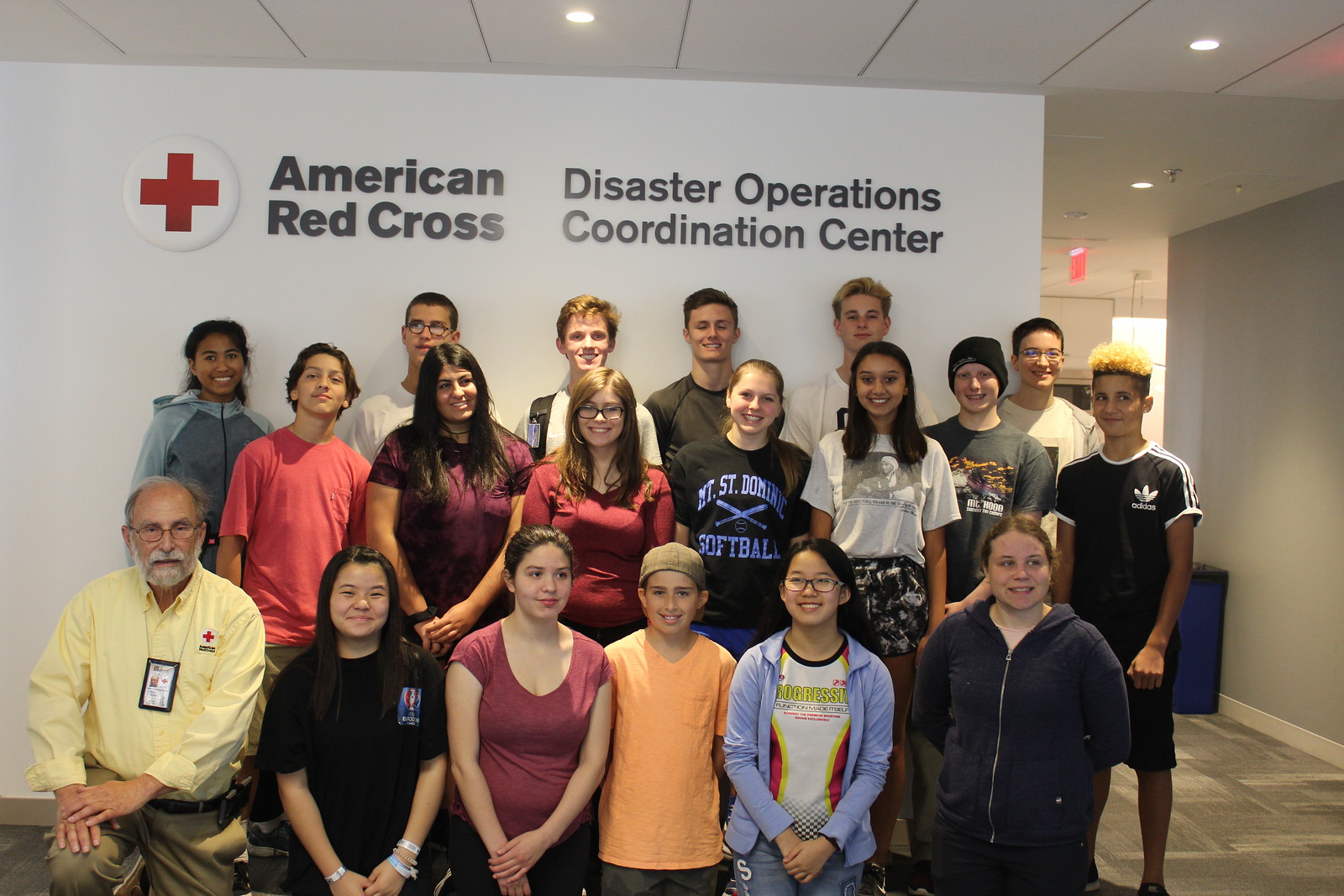 After everyone had arrived by train, plane, van, or car, we came together as one big group pretty quickly, eager to get to know one another. One fun fact we learned on day one: not many people on our team are the greatest of bowlers, but it was the perfect occasion to be silly and all laugh together, sliding around the bowling alley, throwing gutter balls and pretending they were strikes.

Tuesday was our first day of orientation at the American Red Cross. The group had the opportunity to tour the national headquarters in Virginia and the historical center in the middle of downtown DC. The national headquarters is an active building where employees track disasters all over the world and can see where their responders are at all times, while the historical center allowed trip members to see the diary started by Clara Burton (the American Red Cross founder) where she logged her journey in forming the American Red Cross. After our first day, we began passing what we call the spirit flag. Eric was our first winner of the spirit flag for his attentiveness and participation.

On Wednesday we began our CPR certification. This was an awesome experience filled with learning and fun. Trip members were encouraged to interact and it was so great to see them helping one another when a new friend was confused or didn't understand a procedure. CPR taught us how to help others both in an emergency and in the moment. The CPR morning gave Joven the opportunity to shine and he was passed the spirit flag for being attentive and always helpful to others.

In the afternoon, the group had a chance to go to Georgetown University's track field for some free time. For this, a few people relaxed by the bleachers to get to know one another, while the rest decided to show off their athleticism by tossing a frisbee, running, or kicking a ball around. Eventually, a few of the members decided to start a penalty shootout tournament! The winner would get eternal bragging rights and – because of how competitive our members are – the stakes were high. Finally, two of our trip leaders battled for the title and both missed shots, saved shots, and scored. Soon enough, with everyone cheering them on, Max was crowned the winner.

After an eventful first few days, we have been lucky to see so much of DC already, checking out the Smithsonian Museums on the National Mall, exploring Georgetown University's beautiful campus, and lounging on the hammocks near the sand volleyball court. We've gotten to know each other through our music choices while finding different tunes to jam out to in the car.

Alfa was the next member to receive the spirit flag for being kind and making an effort to get to know others. Most importantly, we've been able to participate in service! Once we were well-equipped with knowledge of the American Red Cross history and fully certified in CPR, we were able to start making a difference in the community through the Home Fire Canvassing Campaign. Day 1 provided us training and practice on how to approach a home and educated everyone on fire safety, and day 2 took us out into the community to make it a reality. Within only a few hours, along with the Morningside, Maryland volunteer firefighters and additional American Red Cross volunteers, our group installed and checked 29 smoke alarms in people's homes. One of our groups even visited the home of a woman who had previously experienced a home fire and opened her home willingly, knowing the work we were doing could save lives.

The American Red Cross trip is in full swing as we prepare for our last day of service. After that, we'll venture outside of DC to Baltimore, MD for some water taxiing, dinner, and a show. We cannot wait to see what this city has in store for us next!

Until Next Time,

The Westcoast Blogger

Are you interested in this community service program? Check out our 10-day American Red Cross community service program.