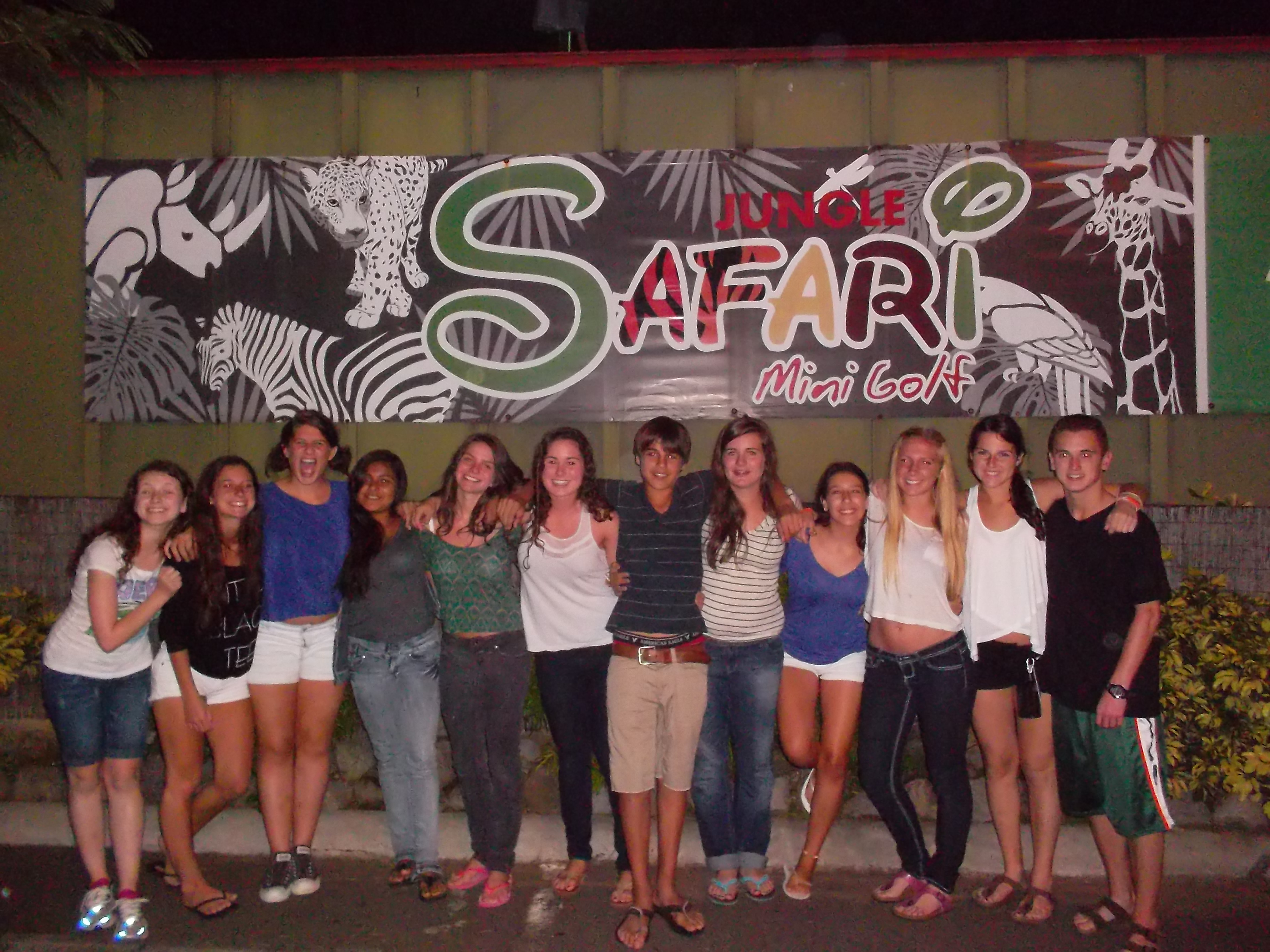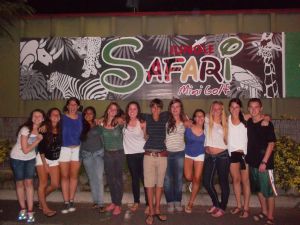 Hola families for the very last time…
Our journey to the hotel in San Carlos for our 2nd to last stop was punctuated by songs, games and laughter. We arrived in time for a delicious vegetarian dinner and learned about Habitat for Humanity, our next service project. Habitat has built over 125,000 homes worldwide in over 3,000 communities. The trip leaders Bretton and Jessie spoke about their experiences working for Habitat in New Orleans and Toronto respectively which gave everyone an even better understanding of the importance of the projects they were about to undertake.
The next day we began the service project.  Our job was to build the sidewalks and the trenches for the sewer systems for three homes. These homes have systematically been built by 7 different 360° Student Travel groups that worked with Habitat this summer and began the houses from the ground up.  From nothing but field and weeds, we are fortunate enough to be at the tail end of these projects and be working on the final touches of these houses, all of whom will be occupied by extremely low income families from this rural community.  The trenches are so important as they allow these families to have toilets and running water (likely for the first time in their lives) and Habitat will then be connecting the pipes to the land behind their houses, thus also helping to irrigate and fertilize future farmland at the same time – ingenious!!  But these are no small trenches.  They were each "L" shaped with the longer side about 30 feet long and the short side about 15 feet long.  Each trench was required to be just under 4 feet deep and over a foot and ½ wide.   The group worked amazingly well as a team and remembered to stay well hydrated! Our results were visible both in the trenches and in the faces of the families we served. Jordan was so excited when the width stick was able to measure all the way through his trench (meaning we made the trench wide enough to fit the pipes that would be going into the trench!) and Val was enamoured with the little puppies that belong to the families who have inhabited the two other completed houses next to the 3 we were working on.  One little local Costa Rican boy, probably about 2 ½ years old, by the name of Taylor, seemed to always get a kick out of untying Gabby's shoes!
Ice cream on the way back was a yummy, cool treat for all our hard work. Everyone was so satisfied with the work and couldn't wait to get back to finish what we started. Once back at the hotel, we enjoyed some much deserved relaxation in the pool and hot tub. One again, Marco was the last one out of the water. Everyone then dressed for our 1960's hippie theme dinner. We all wore our tie dye shirts that we made waaaaay back at our first hotel – and there were headbands and braids galore! Jemima had even brought a flowered headband from home, without knowing of the imminent hippie dinner. The dinner vibe went perfectly with the cute, hippie nature of the hotel we were staying at, with its painted flowers everywhere and vegetarian fare. Everyone loved the soy slider burgers and pasta at dinner- most people even had seconds! After dinner we had a great chat/debrief about the value of the service we did that day and the need for helping those in dire need.   Remi decided that she would like to start a Habitat for Humanity club at her school! Great idea Remi – hopefully that can happen!!  A few games of pool and foosball later to help us all unwind and people were ready for bed!
The second day of Habitat involved continuing to dig the trenches as well as painting the three houses that Westcoast Connection/360° Student Travel had built. The houses were painted a mustardy yellow- (most of the houses in Costa Rica are painted a shade of pink, orange, yellow or green!!) Rebecca did a great job using a paintbrush and roller on the sides of the houses with the help of Jessie and visiting Company Director Symon. Dani, Ali, Bailey and Remi were so close to finishing their trench they could taste it- and Chelsea R., Jordan and Marco perfected their three man rotation. Chelsea H., Jemima, Gabby and Val began a new trench with Bretton that was well underway by the time we left for lunch. After lunch we headed back to the hotel for swims and rests. After dinner tonight everyone got a well deserved stretch with a mini yoga class!
The third day of Habitat was awesome as we finished the project we set out to do, and even more. This group is the most dedicated and hard working group EVER! The project manager of Habitat was just overwhelmed when we left her with 2 absolutely completed trenches, 1 about halfway done (with the entire area cleared of debris) and every house painted that she was practically in tears.  Of course it didn't help that we all wrote her a card to wish her well in the future.  People like her are angels and do a thankless job!! Those with a little energy to spare (Gabby, Ali, Jemima, Dani, Chelsea and Chelsea along with Bretton and Symon) took an amazing hike through the mountains and rainforest to find a beautiful waterfall.   Although it was tiring, they all said it was worth it – especially the suspension bridge – right Dani? 
 A game of Gotcha began at dinner and ended with Marco and Val having to break their alliance…however Remi emerged as the final winner! The Gotcha game was punctuated by a game of charades-Chelsea R. said it was her very first time playing charades!! So much fun! Bidding adieu to our Hotel, we boarded our bus to return to our Central Valley hotel for the final leg of our Costa Rican adventure! After a quick two-hour ride we arrived at Café Britt, a well-known local coffee roaster and distributor. We took a tour of the on-site plantation and were given the true story of coffee; from its origins in Ethiopia, to the first Cafés in Europe, to the arrival of the plant on the shores of the Americas, and finally its spread throughout Costa Rica. We were able to see coffee plants through all the stages of growth – from seed to harvest – and then learn how to taste the final product like a professional. Our very own Jordan was taught how to "break the cup" to properly test the aroma of the coffee and then showed the audience how to cool and taste the fresh Café Britt coffee. The tour ended with an amazing lunch and some time to peruse the souvenir shop.
Once back at the hotel we enjoyed some relaxing time in the Jacuzzi before playing a few vicious rounds of 'Mafia.' After dinner we created new memories by rocking out with some karaoke at the hotel. Rebecca showed us all up with her rendition of a Kelly Clarkson hit and everyone got on stage to finish up the night with a very enthusiastic (though horribly out of key) chorus of Don't Stop Believin'. And our 'journey' goes on….and on….and on…and on….don't stop believin'……
Breakfast back at the hotel was delicious as usual, and a few adventurous types tried the local 'tamales'- a corn based breakfast food that is wrapped in a banana leaf and steamed! Yum!! Our last two days of service began with work at Brasil de Mora school.  Here, 360° Student Travel has built an English classroom from the ground up this summer.  Again, it is such a privilege that we get to be a part of this endeavour, this time organized by the Humanitarian Foundation.  Chelsea H. and Chelsea R. and Ali were very dedicated to painting the closet/storage room, while Val, Remi, Rebecca and Marco did a beautiful mural on the side of the classroom, designed by Val and Gabby. The mural is of a waterfall, mountains, sunset and river with the saying 'Let your mind flow like a river…' Gabby and Bailey and Dani worked hard on another mural at the back of the school based on the saying 'Dream with all the colours of the wind…' The English teacher, Marie-Helena, who has had to raise her own money to pay for lunches for some of the volunteers, called the building of the classroom nothing short of a miracle and is the most thankful and appreciative person you could ever meet.  It made what we did even that much more special.The second day of service was great as we finished and outlined the murals and then were part of the official ceremony where we presented the classroom to the English teacher and her students.  There was not a dry eye in the place. The school children presented our trip members with handmade bookmarks and local chocolates. We presented them with some sports equipment, which elicited many cheers!! Jordan got to hang out with a local farmer who happened to be at his garden plot right beside the school. He got to thrash black beans the traditional way and then helped the farmer harvest some corn. The second day of service ended with a fun game of mini golf at a local place called Jungle Safari Mini Golf. Gabby won her group's game and there were many hole in ones all around. Rebecca didn't know her own strength and in an attempt to get the ball over a bump, sent it into the parking lot! Luckily the parking lot was empty!
The last day was a bittersweet day as we had a great time white water rafting but had to say an early goodbye to Chelsea H. On our bus ride to rafting, our group gave the guide a rockin' acapella rendition of our morning song 'Walkin' on Sunshine'! Boat #2 had some people take a dip early (Val! Gabby!) but after we got the rhythm of the paddling, we were good to go. Chelsea R. and Bretton muscled the front of Boat #1 and Marco and Gabby headed up Boat #2. It was a beautiful sunny day and everyone had lots of fun! Dani, who has faced perhaps the most fears on this trip, was remarkably calm as the rafting did not contain any heights or…well…BUGS! Everyone had a sense of triumph when we put our paddles together like a high five and yelled 'Pura Vida!' Remi's face was the BEST when we looked at the professional rafting photos afterwards.
After a bittersweet reading of Chelsea H.'s "Last Will and Testament" written for her by Jordan, and Chelsea's for Gabby, we said goodbye to Chelsea H. and headed back to the hotel to pack and get ready for the final banquet and awards ceremony. The final banquet promises to be a memorable last night. The trip leaders will miss Marco's polite nature, Bailey's interesting laugh, Rebecca's willingness to try new things, Jemima's indomitable spirit and smile, Ali's antics, Jordan's running commentary, Remi's jokes and leadership, Gabby's friendliness, Val's stories, Dani's sense of adventure, Chelsea R's leadership and initiative and Chelsea H.'s ability to make anyone comfortable and welcome. What a group! This group has shown an incredible amount of spirit, friendship, sense of family, dedication, work ethic and openness throughout the entire summer! The leaders hope you will keep in touch and be lifelong friends.
Adios! Hasta Luego! Ciao!   
The Westcoast Blogger