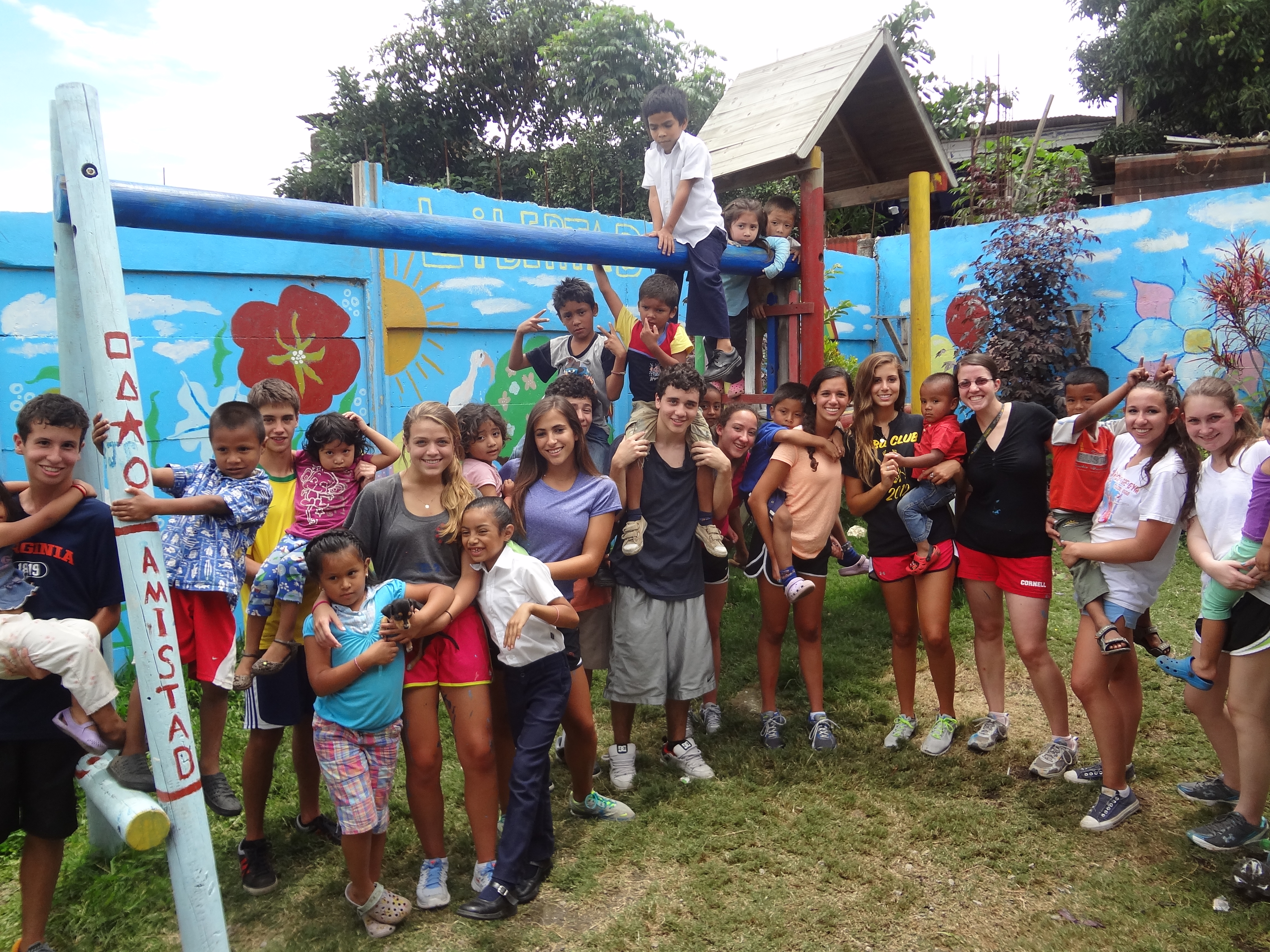 ¡Bienvenidos a nuestro viaje por Costa Rica! Welcome to our first  blog!
Estamos súper orgullosos de todos nuestros miembros de haber elegido la opción de un programa de lenguaje y de servicio a la comunidad, así que ya empezamos a utilizar las palabras en español para describir la cultura costarricense. El primer día, cada miembro del viaje tenía una palabra en sus etiquetas de identificación, y cada uno compartió en español por qué esa palabra sería importante para nuestro viaje. Kara estaba muy impresionada con la manera en que lograron manejar este primer desafío de español. Uno de los principales objetivos de este viaje será definitivamente animar a todos a salir de su zona de comodidad. Si nos referimos a lo que hemos visto hasta ahora, ¡nos dirigimos en la buena dirección!
We're super proud of all of our trip members for choosing a language and community service trip, so of course we started with getting straight into using Spanish words to describe Costa Rican culture. Every trip member had a word on their first-day nametags, and each shared in Spanish why that word will be important to our trip- Kara was really impressed with how they managed to handle this first language challenge. One of the main objectives of this trip will definitely be to encourage everyone to get out of their comfort zone in terms of using Spanish, and from what we have seen so far we are heading in the right direction!
El primer día, los miembros del viaje tuvieron su primera experiencia con la comida de Costa Rica, cuando conocieron el arroz y frijoles y el arroz con pollo. Llegar a conocer y probar comidas tradicionales de otros países hace parte de la aventura, y fue genial ver cómo todos los jóvenes estuvieron abiertos a probar cosas nuevas. También celebramos un evento muy importante el 15 de julio – Jalen cumpliendo 15 años. Todos disfrutaron de un pastel de cumpleaños antes de acostarse. ¡Feliz cumpleaños Jalen!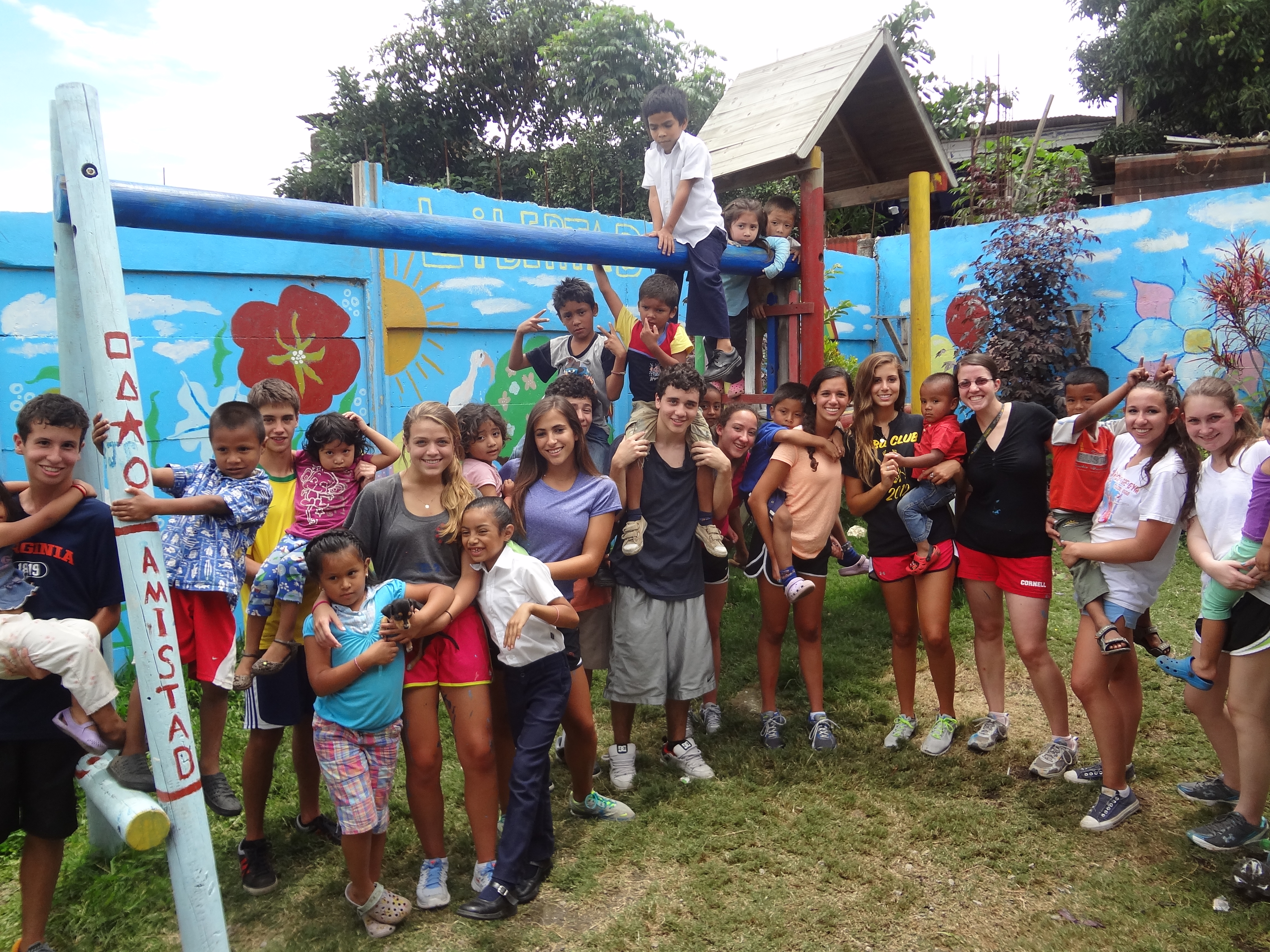 On day one, trip members had their first Costa Rican food experience, being introduced to rice and beans and arroz con pollo (rice with chicken). Getting to know and taste other countries' traditional meals is part of the adventure, and it was great to see how open everyone is to trying new things.  We also celebrated a really important event on July 15- Jalen's 15th birthday. Everyone enjoyed some birthday cake before bed. ¡Feliz cumpleaños Jalen!
El día siguiente tuvimos una emocionante primera actividad al aire libre cuando fuimos "rafting" en el río Pacuare. Fue la primera vez para muchos de nuestros miembros del viaje, incluyendo Jalen, Dan, y Julia P., y rápidamente aprendieron lo increíble que es. Nuestros guías nos ofrecieron una aventura divertida, segura y significativa sobre el río. Mirando a altas cascadas, disfrutando de un delicioso almuerzo al lado del río y nadar en aguas tranquilas fueron algunos de los grandes momentos que hemos compartido ese día como grupo.
The next day we had an exciting first outdoor activity when we went whitewater rafting on the Pacuare River. It was the first time rafting for many of our trip members, including Jalen, Dan, and Julia P, and they quickly learned how amazing it is! Our guides offered us a fun, safe, and meaningful adventure on the river. Gazing at high waterfalls, enjoying a tasty lunch on the riverbank, and swimming in calm water were some of the great moments we shared that day as a group.
Debido a que este es un programa de idiomas, empezamos nuestra rutina de la mañana con una canción de la cantante costarricense Debi Nova, 'Un día a la vez'. Lauren y Kate y nos llevaron a cantar juntos con el CD y la guitarra de JP, que es un gran desafío para todos. Dan y Amelia eran nuestra primera pareja de "rey y reina", compartiendo con nosotros los anuncios y hechos del día en español. Sin duda, hemos aprendido la frase típica que la mayoría de los costarricenses utilizan aquí: pura vida. Es muy bueno escuchar una frase tan simple pero significativa en nuestro viaje a través de este maravilloso país.
Because this is a language program, we started our ´morning routine` with a song by the Costa Rican singer Debi Nova: Un día a la vez (A day at a time). Lauren and Kate led us in singing along with the CD and JP's guitar, which is a big challenge for everyone. Dan and Amelia were our first "rey y reina," (king and queen), sharing with us the day's announcements in Spanish. We have certainly learned the typical phrase every Costa Rican uses here: pura vida, meaning ´pure life.' It is great to hear such a simple but meaningful sentence as we journey through this wonderful country.
Ayer fue un gran día, ya que comenzó con una caminata en el brumoso Volcán Poas y con un delicioso almuerzo en las colinas. Erica y Demi disfrutaron especialmente los refrescos de fresa. Por la tarde tuvimos nuestro primer día de clase en el Centro Panamericano de Idiomas (CPI), y los miembros del viaje estuvieron impresionados por lo mucho que su español ya había mejorado! Utilizaron el español que han aprendido hasta el momento para el primer día de servicio comunitario en el barrio de La Carpio hoy, adónde miembros del viaje ayudaron inmediatamente. Lauren, Julia P., Andre, Pedro y Dan trabajaron  muy duro, moviendo grava para empezar a construir una casa, mientras que el resto del grupo fue a pintar casas. Julia N. y Amelia aún tenía el apoyo de niños del barrio que no podían esperar para ayudarles a pintar! Antes del almuerzo, todos pudieron practicar su español con los niños en la guardería local, especialmente Pedro y su nuevo amigo pequeñito que amaba echar agua a las plantas. Esta noche tenemos ganas de involucrarnos en una clase de cocina tica (costarricense), ¡hasta pronto!
Yesterday was a big day, as we started off with a nature hike at the misty Poas Volcano and a delicious lunch in the hills- Erica and Demi especially enjoyed the fresh strawberry smoothies. In the afternoon we had our first day of classes at the Centro Panamericano de Idiomas (CPI), and the trip members were all impressed by how much their Spanish has already improved! We put that Spanish to use today on our first day of community service in the La Carpio neighborhood, where trip members jumped right in to help. Lauren, Julia P., Andre, Pedro, and Dan worked hard moving gravel to start building a house, while the rest of us painted houses- Julia N. and Amelia even had a whole group of neighborhood kids who couldn't wait to help them paint! Before lunch, everyone enjoyed practicing their Spanish with children at the local daycare center, especially Pedro and his new small friend who just loved watering the plants. Tonight we're excited for a tico (Costa Rican) cooking class; hasta pronto!