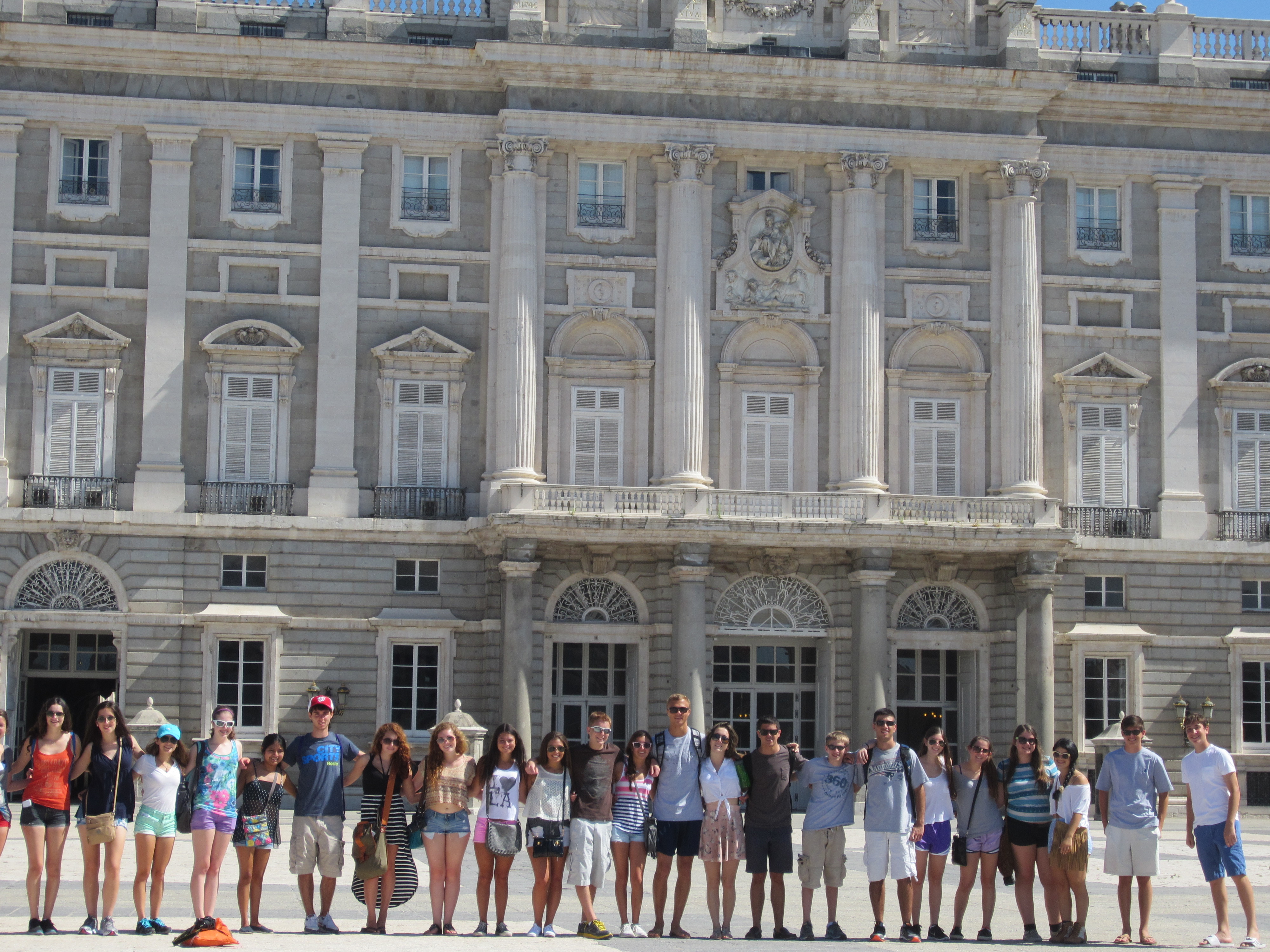 ¡Bienvenidos a España!
Welcome to the Spain Language Blog!Cuando llegamos al aeropuerto no perdimos ni un momento en empezar nuestra aventura española. Pero, primero todos recibieron un compañero de autobus, que muy pronto nos etiquetamos "bebe" (b.b. para bus buddy). De esta manera, cada persona hizo un nuevo amigo desde el principio y todo el mundo tenia alguien que cuidar para el resto del viaje.We wasted no time once everyone arrived at the airport, launching straight into our Spain adventure. But first everyone got a bus buddy, soon to be affectionately known as his or her "bebe." This way everyone made a new friend right from the start and had someone to look after for the rest of the trip.
Al Templo Debod, jugamos "icebreakers" y inciamos un juego que se llama "Gotcha" en el cual una persona intenta hacer al otro estudiante decir una palabra específica en español. Es una oportunidad perfecta para poder aumentar nuestro vocabulario. Fue claro muy rapidamente que Noah era el invicto. Su objetivo, Sam dijo "langosta" en los primeros cinco minutos del juego. Sam tiene una alergía a la Langosta, y nunca olvidara esta palabra.
At Templo Debod we played icebreakers and began an ongoing game called "Gotcha," where one person tries to get another to say a particular Spanish word. This is an exciting way to build our Spanish vocabulary. Noah proved to be the master, succeeding in making Sam say "langosta" (Spanish for lobster) within 5 minutes. Sam, who is allergic to langosta, will never forget the word again.
El domingo era nuesto primer día completo y era lleno de la cultura Española. Empezamos por andar dos minutos al impressionante Palacio Real, donde Eddie fue excelente como guía. Ben y Taylor disfrutaron mucho la armoria real y aprendieron la historia correspondiente de la monarquía española. A Kia le encantó la sala de porcelana brillante.
Sunday was our first full day and it was jam-packed with Spanish culture. We started out by walking just across the street from the hotel to the magnificent Palacio Real (Royal Palace), where Eddie filled in superbly as our personal tour guide. Ben and Taylor enjoyed viewing the Royal Armory and the corresponding history of the Spanish monarchy and Kia was fascinated by the palace's glistening Porcelain room.
Almorzamos en el famoso Mercado de San Miguel. Probamos el pescado, la paella, y la fruta local. Ah, y a Daphne, Sydney, Haley, y Sabrina les encantó el gelado!
For lunch we ate at the famous tapas market, El Mercado de San Miguel where we tried the seafood, paella, and local fruit. Oh, and Daphne, Sydney, Haley, and Sabrina, loved the gelato!
Por la tarde, fuimos al Museo de Prado donde Jennifer y Grace quedaron fascinadas por la obra Las Meninas de Velázquez. Después pasamos por el hermoso Parque de Retiro donde disfrutamos los paisajes, comimos helado bajo de la sombra, y remamos en barcas. El equipo de Dylan (Jay, Amanda,  y Eva) ganó una carrera, y el equipo de Sarah (Sarah P., Sarah S., Taylor y Zoe) termino unos segundos detras.
In the afternoon, we toured the Prado Art Museum, where Jennifer and Grace were fascinated by Velázquez's painting Las Meninas. Afterwards we walked to Madrid's version of Central Park, El Parque de Retiro, where we enjoyed the beautiful landscape, ate ice cream to cool off, and paddled rowboats in the pond. Dylan's team (Jay, Amanda, and Eva) won a close rowboat race, and team Sarah (Sarah P., Sarah S., Taylor and Zoe) placed a close second.
En la noche, cenamos por la Plaza Mayor en nuestros grupos, y practicamos ordenar nuestra cena en la idoma local. Allison y Leah compartieron su primera paella autentica, un plato lleno de mariscos. Durante la cena nos hicieron reír los artistas de la Plaza (incluiendo un marabú bailarin hilarante!). Por supuesto, tuvimos que guardar espacio para el postre — churros con chocolate en la Chocolatería San Ginés, la mas famosa de Madrid. Samantha, Eva y Stephanie estaban encantadas con sus bigotes de churros. Con las caras cubiertas de chocolate, regresamos al hotel para descansar.
At night, we enjoyed dinner at Plaza Mayor and practiced our Spanish by ordering in the local language. Allison and Leah shared their first authentic Spanish paella, filled with shrimp, small crabs, and mussels. Throughout the meal we were entertained by a variety of performers in the square (including a hilarious dancing marabú!). Of course, we had to save room for dessert— churros con chocolate at the famous Chocolatería San Ginés! Samantha, Eva, and Stephanie showed their delight by posing with churro moustaches. With chocolate coated faces we headed to the hotel for a much needed good night's rest.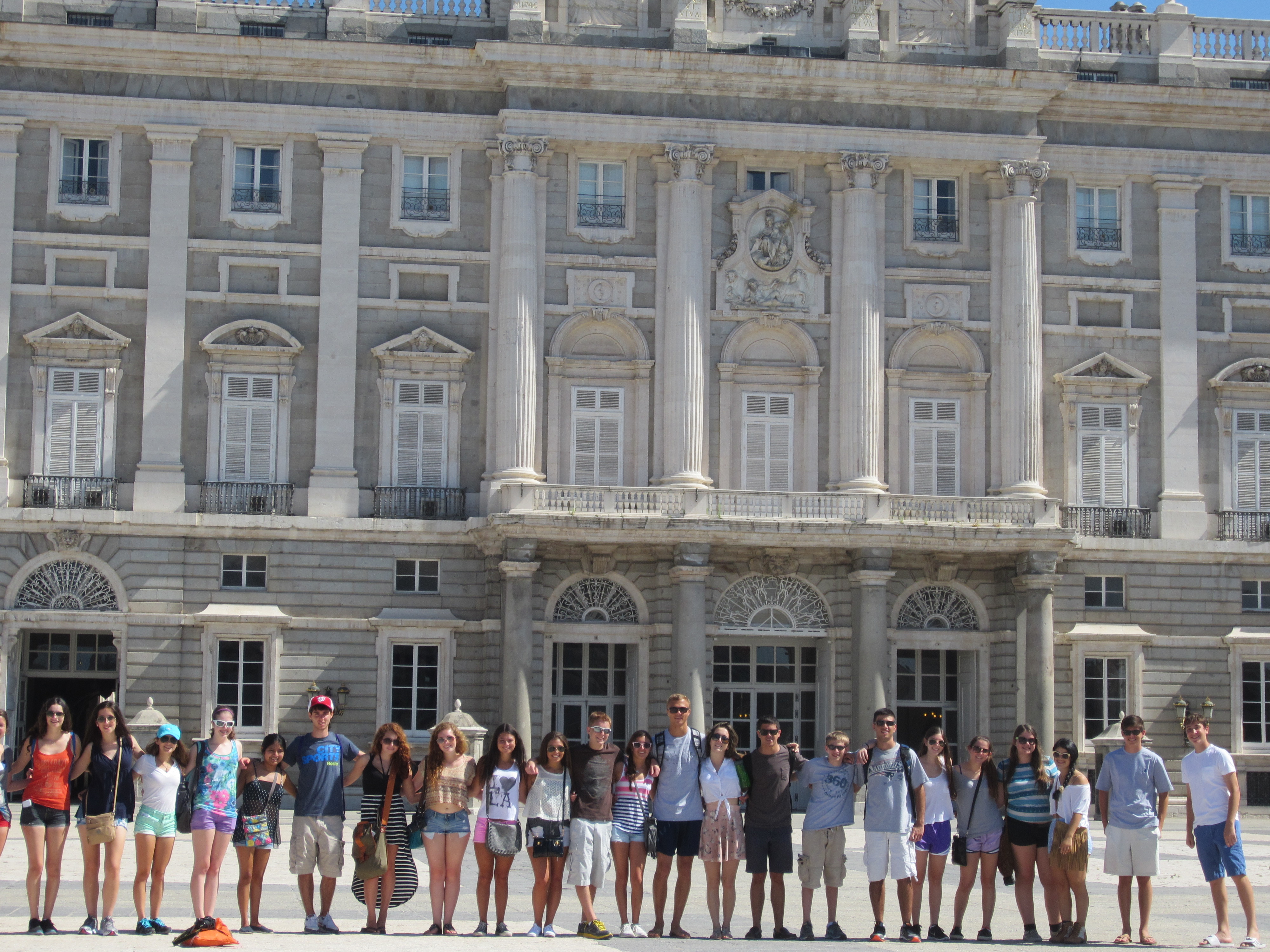 Dylan, Ilana, Eva, Amanda, Samantha y Brittney se levantaron temprano para deshacerse de los churros y chocolate, corriendo en frente del Palacio Real. El lunes también empezamos nuestra experiencia interáctiva educacional en Enforex. Durante el camino a la escuela, introducimos el primer Rey y la primera Reina del día (Sam y Sarah P.) quienes nos leyeron los anuncios del día en español. Como parte de la prueba inicial, Jay disfrutó su conversación con un miembro del equipo de Enforex que ha enseñado anteriormente en California.
Dylan, Ilana, Eva, Amanda, Samantha and Brittney decided to wake up early to work off those churros and chocolate, running laps around the front lawn of the Palacio Real. Monday we also began our interactive educational experience at Enforex. On the bus ride there, our inaugural Rey y Reina del día (Sam and Sarah P.) read the daily announcements in Spanish. As a part of the placement assessment, Jay enjoyed his Spanish conversation with a language school staff member who previously taught in California.
Despues de la escuela, fuimos a esquiar, hacer snowboard y tubing dentro del centro commercial Xanadu. Fue surrealista de estar en nieve en medio del verano. Nos encanto la experiencia y no pudimos bajar a Kia, Ben, Eddie, Jay y Sarah S. de las pistas!
After school, we went skiing, snowboarding and tubing inside the Xanadu complex. What a surreal experience to be in snow in the middle of the summer. We all had a blast and couldn't get Kia, Ben, Eddie, Jay, and Sarah S. off the slopes!
Esa noche, Leah cantó al grupo (muchas gracias a Valerie y Ali por haberla accompañado bailando!) mientras admirábamos la puesta del sol desde el Palacio Real. Tambien nos impressionaron varios con sus talentos: Samantha nos demonstro su habilidad con el fútbol, y Dylan, Sabrina, y Allison competieron en marcha atlética.
Later that night, we were serenaded by Leah (special thanks to Valerie and Ali for the backup dancing!) while watching the sunset by the Royal Palace. We were also very impressed by some really talented displays: Samantha was a soccer pro and Dylan, Sabrina, and Allison showed off their speed walking skills.
Proximá parada – Sevilla este fin de semana!
Next stop – Sevilla for the weekend!
The Westcoast Blogger