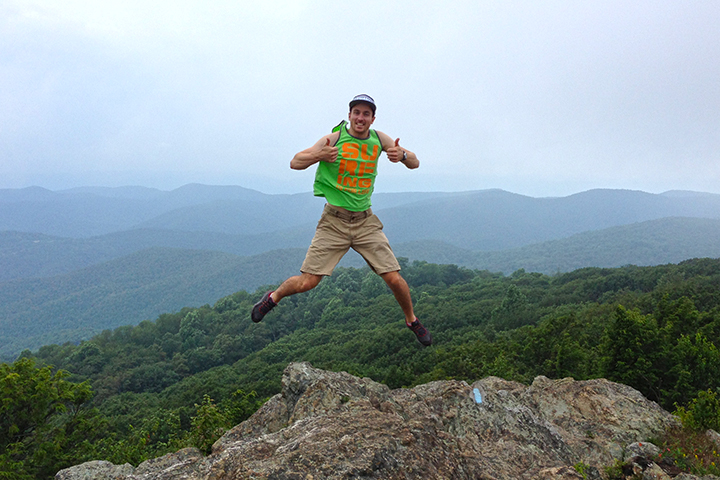 Name: Theodore Fagrelius
Nickname: Teddy
Occupation: Medical Student
Number of trips run for Westcoast/360°: 6
What's your favorite place to travel and why?
I can never get enough of the Rocky Mountains, but I am happy to be anywhere travelling with friends or meeting new ones! Iceland, Nashville, and Toronto are a few highlights from the past 4 months.
Best travel memory?
For me, travelling is about the relationships. I have been to some amazing places, but it is the experiences and relationships along the way that make particular memories stand out (I will say though that the surprise birthday dance routine in the streets of Santa Monica by my trip members and the birthday cake crushed in my face this summer were this year's best travel memory!).
If someone dumped out your bag right now, what would they find?
I haven't unpacked yet from Iceland, so you would find a bunch of smelly clothes and smoked fish.

You're stranded on a deserted island… What are the 3 things you bring with you?
Hatchet, water bottle, coffee maker.
Winter or summer?
I could stay in winter for years if I was skiing, but otherwise I love summer!
My weirdest phobia is:
Spending time in Ikea
My hidden talent is:
Guacamole making and constellation naming
Favorite Westcoast/360° activity?
I love playing the dinner game where everyone has the name of a famous person written on a card on their head, and they must figure out which person they have. We play it at dinner about halfway through my trips!

The one item you always wished you'd of packed but never do is:
Fresh socks are one of the best things in the world and it can turn my day around to put on a pair, so I try to bring enough but sometimes I run out.
My celebrity crush is:
Anna Kendrick and I are probably going to get married.
Best ever Westcoast/360° memory:
Too many to count, but the two that stick out are the time I pretended to be Jason Mraz in Hollywood and hundreds of people believed it, or watching the shooting stars in the Makgadikgadi Salt Pans of Southern Africa.

The Westcoast Blogger