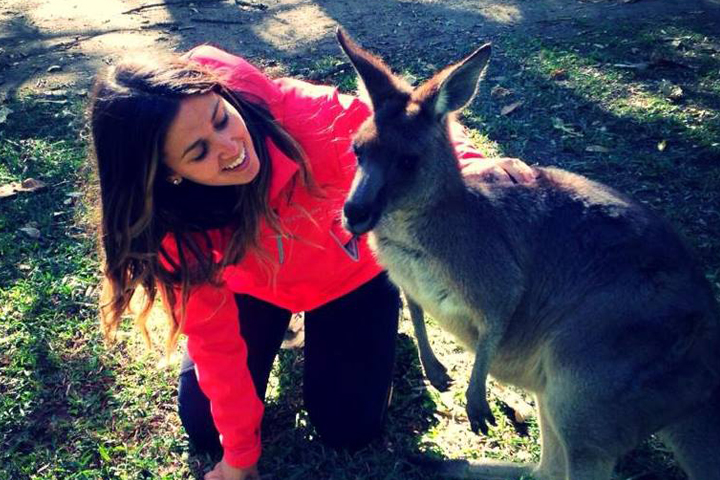 Name: Kelly B.
Nickname: Kel, Kelbel, Kellster
Occupation: Teacher
Years working for WCC/360°: Five
Where can we find you when you're not working?
At the gym, running outside, playing sports, cooking or hanging out with my family and friends.
What's your favorite place to travel and why?
My favorite place to travel is definitely in Europe. I loved that every country I visited had such a different look and the culture was beautiful. Every place was so different and filled with many rich foods, languages and diverse cultures.
Best travel memory?
Zip lining through the Costa Rican Jungle
If someone dumped out your bag right now, what would they find?
They would find my running shoes, workout clothes, beach dresses, comfy sweatpants and a big puffy sweater and probably 5 different scarves, I just LOVE scarves!


You're stranded on a deserted island… What are the 3 things you bring with you and why?
1) I would bring a lifetime supply of watermelon because it is so delicious and I would get to enjoy it's sweetness and also stay hydrated. It's also my favorite fruit!
2) My travel diary so I can write down what happens to me everyday and so I can re-read everything I've written in it since I started traveling.
3)A big knife so I can cut down coconuts from trees and catch fish! I know I'll be hungry!
Winter or summer?
SUMMERRRRRRRRRRR!!!!
Runners or flip-flops?
Runners

Favorite WCC/360° activity?
Sitting by the bonfire at campsites or on beaches. It's the best way for any type of bonding to occur and I have seen dozens of beautiful friendships begin this way, even for myself:)
My celebrity crush is:
Tom Brady
The item you always wished you'd of packed:
A flashlight
My hidden talent is:
I can really throw a football.. Hopefully almost as well as Tom Brady 😉
Favorite quote?
"We spend too much time focusing on the future, that we forget to live the now."
Best ever WCC/360° memory:
Singing our morning song in many different airports. We had some people playing guitars and we got the whole airport to either watch or sing with us, it was unreal and I will never ever forget that.

To have the best job in the world, you really need the best people in the world. Think you got what it takes?
Apply now: http://bit.ly/1aBJqx5
The Westcoast Blogger