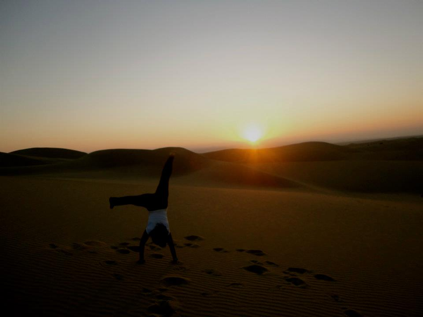 Name: Joelle Tolifero
Nickname: Jo or Jello
Occupation: Hall Director at Columbia University/Graduate Student
Years working for WCC/360°: Three going on four!
Where can we find you when you're not working?
When I'm not working you can find me wandering around New York City with friends probably in a park, museum, or in the far distant borough of Brooklyn, visiting my family in New Jersey, or in the Teachers College Library where I both work and meet up with other students who want to actually avoid whatever assignment is due that week.
What's your favorite way to spend a weekend or a Sunday afternoon?
The weekend is for fun in my book. I spend my weekends redeeming Groupon dinners, going to the Brooklyn bowl for a concert, or finding something else to do in my amazing city! Sunday afternoons however are reserved for Netflix, Hulu Plus, my bed, and laundry!
What's your favorite place to travel and why?
I really enjoy traveling in Latin America. I love the food, language, culture, and most of all, the colors. It is a country filled with color and therefore, in my opinion, filled with happiness. My first trip with Westcoast Connection / 360° Student Travel was to Costa Rica and it was by far one of the best places I've been to date.

If someone dumped out your bag right now, what would they find?
Well, I just got back from a mini-trip to LA so my bag is pretty packed. Inside you'd find my iPad with my readings for my upcoming Conflict Resolution Practicum class, my sarong (purchased in Costa Rica and has become sort of a blanket), the book How Children Succeed by Paul Tough, many many pens some of which have fallen apart, my passport, water bottle, boarding pass, baggage receipt, and a smooshed chocolate chip cookie!
You're stranded on a deserted island… What are the 3 things you bring with you and why?
I would bring a bathing suit, my best friend, and a yacht. The first two would make what could be a horrible situation a very fun one, and the last is to get home when we are tired of island living.
Ocean or pool?
Ocean, I love floating and jumping over waves, that feeling cannot be re-created in a pool.
Favorite WCC/360° activity?
My favorite activity to date was sand boarding and riding the dune buggies in Peru.
The one item you always pack and never use is:
Nail polish remover, I always end up just filling in the chipped edges with the same color I already have on instead of re-doing it.

The item you always wished you'd of packed and would always use is:
Wet Wipes, I pack them for camping and don't think I will need it on a daily basis staying in hotels but always seem to be looking for them when they are not there.
What is the last book you read?
The last book I read was All of One Peace by Colman McCarthy who writes memoirs about his experiences teaching peace education to students throughout the east coast.
My weirdest phobia is:
Sitting on the left side in the backseat of a car, not exactly sure why?
If Hollywood made a movie about your life, whom would you like to see play the lead role as you?
Kerry Washington without a doubt. Jennifer Hudson as an understudy.
Favorite quote?
"Education is the most powerful weapon which you can use to change the world" – Nelson Mandela

The Westcoast Blogger