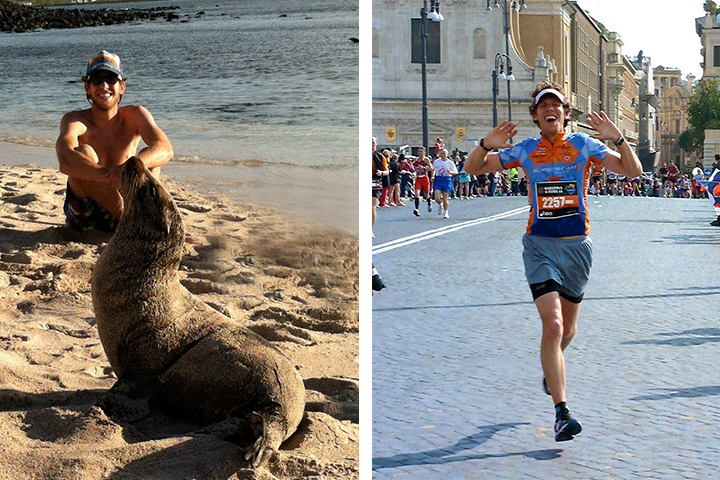 Name: Danny S.
Nickname: DSchizzle
Occupation: Math teacher at a boarding school in Switzerland
Years working for WCC/360°: 2015 will be my 11th summer
What's your favorite place to travel and why?
I have been to Nepal several times over the previous years and it's so alive with colors, tastes, smells, giant mountains, and wonderful people. I also love Costa Rica and Switzerland, of course!
Best travel memory?
Trips to national parks in the Western U.S. with my family when I was young cemented a love for the outdoors and travel for me from a young age.
If someone dumped out your bag right now, what would they find?
My must have travel items are: my razor scooter or Penny board, a trucker hat, a pair of sunglasses, my camera, passport, and journal.
Winter or summer?
Honestly, I'm a summer boy for life: long days of sunshine, living out of my backpack, strange foods, new languages, new friends.

Runners or flip-flops?
I feel like the expected answer is flip-flops, however I love to be on the move when traveling, and runners are much more versatile. I love going on runs in new countries!
Funniest thing a trip member has ever asked you?
In the Galapagos Islands, my group straightened my hair. It was not a pretty sight.
My weirdest phobia is:
I don't own a cell phone and I am allergic to both chocolate and caffeine.
If Hollywood made a movie about your life, whom would you like to see play the lead role as you?
I think Andy Samberg could do me justice.
Best ever WCC/360 memory:
Honestly 10 summers worth of traveling the world, playing outdoors, and doing service alongside some of my best friends and the raddest trip members in the world- there have been too many moments to count!

To have the best job in the world, you really need the best people in the world. Think you got what it takes? Apply now: http://bit.ly/1aBJqx5
The Westcoast Blogger
Do you want to start planning your next trip? Get ready for our France and Switzerland tour, including the Eiffel Tower, Swiss Alps & more.