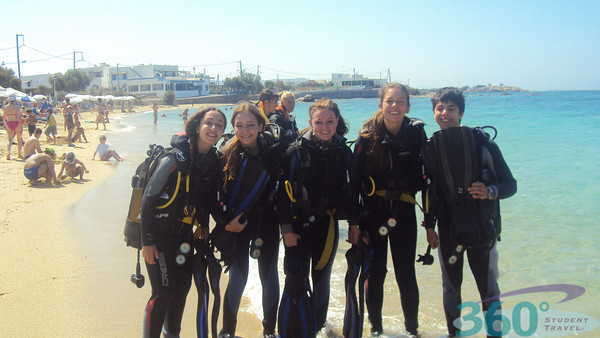 Greetings from the beautiful Greek island of Naxos! We have made it here after our beautiful ferry ride from the capital of Athens. After saying goodbye in Athens to our 17 day trip members, our group has been infused with energy by our new trip members, Alli, Ilana, Jay, Stella, Lauren and Lara. In Athens, we hiked to the top of the Parthenon, where Jackie and Melissa posed for some breathtaking photos atop the Acropolis, the view of the city was spectacular. After leaving the capital we made our way to Naxos the largest island of the Cyclades to enjoy the wonderful beaches, beautiful scenery and had the opportunity to explore the city and port.
When we got there we spent time lounging by the pool and exploring the town.  We all went for dinner in the quaint town, were serenaded by some traditional Greek music as we overlooked the sunset on our rooftop restaurant. After dinner, the trip members got to enjoy the center of town while playing the red pen game in which they were all given a pen to trade and see what they could come up back with. The game originates from the red paper clip blog started by Canadian Kyle Macdonald, in which he wanted to see what he could get if he continued to barter his single red paper clip. After many years and much popularity, Macdonald eventually ended up with a house gained only from trading the paper clip. At the end of the game, Lauren, Ilana, Lara, Sarah and Emily B. were the winners, as they won the company of some local Greeks who returned to dance for the group. The rest of the groups had a lot of fun bartering with the locals, and came back with some neat stuff of their own, ranging from roses to souvenirs! The next day, we were off to the beach to learn how to Scuba Dive. Scuba diving was most definitely a highlight!  The sea particularly intrigued Stella, bringing back with her a conch to carry around for the day! Trip members donned wetsuits and scuba gear for their beginner session. The depth got to 15 feet and under water divers touched sponges and sea cucumbers while fish swam all around. Time was spent relaxing at the beach too.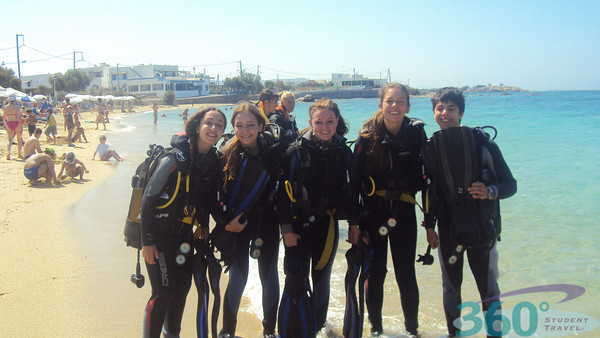 Our third day in Naxos started with an authentic Greek cooking class. Everyone pitched in to cook stuffed peppers and tomatoes, a traditional Greek dish. TMs Ali L., Kat and Sarah enjoyed being a part of cooking and everyone loved how the meal turned out.
We are off tomorrow for the postcard perfect isles of Santorini where the fun will continue! We'll have the catch to see the beautiful cliffs of Santorini and explore the small town of Fira.
Cannot wait to update you! Until next time….
The Westcoast Blogger
Do you want to join us on this adventure? Check out our Greece trips for students that includes visiting the Acropolis, Santorini & more.