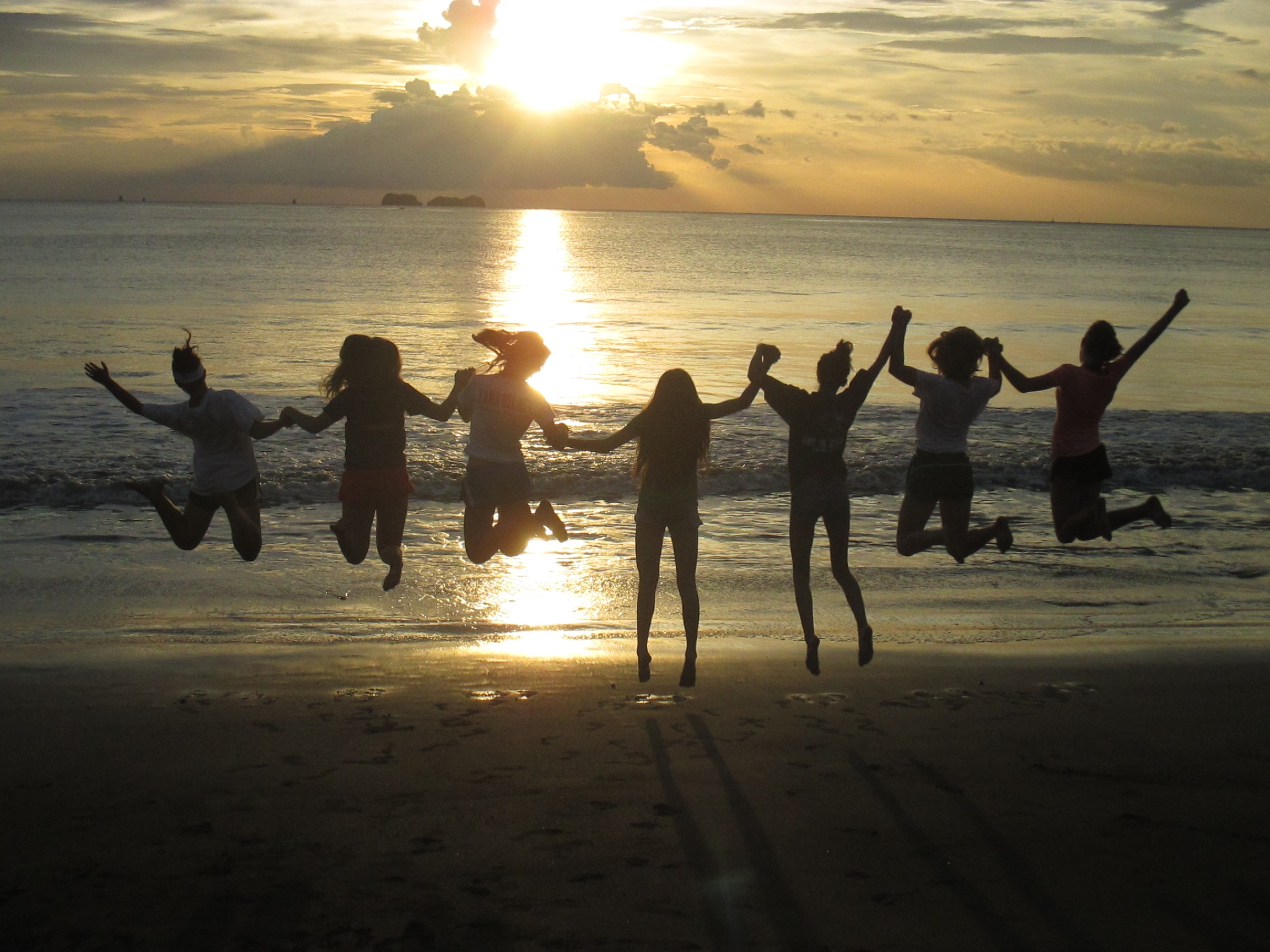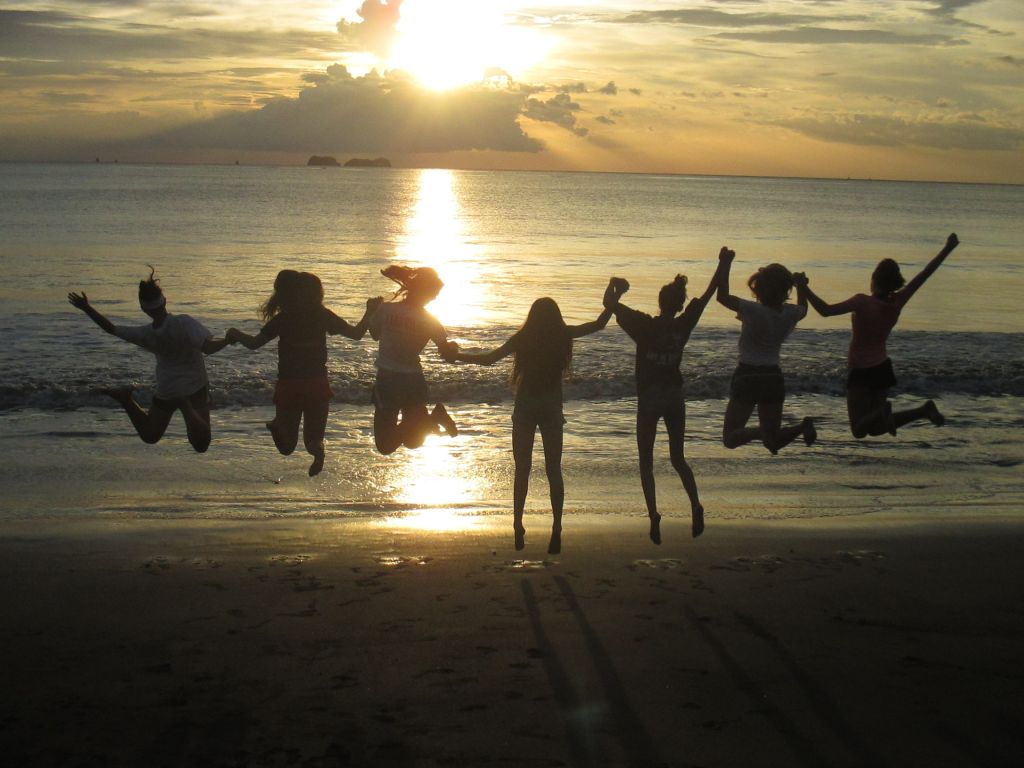 Hola familias!
We can't believe we'll be back home in just two short days. The last two days have been fantastic; we've been living a beachy life on the Western coast!
We arrived at Tamarindo Beach on Friday afternoon to have a surf lesson. Our instructors did an awesome job preparing us for the waves. Mallory T and Steven were pros from the start! Mallory stood up on her very first try! Once Charlie got the hang of it she was able to jump around on her board and switch sides like a natural. The majority of our trip members were able to balance on their boards so make sure to check out the pictures! I think everyone was a little nervous at first but by the end no one wanted to get off their board!
After surfing we did a little looking around in Tamarindo, which is a quaint little surf town. The atmosphere is so casual and fun, beachwear is accepted everywhere!
We left Tamarindo and headed to Flamingo, another coastal area where our hotel for the next two nights was located. This hotel had a very relaxed atmosphere and promoted environmentally friendly practices. That night we got a surprise—gelato from our local guide Lucrecia! It was a yummy treat for all.  After ice cream, everyone enjoyed unwinding by the beautiful pool before another big day.
On Saturday our trip members woke up to a mysterious message under their doors… a note to all that the Color Competition had begun! Each member was on one of two teams to compete in challenges over the next couple of days. It was ON!
Saturday was also the start of another service project for our group. We picked up where another group left off helping to build a local family's home. The group before us put walls onto this home that was once only a cement foundation and roof. We continued the project by cleaning the dust off of the outer walls to prep it for a new paint job. This required A LOT of hard work! Our trip members dug right in, ready to break a sweat, using steel brushes to clean the dust and dirt from the cement walls. Jillian, Frankie, and Emily sanded down the home's front door and drew on a border around the windows. Will and Nick scrubbed as hard as they could for 20 second increments with short breaks in-between! We were all exhausted by the end of the morning, but excited to see how the finished house would look.
After service we went to Playa Flamingo (Flamingo Beach) for an afternoon of fun in the sun! The ocean waves were excellent, everyone had fun playing in the water. Hailey, Morgane, and Mallory W. splashed in the waves the entire afternoon!
 Once we finished with our day of salt, sand, and sun, we transported to a different beach, one just down the road from our hotel. This beach is more secluded, which was perfect for our beach activity: watching the sunset! Words cannot describe how breathtaking our view was. Everyone was blown away and loved getting some photos. Let's just say we went on a GRAMpage! Jordana and Dana got a great shot of themselves making a heart silhouette in the sunlight. Morgane, Mallory W, Julia, Charlie, Mikayla, Isabel, and Hailey took pictures of themselves jumping in front of the ocean. Nick, Will, and Steven did a little bit of photobombing for fun as well.
When we returned to our hotel that night, Courtney and Steph were surprised by a little guest in their room…. a gecko! Thankfully, even though it was wicked fast, the housekeeper swooped in to save them! Whew!
 Today we headed back to our worksite to finish with the house. Everyone was happy to finish the scrubbing and move onto the painting! We painted the house blue and tan. The group worked hard all morning and finished the entire house! The family was SO grateful and we felt so happy to have the opportunity to help. We took a group photo with them to remember the experience.
After service we completed the rest of our trek through Costa Rica to our final stop, Rincon de la Vieja, a volcano in the north-west. Here, we are staying at an Eco-Lodge in the middle of the woods. It's very picturesque everywhere you turn. We completed the last challenge of our Color Competition, a relay of sorts with different stages to complete. Josh totally destroyed the mango-eating competition, and Juliette rocked her blindfolded scavenger hunt with directions from Frankie. In the end, the Blue team won the Color Competition, though the White team put up a good fight.
Tonight we had dinner at our Eco-Lodge, which was buffet style. Everyone was happy to have a made-to-order quesadilla! Excitement is in the air as well because tomorrow we get to go zip-lining! It will be a day packed with adventure so stay tuned for our final update from Costa Rica!
Hope all is well on the homefront! Can't wait to see our familias on Tuesday!
The Westcoast Blogger