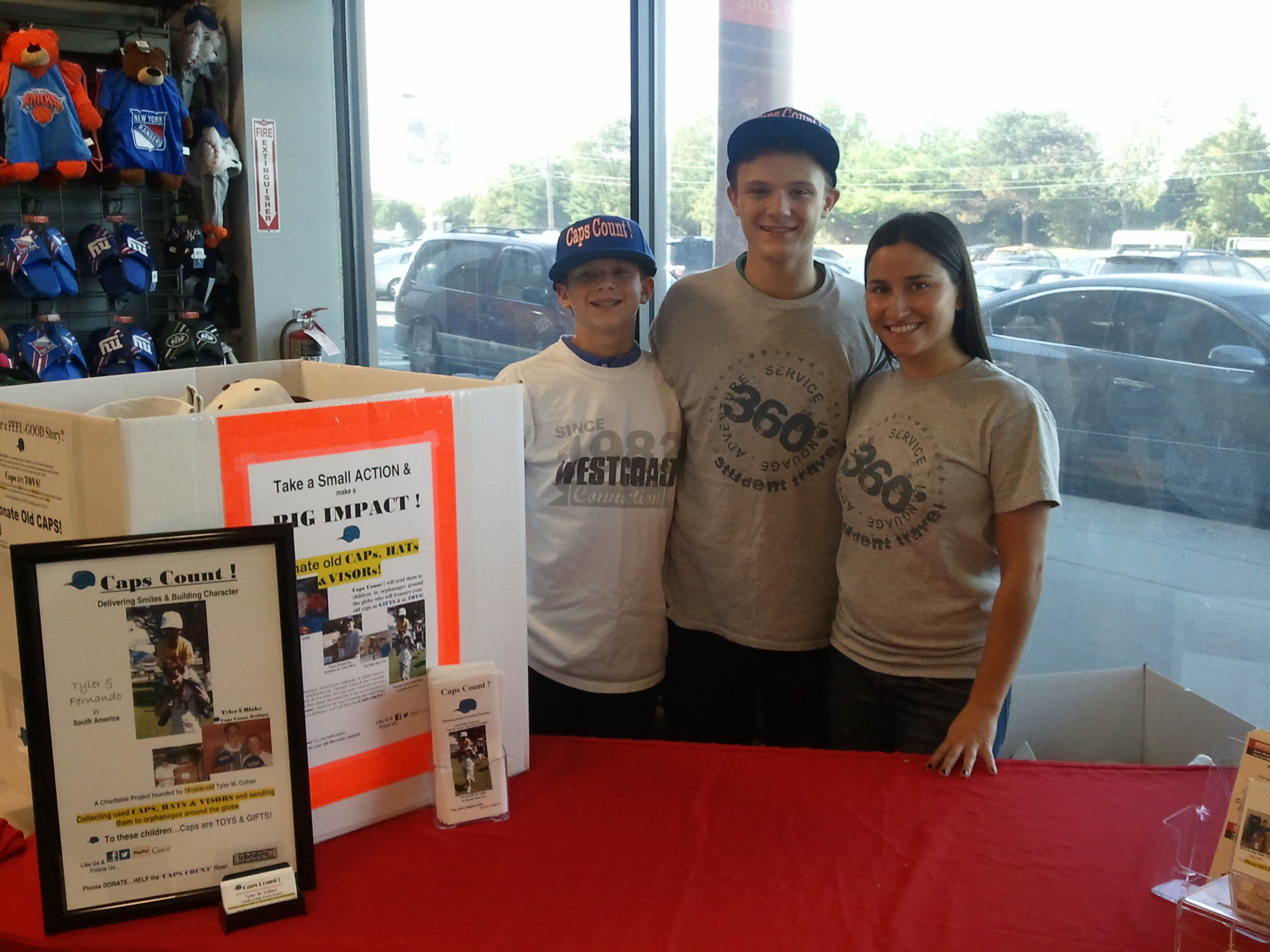 The story begins with "STOP, THIEF!"…
…in 2011 Tyler Cohen had an experience at an orphanage in Costa Rica while on his 360° Student Travel program. This experience had a profound effect on Tyler and the direction of his life from that moment forward.
While playing with his new 5-year old buddy, Fernando, during an arts & crafts project, the boy snatched the baseball cap off of Tyler's head and ran at full speed out to the playground. Tyler's first instinct was to run after him and get it back, "STOP, THIEF!" He started for the door but never made it outside. Tyler watched from the doorway as Fernando, filled with pride, showed off his 'new' baseball cap to the other children.
This experience has made Tyler more introspective about his own life and about how we, in North America, sometimes forget how well-off we are. It made him want to do something to show that he cares.
Our own Lindsay Ebert joined Tyler and his family at a local Modell's Sports where he and his brother, Blake, were setting up to do a little awareness raising…and to maybe collect a few more caps for the boys and girls who could really use them.
Lindsay: What is Caps Count?
Tyler: I started Caps Count when I was 16 years old. The idea for this project and its early success comes directly from my personal experiences on two 360 Student Travel Community Service trips and the support and advice from Westcoast  / 360°. Caps Count is a charitable project that collects used and unwanted caps, hats and visors and ships them to children in orphanages all around the globe. We think of caps as headwear, the children who receive these caps think of them as toys and gifts.
L: What inspired you to start Caps Count?
T: While doing community service in an orphanage in Costa Rica, two years ago, I was buddies with a 5-year-old named Fernando. Fernando climbed up on my shoulders and snatched the cap from my head. My first reaction was to get it back fast. I watched from the doorway as Fernando, filled with pride, showed off his "new" cap to the other children. I began to think introspectively about how little this cap means to me and how valuable it was to this little boy.
The following year, when I went to an orphanage in Ecuador, I took a small action that made a big impact. I found 22 caps in my house and stuffed them into my suitcase to share with the children in Ecuador. Their giant smiles and genuine gratitude almost seemed out of proportion because what I did was so small.
L: What is your favorite part about giving back?
T: It feels great and uplifting to deliver smiles to children. I like knowing that the actions and efforts that I put in create joy and are appreciated by the children receiving hats. It is a powerful feeling to do something small and have so many people and businesses support my efforts and have so many orphanages and organizations around the world appreciate the boxes that arrive from Caps Count.
L: What is your most memorable 360° Student Travel experience?
T: In the Galapogos, Ecuador we traveled to Santa Fe Island by boat. Countless Galapagos dolphins were jumping and playing in the boat's wake, it was thrilling to watch. We jumped into the water at Kickers Rock, an 800 foot deep crevice, to snorkel with the marine life. The crevice is massive, beautiful and awe-inspiring.
L: Do you have any Words of Wisdom for future 360° travelers?
T: The trip you are about to take is filled with fun that is hard to describe with words because it is so extreme and unique. Most people will never experience what you are about to experience. Enjoy it, remember it, talk about it, write about and think on it often.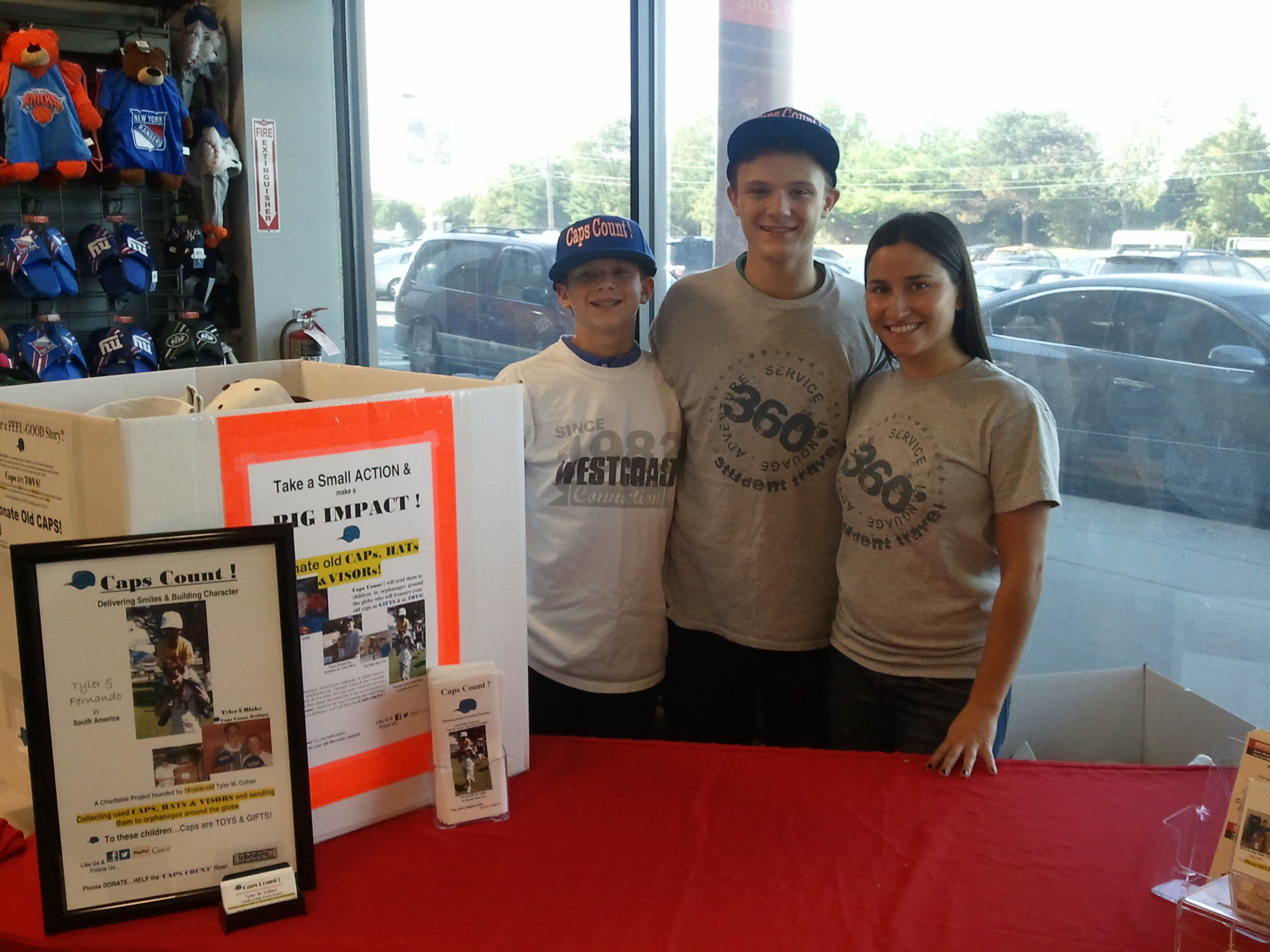 For more information about Caps Count you can check out their Facebook page, be sure to like it! From the biggest gesture to the smallest action, Community Service opportunities are all around us. To learn more about the many ways you can help make the world a better place for one child, one family or one community visit the 360° Student Travel website.