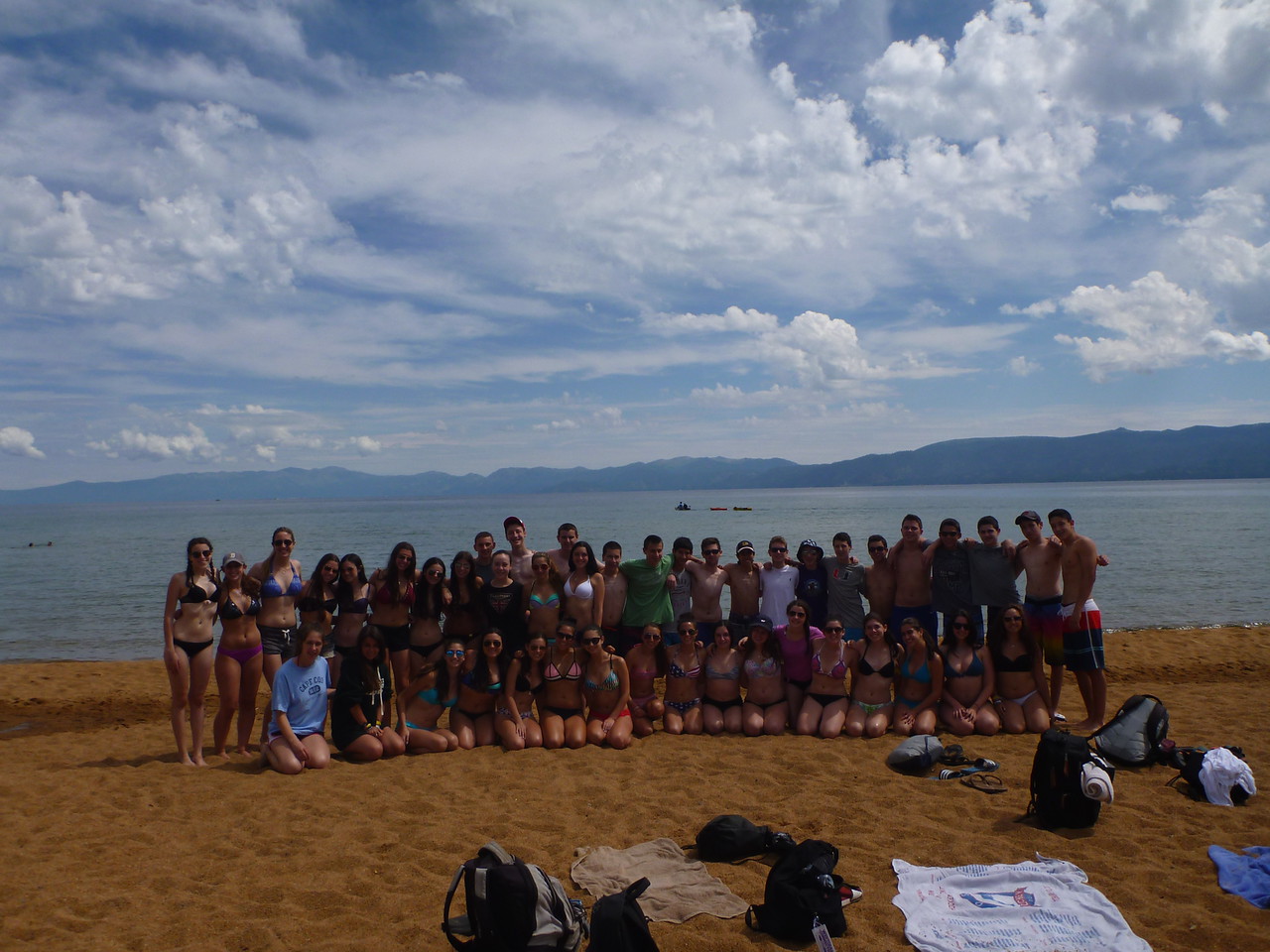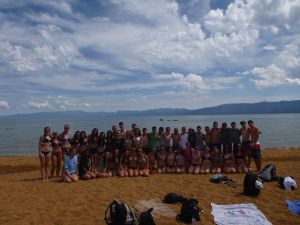 Everyone was happily bustling around the campsite in Tahoe before dinner. Trip Members played soccer and football in the open fields, while others shared songs and laughs around the fire pit. Everyone pitched in to help prepare the favorite dinner: Italian night! For dessert we made banana boats and memories around the campfire. At this point they're all pro campers!
After Trip Leaders presented their dance, trip members were challenged to a lip sync battle! They all danced their hearts out, but the judges agreed that the group with the most energy, enthusiasm, originality, and creativity would be the winners. Campsite manager Jake even said he was looking for FIRE! So …congrats to team Adam, Rachel S, Lindsay, Sarah F, Alex, Casey, Dylyn, Cody, and Matt L!
The next morning everyone geared up for wake boarding, water skiing, and tubing. Trip members were confident, either in their ability to learn the skill or to go for an exhilarating ride yet again. Kevin was one of the excited trip members to report that he had tried wake boarding for the first time!
EVERY trip member stepped out of their comfort zones and accomplished goals at the ropes course! Their adrenaline was pumping as we headed to the big city, San Francisco.
We were lucky enough to have met former inmate William Baker that day at Alcatraz. His book is a favorite read on the bus and having his autograph on the front cover is what makes it even more special. It was very sweet to have dined in Ghirardelli square and to have rode the cable car across the city.
The fun-filled next day, trip members either grabbed fish and chips or a burger at Jennifer Aniston's favorite burger place in Sausalito. The sun beamed down on us as we spent the entire day in the town on the bay. Every single trip member enjoyed the pen bartering game and got to know the friendly town. After trading and trading, one group came back with the massive Abalone shell and learned how it's becoming extinct.
We climbed Lombard street in record time and enjoyed the crooked, yet harmonious view from the top. Then, we were headed to the Giant's ball game, where– to our surprise, (or maybe not)– we watched some crazy and passionate Giants fans who were there.
We topped off a great day and night singing karaoke songs on the bus for the video camera…. just like the stars that we are!
-The Westcoast Blogger