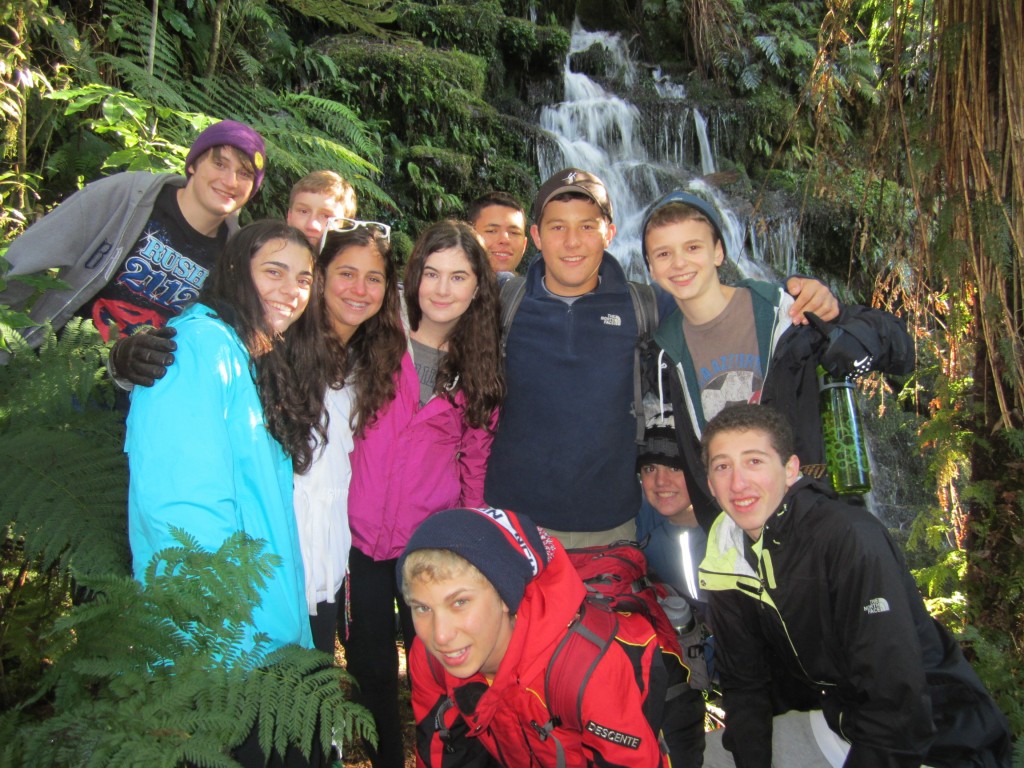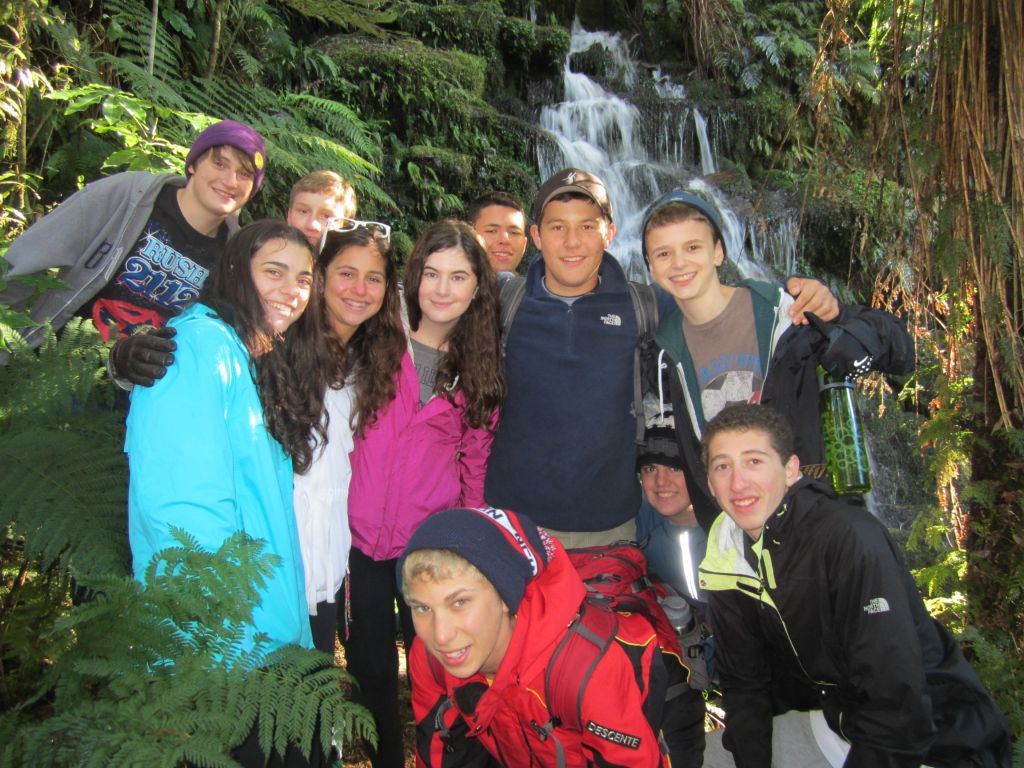 Kia Ora!
What an amazing few days it's been!
Straight away from LAX all the trip members got acquainted quite rapidly – we challenged them to learn each others name in 2 minutes … Guess what – they all did it! After grabbing some dinner at Wolfgang Puck, we all sat around a
circle to play some "look up look down" -Matt was the winner of that first round! On to Bang (another icebreaker type game that is so much fun, but a little iffy playing in an airport!!), Noah and Ben had a dual and Noah came out victorious! In celebration of Canada day, we had some fun facts trivia, signed the Canadian flag, and with much pride, sang the national anthem at gate 25!
Upon arrival in Auckland, also known as the city of sails, we met our tour guide 'Scratch'! He taught us some kiwi lingo – Kia Ora ( hello), Ka Pi (all good) – so we can fit right in – and took us on an amazing tour around Auckland! Our first stop was at mission bay where we took some awesome photos in front of the waterfront! We then warmed up with some hot chocolate, had some lunch, and checked into our hotel where we relaxed, showered, and headed out to La Porchetta for dinner!
Day 2 started off with a scenic drive through the mountains as we headed out of Auckland and on to Rotorua! Our bus ride consisted of name that tune, the number game, and some fun facts trivia in honor of the 4th of July! While Morgan and Maria were our name that tune champions, Justin wowed us with all of his presidential knowledge! Thanks J!! We
stopped off at Matamata to sneak in some photos and pose with a life size sculpture of Gollum from Lord of the Rings – and here's a random fun fact… The town of Matamata became famous when they filmed the shire from the Lord of the Rings!
Before checking in to our lodge -kiwi paka – we stopped off at Lake Rotorua to take some water front photos and Zac entertained us with some parkour … Back flips and free running!!! Our afternoon activity consisted of a majestic gondola
ride overlooking Mt. Tawara – a beautiful volcano sitting on Lake Rotorua! Once we got to the top, we took up some luging where we had 3 different courses to choose from – a scenic route, an intermediate course, and for the adventurous type, an advanced course which had a bit more thrills and excitement for those who wanted to pick up some speed!
We all started with the scenic route to get familiar with the activity, and Zac, Matt, Jake,  and Maria all went on the advanced course for the rest of their turns! The smiles and repeated comments of how "awesome" it was encouraged everyone else to go again and again and again!
Once the adrenaline calmed down, we took the Gondola back down and headed to our lodge where we enjoyed some down time and prepared our first meal – taco night! It was a huge success and we ended our evening with some fruit and fondue and enjoyed a night in to catch up on much needed rest.
Day 3 started off with a bright blue sky and a very bright sun! What better thing to do than enjoy a scenic drive through the mountains to arrive at our final destination – Waikaremoana … The largest man made forest in the southern hemisphere! we hiked all morning and learned about the different trees and species that live in the rainforest. Before entering, we heard a special prayer which allowed us visitors to enter the rainforest. After seeing a 1000 year old tree and a beautiful natural waterfall, we headed out to the river where we had lunch and attempted a human pyramid with all our trip members …We almost got it, but not quite yet! Andy then decided to take out his frisbee and got a game going with Justin and Jake!
Our final activity of the day was New Zealand's own creation – ZORBING!!! While Maria, Morgan, Ben, and Noah went to the "wet zorb" ride, Hannah, Jake, Matt, Justin, Chad, Zac, and Andy all went down on the dry Zorb! After a
long and intense day, we headed back to the lodge for dinner where we enjoyed a nice Italian dinner followed by a Traditional Haka ceremony! The trip members all learned he traditional Maori "war dance" and got dressed in authentic Haka clothing and face paint!
Well folks, that's it for now! Stay tuned as we continue our adventures into Blue Duck Lodge, National Park, and Wellington!
The Westcoast Blogger
Do you want to join us on this adventure? Travel with Westcoast Connection and get ready for a 14-day New Zealand student tour, where you will Zorb, waterfall raft, alpine trek, ski & more.