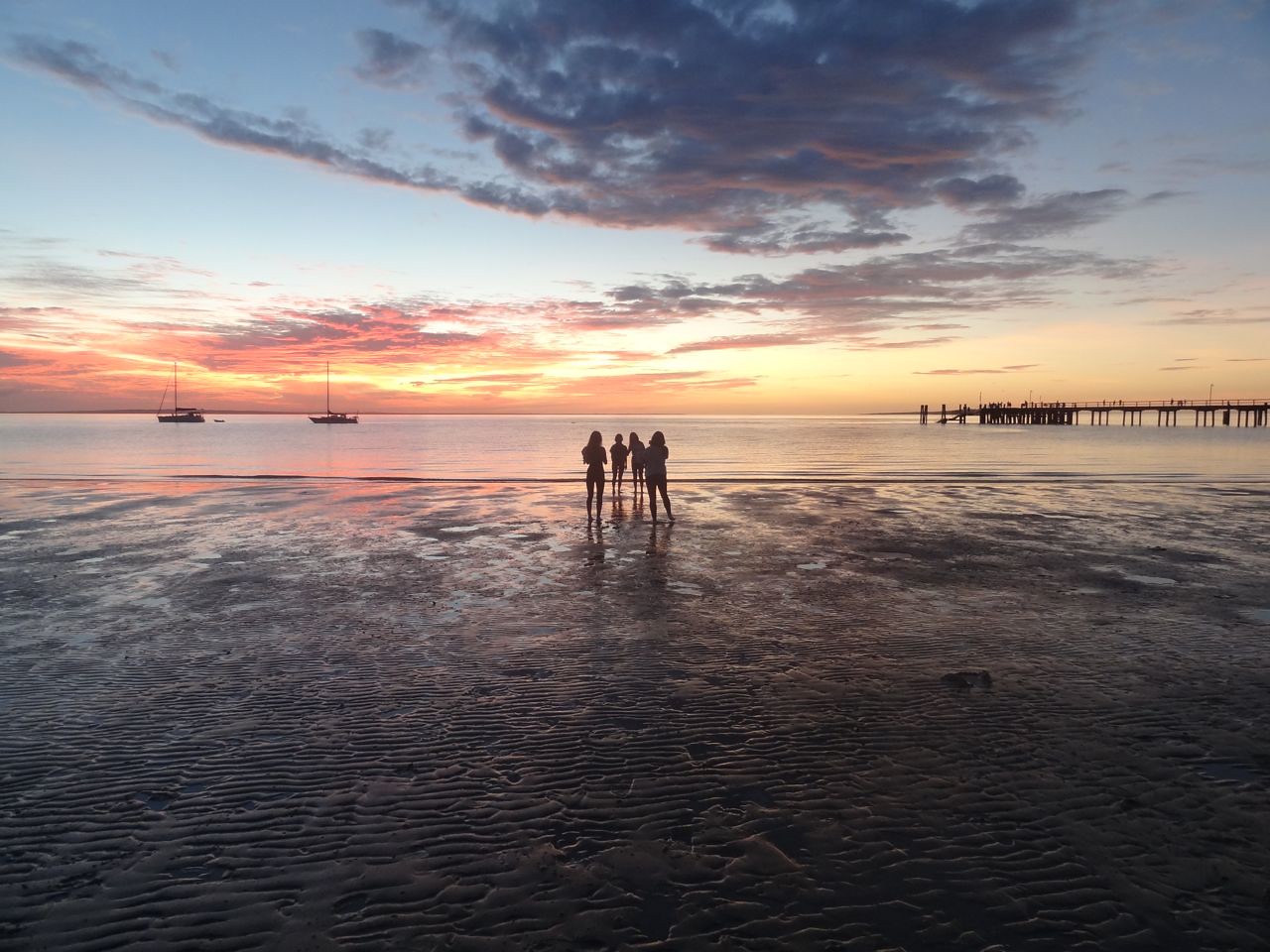 Hi all!
To begin our second week, we made our way to the On The Wallaby Lodge, where the trip members got to bond in a camp like setting. Some of the trip members went on a canoe ride to see the sunset, while others went at night time to see some wild life. They even saw a small tree kangaroo. The guide's dog, Chief, came along for the boat ride. He liked being in the front canoe, so he would jump from boat to boat. At night time the group had a great time roasting marshmallows by the fire, and playing games such as scategories, pool, and cards.
On Saturday we went for a tour around the surrounding areas of Yungaburra. We first visited the largest and longest standing fig tree, which inspired James Cameron to create the Tree of Souls in Avatar. Our bus driver, Sid, took us through the Australian rainforest and taught us about the different plants of the land, including the Stinging Tree and Wait-A-Whiles. We continued our journey to Lake Barrine, where we took a dive into a refreshing spring and enjoyed a great picnic-style lunch in the sun. We completed our tour at the Milla Milla waterfall, notorious for its use in the Pantene commercials, where the boys and girls practiced their hair-flicks and took many pictures.
The next day we flew to Brisbane. On the way to the airport, our amazing driver made a pit stop to show us some kangaroos at the golf course! Once we got to Brisbane we went for a group dinner where Eric started playing the piano, which got many of the trip members to take a turn. It was great to see and hear everyone's hidden talents.
We made our way by ferry to the amazing Fraser Island. As soon as we arrived, some of the trip members headed to the beach to watch the beautiful sunset. Claudia, Julia, Jordan and Rachel took some great silhouette photos in the sunset. After dinner we had a bonfire and roasted marshmallows.It was a great first day in Fraser Island.
On our 4WD tour of Fraser Island, the driver asked if one trip member wanted to sit up front with him, and Hudson quickly volunteered. Our first stop of the day was to see sand dunes. It was extremely cool, as Fraser Island is the largest island to be created out of sand (Basically the largest sand bar in the world). From there we made our way to a stream called Eli Creek and a beach, where the trip members buried Ryan in the sand. During this stop our guide had put out some tea and cookies for us all to enjoy. We continued down the beach to see a large ship wreck. They tried to remove the ship many years ago, but were unsuccessful, so decided to turn it into a memorial. Our guide took us to a fresh water stream, where the trip members got to fill up their bottles and drink the water. We ended the tour at beautiful Lake Mackenzie, where the water is so clear that you can see your feet when you are in neck deep water. It was an extremely fun filled day!
We said our goodbyes to Fraser Island and made our way to Surfer's Paradise. On the way we stopped at Australia Zoo. All of the trip members went to play with the kangaroos and watch them hop around. Many of the trip members held koalas and took pictures with them. All of the animals were extremely cute. That night we went to a yummy Italian restaurant, where they cooked your food in front of us so we all knew how incredibly fresh it was.
When we went kayaking, on our first day in Surfers Paradise, some of the trip members even decided to jump in and go snorkeling. It's amazing how we can do all of these water activities, even though it is their winter here in Australia. In the evening we went mini golfing, where everyone got a chance to show off their great skills.
The next day was a highlight. We started off the morning with our first surfing lesson. Everyone did a great job and many trip members were able to stand up on their boards. Following surfing, we made our way to Dreamworld, where we got the chance to go on rides and explore. It was a
blast! Everyone is looking forward to all the exciting activities coming our way both here in Surfers and coming up in Sydney. G'day!
Until next time,
The Westcoast Blogger
Interested in learning more about tours of Australia with Westcoast Connection?  It will be the travel experience of a lifetime. Start planning your own adventure today!