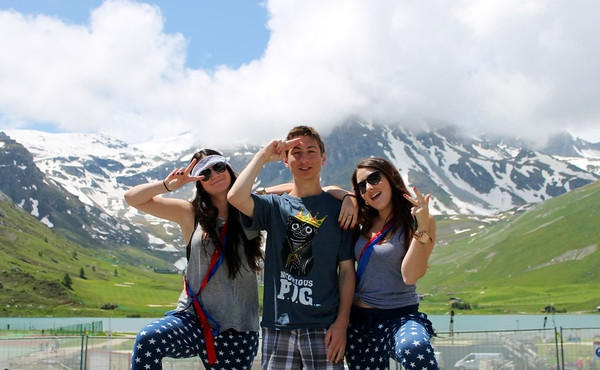 Au revoir Paris, bonjour Tignes  (Pronounced Teen, for anyone who struggles with rudimentary pronunciation)! We somehow managed to fit all of our clothes and new souvenirs back into our backpacks and proceeded to our next destination in the east of France. After 5 days of mastering the Paris public transit system, with lots of funny stories, and not to mention lots of newfound French friends to go along with it, we much preferred traveling by TGV.  Everyone liked the more space and comfy seats 🙂
Despite its name, summer skiing was a little cold! After our morning wake up, we made our way up to the top of the mountain bundled in all of the layers we could find! For the first run Zach, Drew, Bennett, Evan, Andrew, Ryan and Eric sped down the mountain.  Andie lost her skis on one of runs and Jill, Kate, Emilie, Maude and Jeremy used the first run as a warm up in preparation for the harder runs. Alexa, Emily, Jason A, Jessica, Helen, Andie, and Jason C hung out in the chalet at the top of the mountain for an extended  hot coco break. The boys (along with Jill, Kate, Maude, and Emilie) went out for a few more runs before making their way down the mountain for lunch!
Shortly after arriving in Geneva, we took a tour of the UN. Sydney did not know what the UN was,  instead of telling her the truth,  Morgan explained that the UN was a cheese factory! Morgan further told Sydney that the UN was home to the finest cheeses in the world and that each month royal families from all over world come and taste each cheese. Sydney believed every word that Morgan said until we arrived to the UN and realized that in fact, the UN had nothing to do with cheese and was quite disappointed!
We celebrated Will's birthday with a traditional Swiss dinner of cheese fondue, and were serenaded by yodelers who let us blow their horns.  At one of the after-dinner activities, we saw which twin was the competitive one, as Kate tried to beat Eric at foosball again and again, but never did succeed.  Put it this way,  Eric destroyed the group at foosball, Drio dominated at darts and we all had a blast.
The Westcoast Blogger