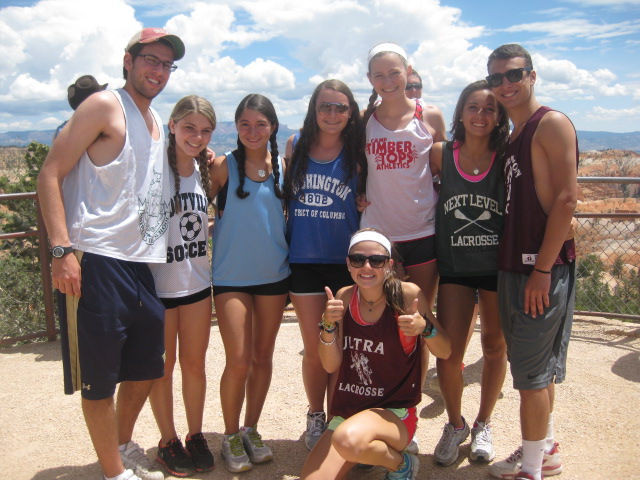 An update from Californian Extravaganza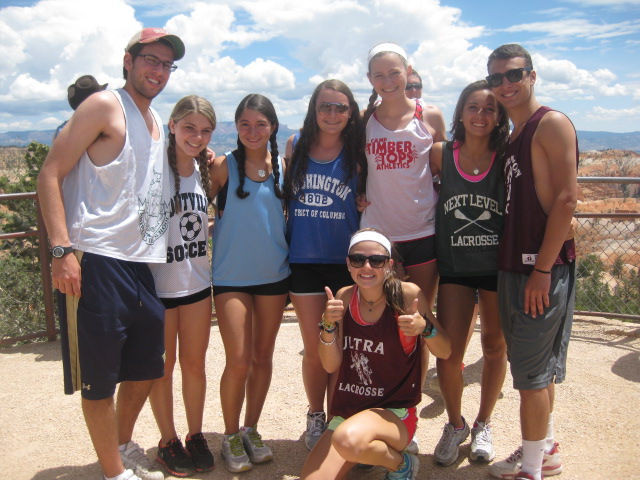 Well we've certainly made our way around the map. Still trekking along the West Coast, we made our way from Vegas to Bryce Canyon. We stopped on route to gear up for our team competitions. Leaving the bus a mess of colors, our trip members got their team pride in order. Ori and Ilana leading the way for the White team, Brandon and Lauren for Black, Noah and Kate for Blue, and Marissa and Jared for Red.
A dinner pit stop has us all experiencing an authentic cowboy cookout at The Chuck Wagon. Upon arrival, all trip members got suited up for an old Western movie. They played their parts on the real sets used in hundreds of old Western films. They did well (except for the Indians who forgot their horses when they set about on their way). Jenna and Leonor wrecked havoc in the old town as the wolves. They got a little help from the dark cowboy Landon. Not to worry, Matt G, the good cowboy was there to serve and protect. In the end, good prevailed, and so did our appetites with the delicious home style meal.
The next day started with a hike in Bryce Canyon. We were all blown away with natural beauty. We snapped tons of photos and took in the calm before we continued with our team competitions in the latter part of the afternoon.
And onto the Apache relay. The biggest event of the day. A series of 13 events ranging from listing all the names of all trip members and leaders to finding a bunch of gummy bears amidst a sea of flour. It got all team members involved at one point or other, but the team cheering was consistent throughout. The Black team took this event, but every team earned themselves a fair amount of points. Noteworthy moments of the relay: Sara blindfolded trying to feed Ori pudding, Jake T and Mara trying to unwrap gum using a large glove and their teeth, and Jake H trying to whistle with crackers in his mouth!
The nighttime brought another fun event. Top Chef dessert edition! The teams answered trivia questions to obtain their ingredients and then prepared dishes for the judges to sample. Points were awarded for taste, creativity, and presentation. White team won taste by a long shot. Blue and Red made beautiful presentations, but Dorian certainly won creativity points for the Black team with her outrageous explanations!
The final event of the day was the dance, song, and skit presented by each team. They got points for creativity, humor, incorporation of trip memories, and overall presentation. It made for a very entertaining show! Extra props goes to Daniel who wrote the majority of the Red team song dividing it up with different songs to "dedicate to" various trip jokes and memories.
After much excitement and fun, the night closed off with Blue taking it all! Congrats on a well-played competition from all the teams and all the players.
"Today's been my favorite day so far. It's just been so campy" – Ali!
Next stop, Flagstaff, Arizona!
The Westcoast Blogger