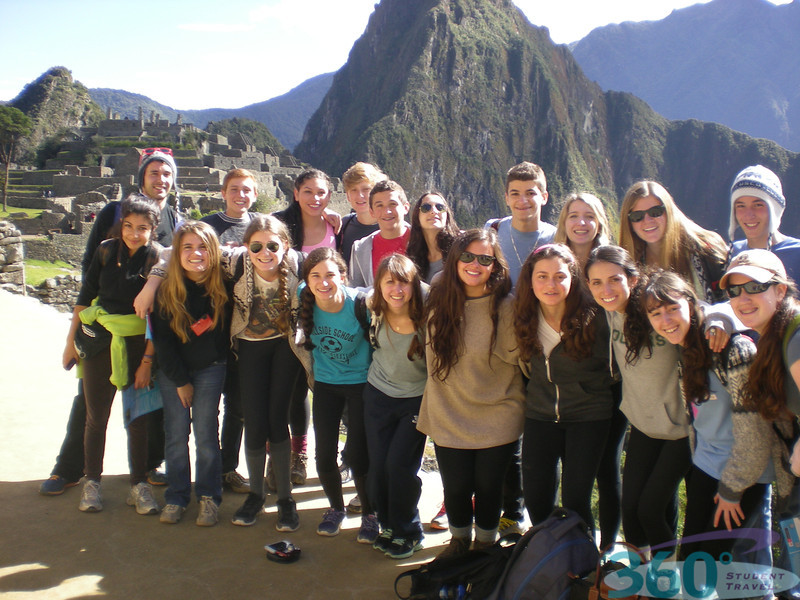 It's day 21 of our Peruvian odyssey, and it's been quite an amazing adventure!  After Cusco, we traveled to the 13,000 ft. high city of Puno, home to the world's highest navigable lake (Lake Titicaca), as well as the Uros floating islands.  These islands are made from reeds and are home to families of the Aymaran tribes.  We learned about their culture, and took a tour of the incredible island.  The women of the island dressed Moriah, Molly, Rachel, and Alexandra in traditional Aymara clothing!  Afterwards, we headed out to kayak on the stunning lake. The majority of trip members split up into duos, while Marc and Joshua E. preferred to demonstrate their expertise in solo-kayaks.  Wade and Claire showed off their impressive rowing skills, and Joshua R. and Robert challenged them to an exciting race.  Before heading back to the city on our private motorboat, we stopped at a remarkable little house-restaurant to eat some local cuisine- fresh trout from the lake.
¡Es el día 21 de nuestra odisea peruana y ha sido una aventura asombrosa!  Después de Cusco, viajamos a la ciudad de Puno (4,300 metros), hogar al lago más alto y navegable (Lago Titicaca), y también las islas flotantes de Uros.  Estas islas son hechas de junco y son casas para las familias de la tribu Aimara.  Aprendimos sobre su cultura y tomamos un tour de la isla increíble.  Las mujeres de la isla vistieron a Moriah, Molly, Rachel, y Alexandra en ropa Aimara tradicional.  Luego, fuimos al lago impresionante para ir en kayak.  La mayoría de los miembros se dividieron al dúos, mientras Marc y Joshua E. demostraron su experiencia en solo-kayaks.  Wade y Claire mostraron sus habilidades impresionantes de remar, y Joshua R. y Robert los retaron a una carrera emocionante.  Antes de regresar a la ciudad en nuestro barco privado, paramos en una casita-restaurante notable para comer comida local – trucha fresca del lago.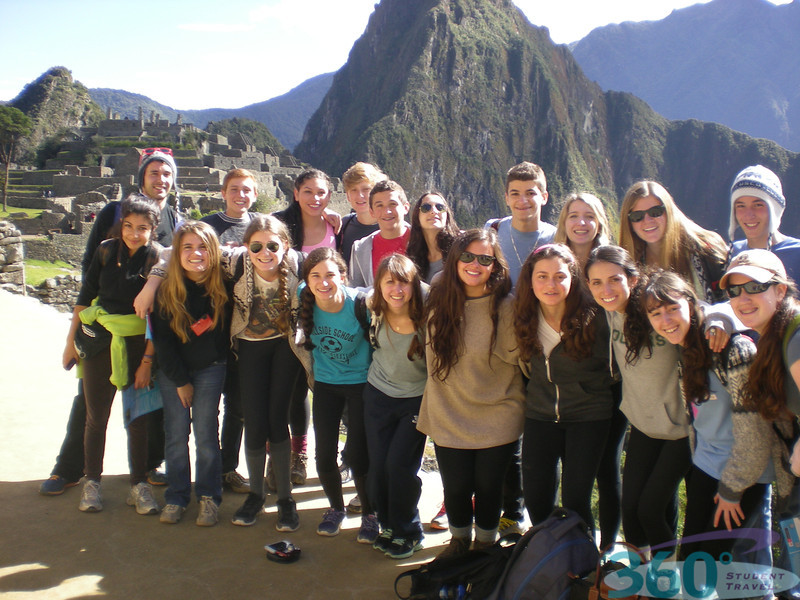 The next day we arrived in Arequipa, and right away we could see how it got its nickname as the White City.  Beautiful white stone architecture gives the city a very colonial feel.  The city is surrounded by three volcanoes, Misti, Picchu Picchu, and Chachani.  During our stay, we spent two mornings at the Asilo Lira Home for the Aged, where we were able to do some gardening and maintenance, and trip members had a great opportunity to practice their Spanish, Leo really impressed the residents with how much Spanish he knows!  We served soup and mate, did dishes, read newspapers, played games, shined shoes, and sang with the residents. Sydney and Ilan did a great job helping to serve residents who needed extra assistance, and Jack danced with one of the abuelitas. Manny, Rachel, and Christophe made a new friend with awesome foosball skills! In the afternoon we enjoyed a city tour of Arequipa, and finally got to try the famous Peruvian delicacy cuy– guinea pig! While David wasn't especially interested in tasting it, he certainly enjoyed examining the dish and showing it to everyone else!  At night we had a special treat- a trip to the movies in Spanish! Rickey, Moriah, Wade, Jack, Rachel, and Claire watched Blended, while the rest of the group saw Transformers 4. The trip members were all thrilled with how much Spanish they were able to understand!
El próximo día llegamos en Arequipa, y de una vez descubrimos como obtuvo su apodo "La Ciudad Blanca."  Arquitectura hermosa de piedra blanca da un estilo colonial a la ciudad.  La ciudad está rodeada por tres volcanes, Misti, Picchu Picchu, y Chachani.  Durante nuestra estancia, pasamos dos mañanas en el Asilo Lira Hogar para los ancianos, donde pudimos trabajar en el jardín y hacer mantenimiento, y los miembros tenían una gran oportunidad de practicar su español.  ¡Leo de verdad impresionó a los residentes con cuanto español sabe!  Servimos sopa y mate, fregamos, leemos periódicos, jugamos, brillamos zapatos, y cantamos con los residentes.  Sydney e Ilan hicieron un gran trabajo ayudando a servir residentes que necesitaban ayuda extra, y Jack bailó con una de las abuelitas.  Manny, Rachel, y Christophe hicieron un nuevo amigo con habilidades maravillosas de foosball.  En la tarde, disfrutamos un tour de la ciudad de Arequipa y ¡finalmente probamos a la delicia peruana cuy!  David no estaba interesado en probarlo, pero ciertamente gozó examinando el plato y ensenándolo a los demás.  En la noche, tuvimos algo especial – un viaje al cine en español!  Rickey, Moriah, Wade, Jack, Rachel, y Claire vieron a Luna de miel en Familia, mientras el resto del grupo vio a Transformadores 4.  Todos los miembros estaban emocionados con la cantidad de español que podían entender.
Tomorrow, everyone's excited to head to the desert town of Huacachina!  Until next time,
Mañana, estamos emocionados a ir al pueblo desierto de Huacachina!  Hasta pronto,
The Westcoast Blogger
Do you want to improve your language skills and also be a volunteer? Prepare yourself for our one-of-a-kind 28-day Spanish immersion program for high school students in Peru and learn more about its culture and nature.