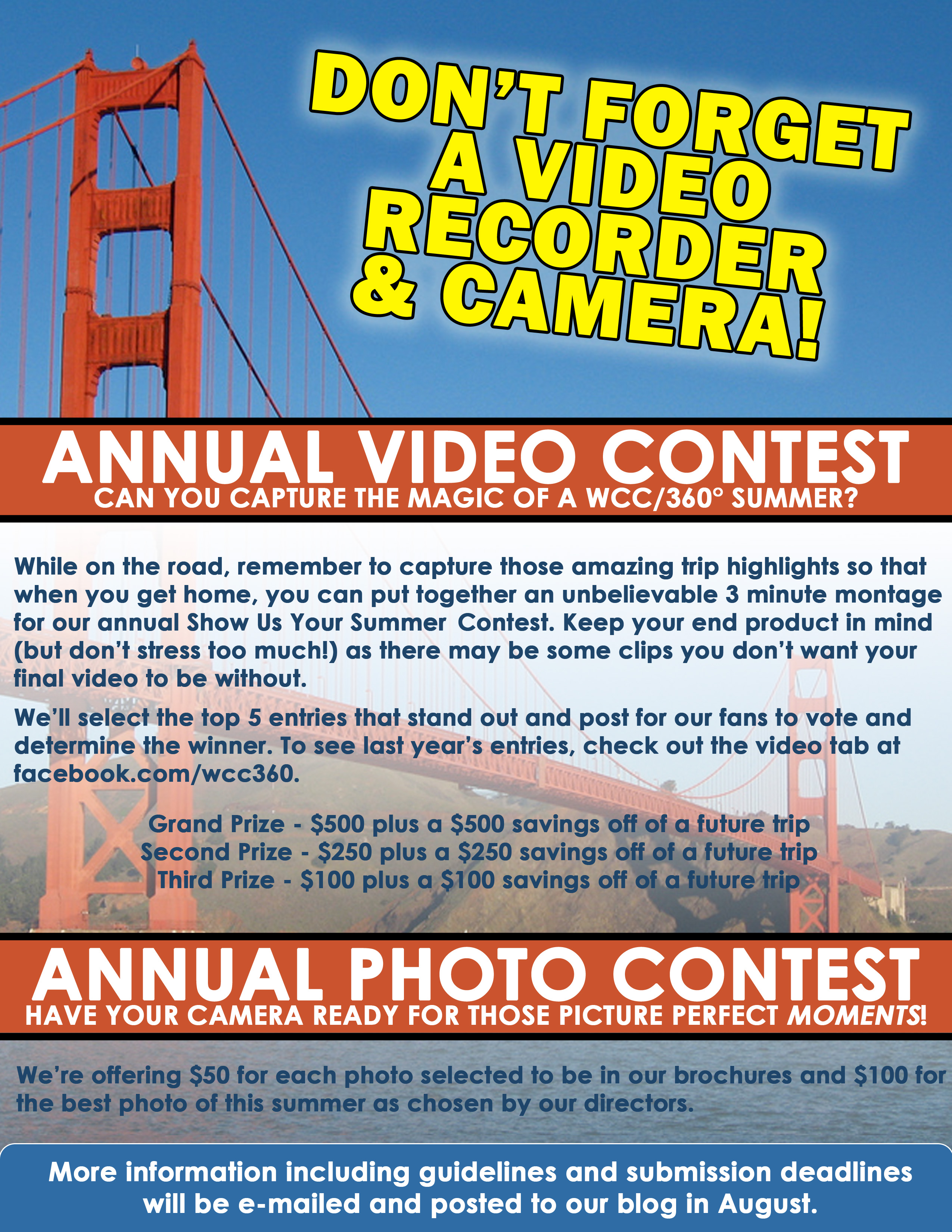 Don't forget your video recorder and camera this summer!
ANNUAL VIDEO CONTEST – CAN YOU CAPTURE THE MAGIC OF A WCC/360° SUMMER?
While on the road, remember to capture those amazing trip highlights so that when you get home, you can put together an unbelievable 3 minute montage for our annual Show Us Your Summer Contest. Keep your end product in mind (but don't stress too much!) as there may be some clips you don't want your final video to be without.
We'll select the top 5 entries that stand out and post for our fans to vote and determine the winner. To see last year's entries, check out the video tab at facebook.com/wcc360.
Grand Prize – $500 plus a $500 savings off of a future trip
Second Prize – $250 plus a $250 savings off of a future trip
Third Prize – $100 plus a $100 savings off of a future trip
Check out last year's winner here:
American Voyageur – Lexi F.
California & The Canyons – Matthew S.
Northwestern Odyssey – Lea S.
Africa Community Service – Alana S.
Costa Rica Community Service – Britt C.
Backpack Europe – Dylan K.
China: Ancient Empires to Modern Wondern – Jessie A.
ANNUAL PHOTO CONTEST – HAVE YOUR CAMERA READY FOR THOSE PICTURE PERFECT MOMENTS!
We're offering $50 for each photo selected to be in our brochures and $100 for the best photo of this summer as chosen by our directors.  
More information including guidelines and submission deadlines will be e-mailed and posted to our blog in August.
Safe travels!
The Westcoast Blogger