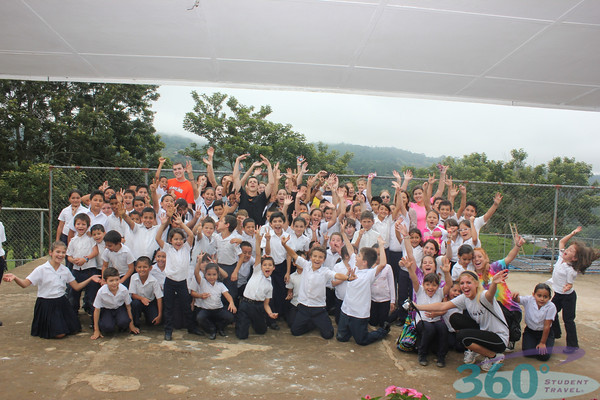 Hola y Buenos Dias!!
Como Estas?  Since we last spoke, our group has traveled from the jungle to the beach, and from the beach to a Volcano! BUT, before detailing our adventures, I wanted to update everyone on previous service project:
As you will recall, last week we put the finishing touches on a house for an expecting family.  As anticipated, the family moved into the house last Thursday, and is eagerly awaiting their newborn child. The group excitedly – and nervously – awaits news on this front, as we bonded with the mother and father during the build.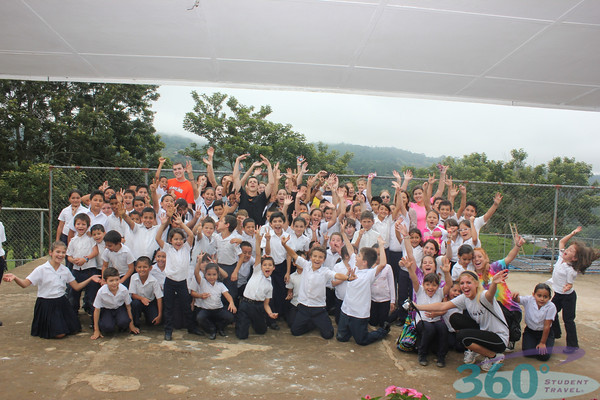 After several days in Rincon, we made our way to the beach for a few days of surfing, beach exploring, and service.  Our first destination was Tamarindo, which was depicted in the famous surf film Endless Summer II!  We walked around Tamarindo, purchasing souvenirs and snacks.  Steven purchased himself a bright colored muscle tank, blending in with locals. Lunch on the beach was relaxing, with Carly R. and Grace sharing a waterfront view!
Surfing was a highlight for everyone! With the assistance of the Iguana Surf School, we took our "rojo" rash guards and surf boards and hit the beach for some instruction.  Splitting into small groups, we all listened as the principals of surfing were explained.  Sam, Jamie and Rachel were first to hit the water and Sam clearly felt at home in the water all week!  Anna was able to show off her surfing skills (she attended surf camp last summer!).  Ben discovered he was a natural surfer, riding nearly every wave! After a great day of beach and surfing, we topped off our evening, with a late night gelato pit stop! HANG TEN!
Our next two day's were unbelievable; service during the day and beach-bum's in the afternoon…What fun!  We learned our next project would be the beautification of an underfunded school in Guamacaste.
On Sunday, with the students on their weekend break, we emptied a classroom and prepared it for painting. Ben, John and Cassidy sanded and stained the desk and chairs to perfection. Jackie and Alexa teamed up, using rollers to expedite the process. Carly R. and Rachel used their skills to perform detail work, including painting around a mural. Ben utilized his steady hand to perform touch-up work on multiple murals. At the end of the day we set up the newly finished desks in the freshly painted classroom. Carly S. and Cassidy were pillars for a human pyramid! Our evening plans led us to a disco, where Cassidy, Reina and Risa lead the group in "the wobbly," an organized dance. Michael displayed his balancing skills on a Rolo Board, and later played a fierce game of foosball with Grace, David and Ben.
We returned to the school on Monday, greeted with smiling kids.  Steven, Jackie, Rachel, Jamie and Lexi led students in a game of Simon diche (Simon says). Jon, using his language skills, took a leadership position amongst the group. We continued our beautification process, sanding and painting additional desks and staining the railings. Our evening ended with a Bon Fire on the beach.  The stars were out, and we were gifted with multiple shooting stars. Anna and Alexa sang there favorite Nora Jones tune, and we all sang good bye to our translator Catilin, who had truly become a member of our group. The Bon Fire was a perfect way to end our few days at the school.
Looking forward to touching base and reflecting from Arenal!
Hasta Luego!!
The Westcoast Blogger