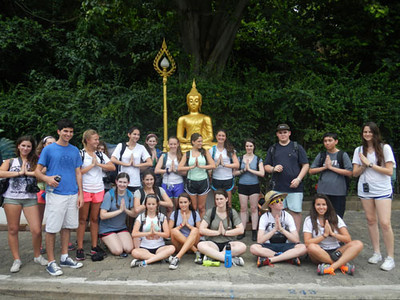 Wow! The first couple of days in Thailand have been absolutely incredible.
We have travelled around Bangkok on different modes of transportation, not leaving any ground uncovered. We took the sky train, tuk-tuk's, and canal boats, while stopping to explore the city throughout. Grace and Sarah loved riding on the Tuk-Tuks. Melanie, Ruby and Daniella's tuk-tuk had colorful lights decorating the roof, making it really stand out amongst our tuk-tuk caravan. Dillon and Sammy O. had a blast riding on the canal boat!
Kob, our Thai tour guide (who happens to have been Aerosmith's Thai guide!) has helped enrich our trip and make everything especially meaningful. We have gotten to try awesome new fruits like lychee and durian that Megan and Morgan hope they can find at their local supermarkets!
Anne and Josh loved stopping to try the traditional Thai Bubble Tea, which comes in more fruity flavors than you can imagine! For lunch, we got to experience the "original" Pad Thai and meet the creator of the Thai delicacy.
Visiting the Golden Mount, the Grand Palace and the Wat Pho (Reclining Buddha) were some of our favorite parts of the day. Isaac and Alicia took a lot of beautiful pictures of the landmarks. Emma and Syndey W. had a great time seeing some of the most incredible sights in Bangkok.
We ended the night with dinner and some time to explore Khaosan Road where Sammy, Michelle, Leah, Dillon, Sydney N., and Micaela went to the traditional Thai foot spa! Matt also loved exploring Khaosan Road and feeling like a true local.
This trip has already been incredible and it is only the start! We can't believe this journey is just beginning and can't wait for all of the exciting adventures to come!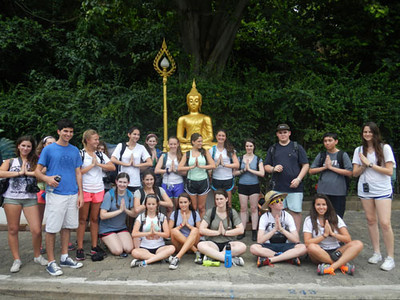 The Westcoast Blogger
Do you want to be part of this community service program? Check out our Thailand trips for students and get ready for the experience of a lifetime with Westcoast Connection.