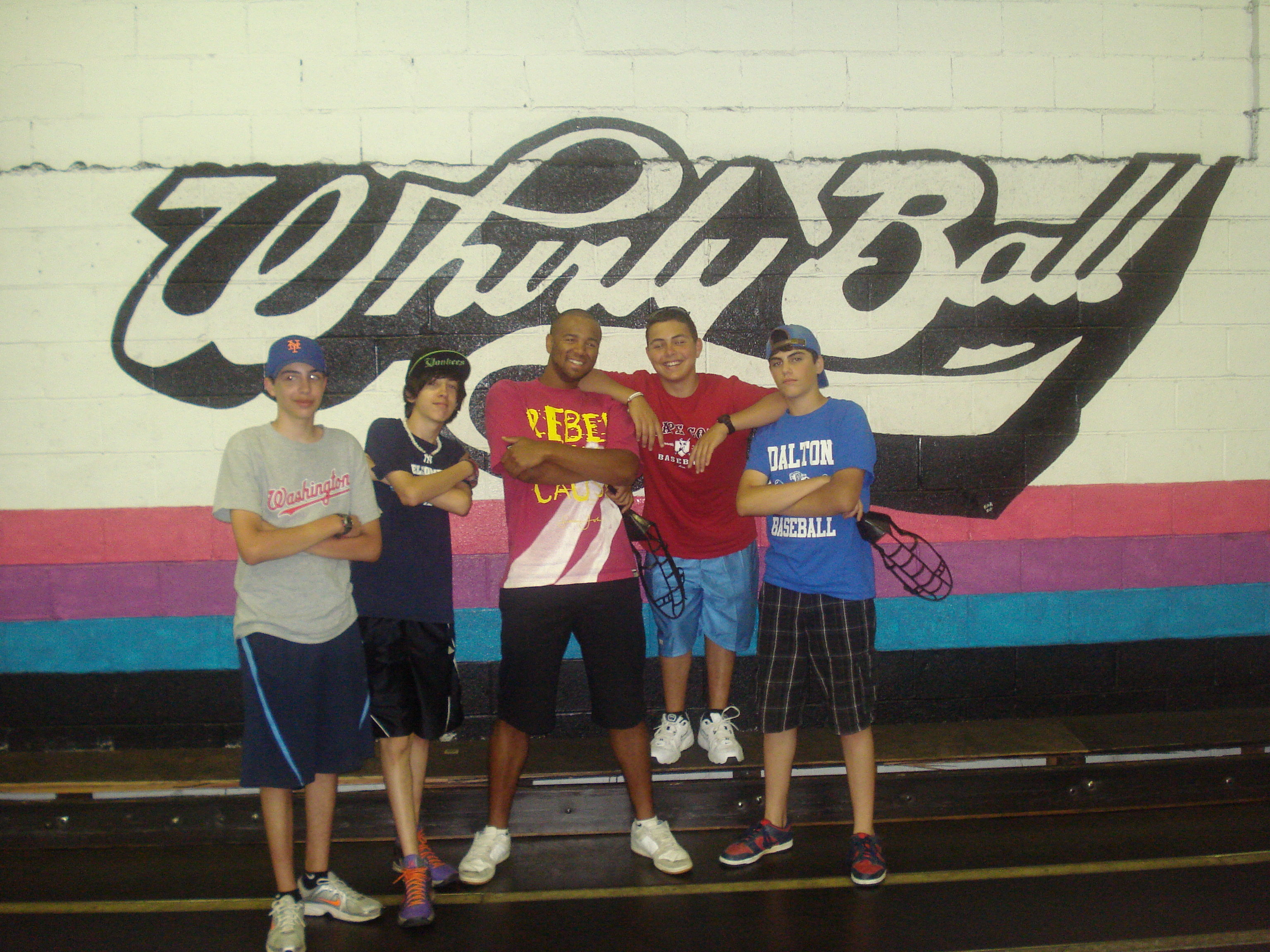 We've officially made it to the All-Star break, and although we're only 3 days into our tour, we sure have accomplished a lot! After completing a 3 game in 3 day stretch, we just arrived at our hotel in Cleveland.
The three games provided much excitement for the group. Brandon came within inches of retrieving a Minnesota Twins home run ball at U.S. Cellular Park, while Zach R. successfully predicted a home run by the slumping Adam Dunn to give him the foundation of what is now a 2 point lead in our MLB prediction pool. Earlier during batting practice, Tyler fought his way through the crowd and managed to secure himself an autograph from Twins reliever Joe Nathan – little did he know that would be the first of many autographs – the next night he added Joey Votto and Brandon Phillips to his collection.
Saturday night in Milwaukee brought a wild extra inning finish between the hometown Brewers and their division rival Cincinnati Reds. Prior to the game, Ethan and Justin managed to get a positive reaction out of former Yankee Miguel Cairo after chanting his name during the pre-game warmups. Jordan made his Montreal-born staff proud when he came back to his seat bearing a snack which Miller Park calls "The Montreal", which is natively known as a "poutine" back in the Canadian province of Quebec. Earlier in the day, Zach B. showed some stellar defensive skill at first base in the first of what should be a few softball games amongst the trip members.
The well travelled group arrived in Cleveland and made their way to Progressive Field to take in a game between the Indians and the visiting Blue Jays. In support of their Canadian staff, the majority of trip members cheered the Jays to victory.
The highly anticipated Whirly Ball tournament was one for the ages. After finishing the round robin with a very disappointing 0-3 record the "Lovable Kittens" could have easily rolled over to die as a first round date with the undefeated "Team Swag" loomed. After some tinkering with the game plan and a motivational speech, the 4th seeded Kittens came out strong out of the gate with some early scores. Will led the charge with some great goals and outstanding decision making, and as the time winded down Asher made some outstanding key defensive stops, that would lead to a defensive rebound by Matt, otherwise known as "Matty Ice" who like a true playoff veteran dumped the ball as time expired sealing an upset that will be remembered for years to come. In the finals, it looked as if the Kittens had a chance of winning it all after Josh managed to seal a hot pass and finish it with a goal with about 10 seconds left to tie it up. The clock unfortunately would strike midnight for the Whirly Ball Cinderellas, as team "Domination", stacked with highly touted prospects Pax, Tyler, Lou and Bobby along with scoring machine Andrew, scored at the buzzer to take home the Trip 29 Championship.
The amount of knowledge these wily baseball fans have about the American past-time is truly remarkable. Hearing the kids converse and debate about players that retired 50 years before they were even born is truly a special thing. The Miller Park tour guide was in absolute shock as David, Nathan and Ethan answered questions about the game that many adults don't even know. With the trip only three days young, we as a group still have a lot to discover about the game that we all love and choose to bond over. In the words of Noah, "baseball is just amazing to be around, there's nothing else in the world like it."
And to think, we still have more than two weeks left…
Till Next Time,
Rob, Lou and Chad
The Westcoast Blogger