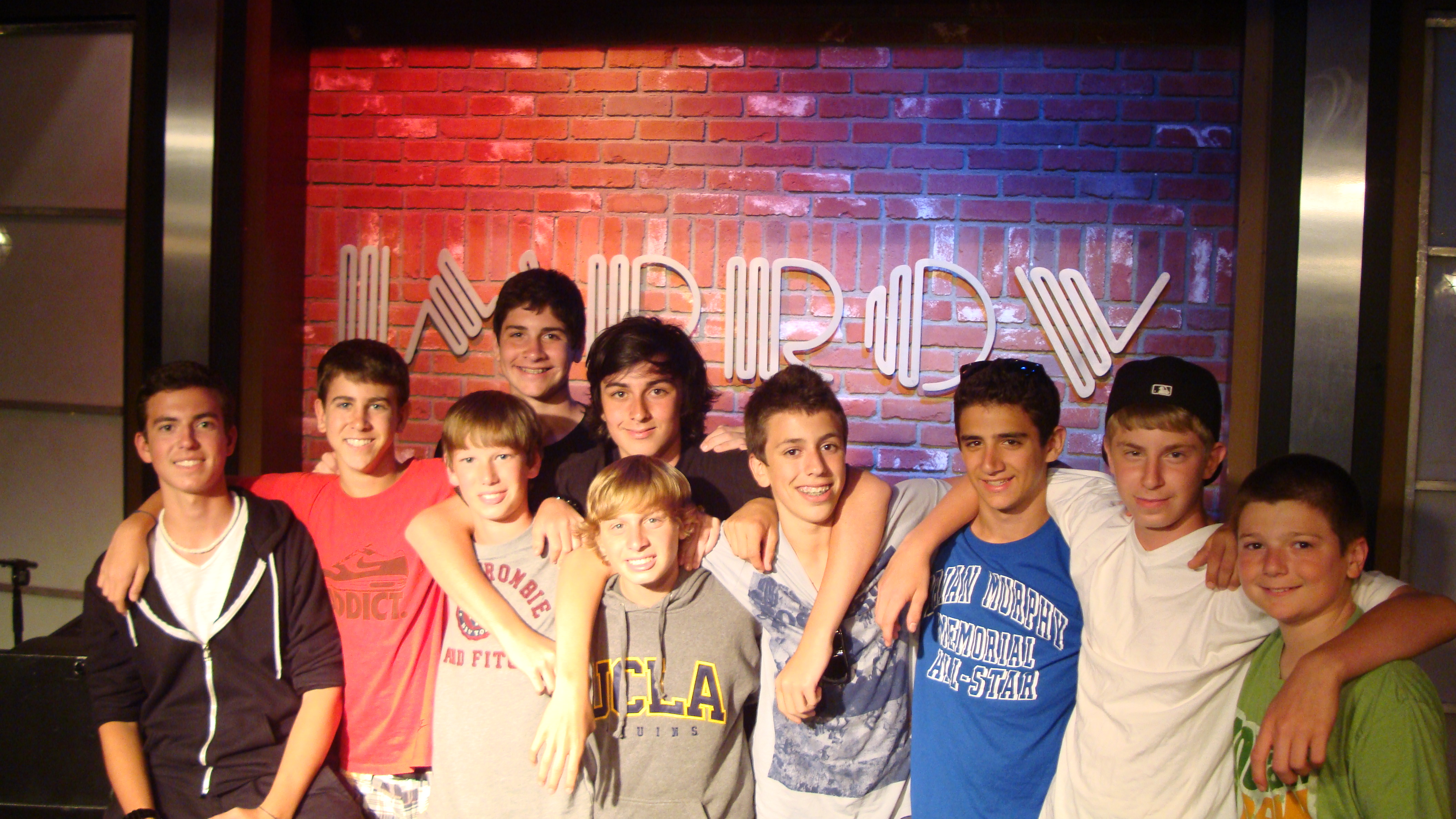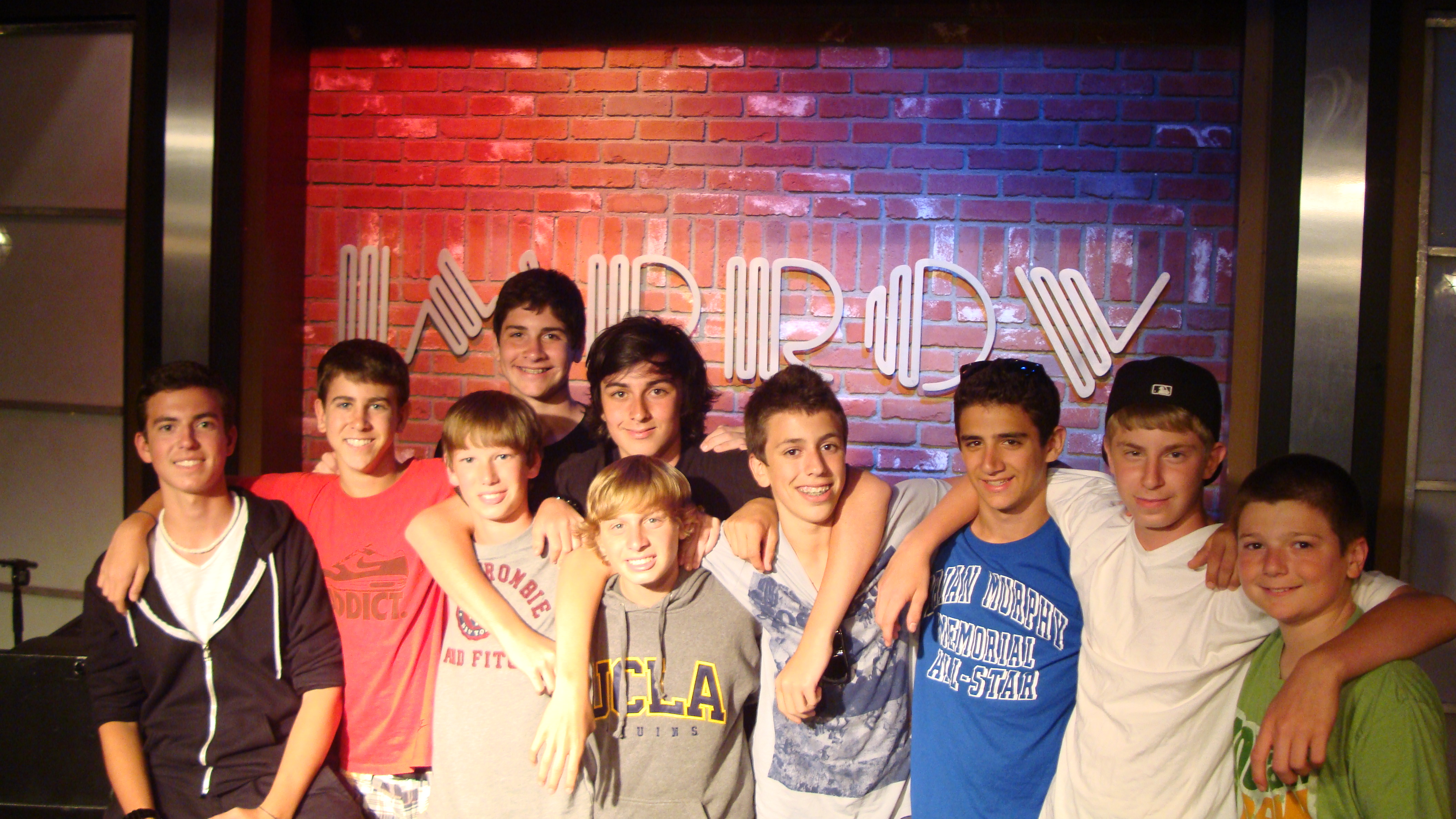 Greetings AmVoy #2 Parents,
Hello from the high seas!! Let's bring you up to date on our time in LA.
On our drive LA, we kicked off the ride with a Travel Channel special called Behind the Scenes at Disneyland. This was followed by an episode of the Food Network's Unwrapped that went behind the scenes at Disneyland's bakeries. We learned some cool facts but one very important thing became evident… the pros eat the left ear of their Mickey pops first! We had a Disney singalong and threw in "Dirty Bit" in an effort to get Matt L. to dance one more time! We also did some Disney trivia. Grant surprisingly knew a ton of the answers to questions like "Who was Donald Duck's nephew?" and "Who is Winnie the Pooh's best friend?" Emily B. and Sam D. also eagerly answered a ton of questions like "What color was Dumbo's hat?" On the ride we also played song-o-rama where you name as many songs as you can with a certain word in the title. David and his group named songs that no one else had ever heard of and proceeded to sing them even though we were fairly confident they don't exist!
When we reached our dorms at UCLA, we quickly dropped off our bags and made our way to Mann's Chinese Theater where we admired the hand prints and footprints of celebrities. To get there, we strolled down the Walk of Fame. After the theater, we had some free time to explore the many shops and restaurants in Hollywood & Highland. More than half of the trip chose to dine at California Pizza Kitchen (after all, we are in California!) As we were walking around, all of a sudden we heard screams and out of a club called the Rolling Stones Cafe came basketball star Dwayne Wade! Andrew spotted him first and convinced the bouncer to ask him to come out. Sam H. wasn't sure who Dwayne Wade was and thought she was seeing a music artist (no worries, the boys felt it necessary to correct her right away!). As we headed back to the dorms, David shared that his "rose" was meeting Dwayne Wade and telling him a joke (to which he laughed)!
The following day we were off to Disneyland, the happiest place on earth! After a quick visit to the UCLA campus bookstore and a group photo in front of the big statue of a bear, the mascot for the UCLA Bruins, we were off. Of course, we jammed out on the way to classic tunes! The day itself was spectacular! Emily K., Courtney, Erika, Ronni and Sarah got shooting stars painted on their faces. Space Mountain was "110% Jeremy's favorite ride." Rachael bought Minnie Mouse ears and wore them around all day to commemorate her first visit. Aja adored the Peter Pan ride which "made her feel like a kid again."
Our day in the happiest place on earth ended with fireworks over Cinderella's Castle. Dumbo and a life-size Tinkerbell even flew over the castle. It was spectacular to say the least. On the ride home, Steven said his "rose" of the day, "getting into Club 33." Club 33 was Walt's pride and joy. It was a place for him to entertain. Now it is an extremely exclusive club with a closed wait list.  Almost everyone found the secret door and many became friendly with the two doormen, Matt and Noah. The group to make it the furthest in included Noah, David and Grant who journeyed halfway in. Rachael's "rose" was her first trip to the park, Jacob's rose was "watching Peter Pan kiss Eden!"
We started Day 25 volunteering at the Los Angeles Regional Food Bank. We helped sort crates full of lettuce, corn and plums that were going out on trucks to feed the hungry that evening. Lexi, Jeremy, Noah and Jordan created an assembly line similar to what we saw a few days ago in Seattle at Pike Place. It was nice being able to give back and make a difference.
After the Food Bank, we headed to Universal Studios.  We all did the studio tour together – King Kong 3D, Jaws, the Mummy's Tomb AND the entire backlot. Jordan, Grant, Jeremy, Andrew and Noah pretended to read magazines on the ride "The Mummy" just as the camera was taking a picture of them! After Universal Studios, we made our way to the Hard Rock Cafe for dinner. We decided to have some fun and tell our wait staff that it was Jess' birthday (again)! She was brought a chocolate sundae and got up on her chair while being sung to.
Right after dinner, on Citywalk, we heard the song "Party Rock Anthem" come over the speakers on the street and Rachel and Erika started an impromptu flashmob. Before going back to the dorms, we all pretended that Grant was a star. We staged him inconspicuously in front of a store on Citywalk and started running up to him, screaming his name, asking for photographs, and requesting his autograph. Danielle lead the rush with Aja and Emily B. by her side shrieking and screaming, whipping out their cameras. Before we knew it, we had a crowd of around 200 people around him, asking for his autograph!  When people asked who he was, all the trip members said "that guy, the really famous one." Grant enjoyed his 15 minutes of fame, literally! In keeping with that end of the night activity, on the bus, Grant's "rose" was being a celebrity. Jason's "rose" was tackling the Simpsons Ride!
Day 26, our last full day in Los Angeles! We started at the Museum of Tolerance. We spent some time learning about and reflecting on bullying and acceptance. Ask your sons and daughters about Matthew and the time we spent hearing his story!
We then traveled to Venice Beach driving by Venice Beach High School (also known as Rydell High from Grease) on the way. Don't worry, we sang to Summer Nights and did the Hand Jive as we were passing by! We had some time to walk around and even did a People Hunt. We found some interesting characters including a Jared look-a-like, a person that can speak Chinese fluently, and someone able to get a dog to sit on command. We were then off to Rodeo Drive to browse the posh stores.
We finished the day at  the Improv Comedy Club. Gabi became best friends with one of the comedians (we'll let her tell you what happened)! Andrew and Lexi were the target of some playful banter as were Emily K. and Grant. To round off the evening, we went into Westwood Village for a special treat, ice cream at Diddy Riese. Fresh ice cream between two cookies. What could be better to round off the night!
We are just returning from the Carnival Paradise and will update you on our cruise soon.
Jared & the AmVoy #2 Team
The Westcoast Blogger