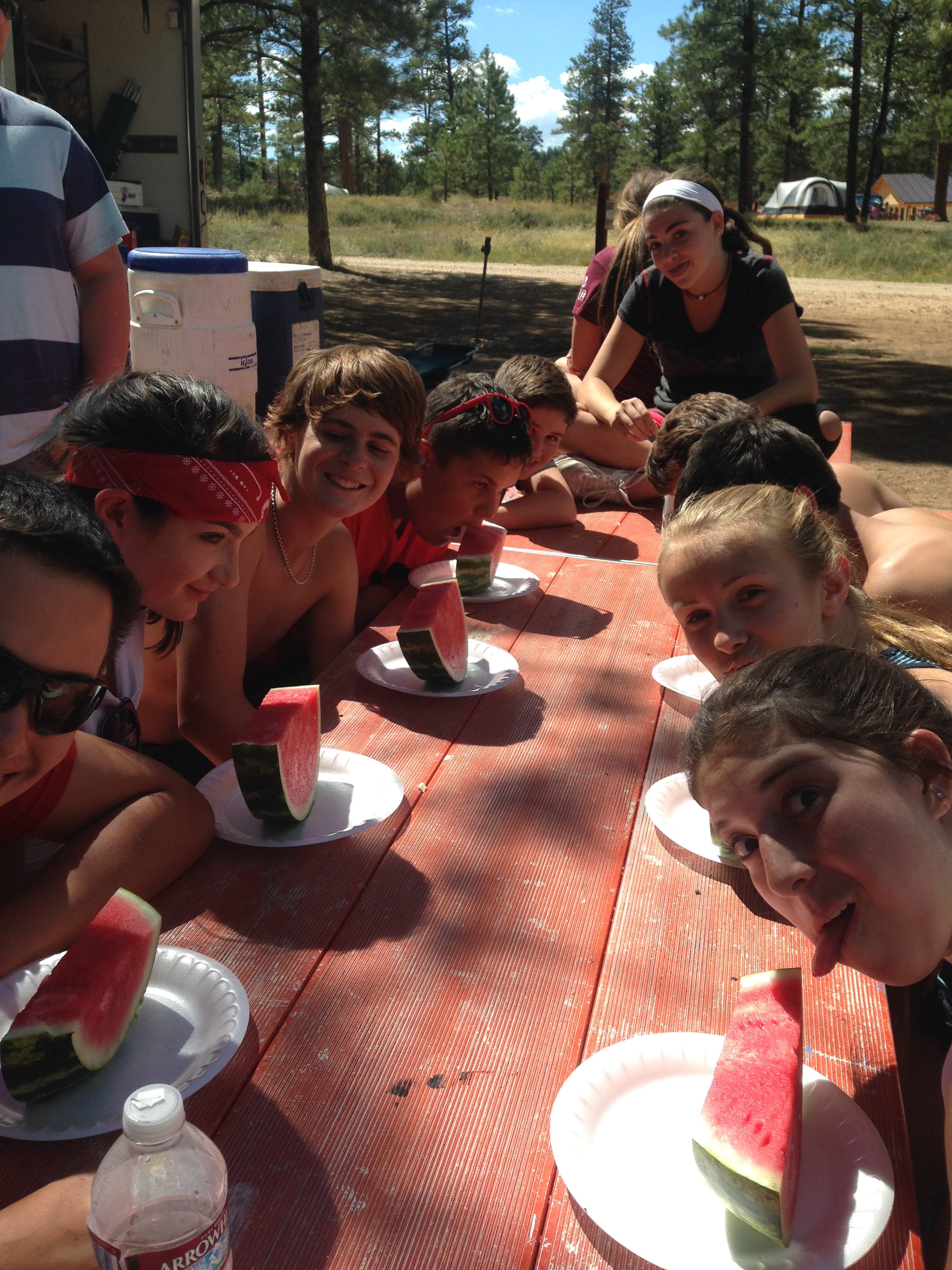 Hello Voyageurs,
Here is our final blog updating you on the happenings of the past 5 or 6 days…
Although Vegas is known as an adult playground, there was plenty of stuff for us to see and have fun with.  We stayed at the Monte Carlo which had an awesome pool with a wave pool as well as a lazy river.  After checking in and chilling at the pool for a couple hours, we had dinner at Bucco de Beppo. This is a family style Italian restaurant with huge portions. When we were all filled up, we headed to the Venetian to wander around the shops and check out the river with the gondola. We headed to the Bellagio afterward to check out the famous fountain show and it was just as cool as we expected.
The next morning we got to sleep in late and then headed to the Stratosphere to go on the thrilling rides. High above the lights, we did the XScream ride. It was terrifying!  We then had a great time in the Forum shops and again used the pool and hotel facilities. That night we went to the New York New York hotel to go on the roller coaster and it was probably the best ride of the summer! We rounded out our stay in Vegas with a quick visit to Coca Cola and M&M worlds!
On our way to Bryce Canyon the next day, we stopped in Zion for a hike with beautiful scenery.  The girls obviously took a million photos while the guys ran all around. We had one more stop before Bryce Canyon in Kanab, also known as Little Hollywood, where we ate and dressed up as Cowboys and Indians. (We all had a hilarious time and couldn't stop laughing).
Bryce Canyon was gorgeous.  The views were awesome, the hike was not too difficult, and the campground was very comfortable. After 6 weeks, we all were finally good at taking down tents and preparing our cookouts. Too bad it was our last time camping stop!  While we were at Bryce we had a friendly competition which involved races, food eating competitions and skits. The Pink team won but we all had a blast and got even closer, feeling the end of the trip coming. The next day we headed to Flagstaff, with a stop at the Grand Canyon where we did the Rim trail, took pictures and awed at one of the Wonders of the World. Finally, our last destination was Scottsdale, via a Pink Jeep tour first in Sedona.  Sedona had more gorgeous views and the drivers kept things interesting with an extremely intense and bumpy ride off-roading.
We are now headed to the airport after having a banquet and partying our last night away. There have been some amazing memories on this trip.  We've gotten to experience great activities across the country, from water skiing, rafting, to cruising, playing whirly ball, and seeing famous sights and monuments.  What's crazy is that it's not these experiences that we'll most likely remember forever. What we will remember are the lasting friendships we've built. We've been together for 40 days and become our own family. It's extremely sad to think that we probably won't ever be together again as a large group.  It is however nice to know that we have new family members that we will continue to grow with and support each other. We hope you've enjoyed reading about our experience. Until next year!!!
The Westcoast Blogger