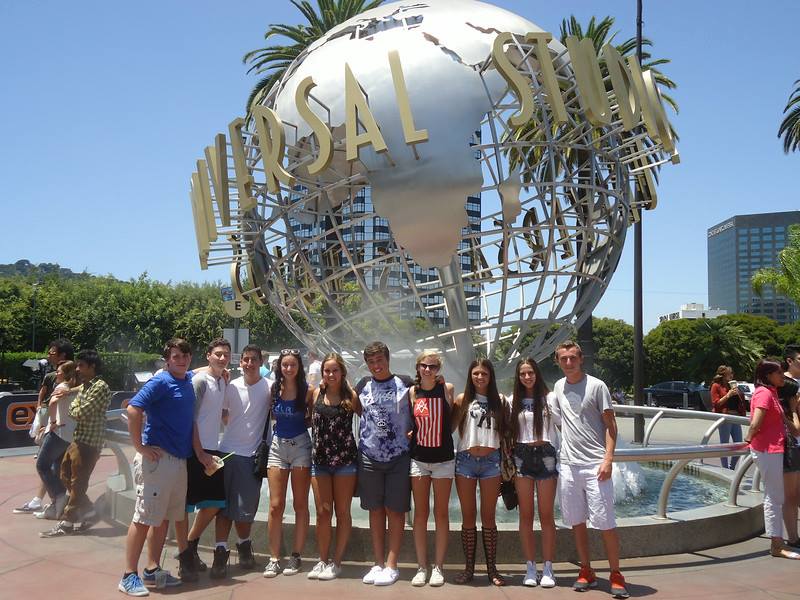 We started off our second day at Boys & Girls Club today. As our crew walked in, kids screamed "you're back" with excitement! Johnny, Adam, and Tyler ran the courts while Jason, Kyra, Casey, and Mickena finger-painted butterflies. Evan played intense pool games, Hannah played an interesting game of dinosaurs, and Charlie enjoyed Super Smash bros' Wii game with the kids. Later, we brought the music outside and Jason ran a musical chair sing along followed by an intense game of Simon Says. We had a great movie night (complete with popcorn) this evening, followed by a surprise trip to IN N'OUT Burger! Early to bed and early to rise for out last full day of community service, we'll miss it!
Our last day of community service was completed at Boys and Girls Club of South Bay. Our trip members conducted a science experiment with the young club members, making Ooblek. Ooblek is a non-newtonian fluid that reacts by becoming solid when pressurized and liquid when the pressure is released. Kids absolutely loved playing with the goo made from corn starch and water. After that, we had a huge water balloon fight where all the kids got absolutely soaked. Our day ended with a big group picture. The kids gave us a huge thank-you banner with individual signatures. Saying goodbye was the hardest part, and Kyra, Mickena, Jason, and Casey all had to part with the good friends that they had made.
That night, our final group competition began. Jason was named captain of Team Green and Johnny was named captain of Team Orange. These two trip members were chosen for their particularly strong leadership skills and constantly good attitudes. The first challenge was mini golf. Evan and Adam both had particularly good rounds and Team Orange took the first point of the games.
The second to last day of the trip was spent on UCLA's beautiful campus. We started at the UCLA bookstore, where the trip members were able to purchase UCLA clothing. We continued our competition with a Mario Kart challenge, where each team had to pop balloons that were attached to opposing team members. Despite an early lead, Team Green sacrificed the second point, and Team Orange took a 2-0 lead. The next challenge was a "People Hunt", where the team members had to search for a variety of categories, including a married couple, a French pedicure, a Minnesota license, and person wearing a Yankees hat. Team Green won a close challenge to get on the board, 2-1.The final challenge was trip trivia, featuring questions such as what the Trip Director's and Leader's trip nicknames were. Team Orange sacrificed just one of 30 points to win 3-1. That night, the crew went to the Los Angeles Improv for an incredibly funny comedy show. We saw seven comedians in small sets and some of the jokes had us practically on the floor laughing.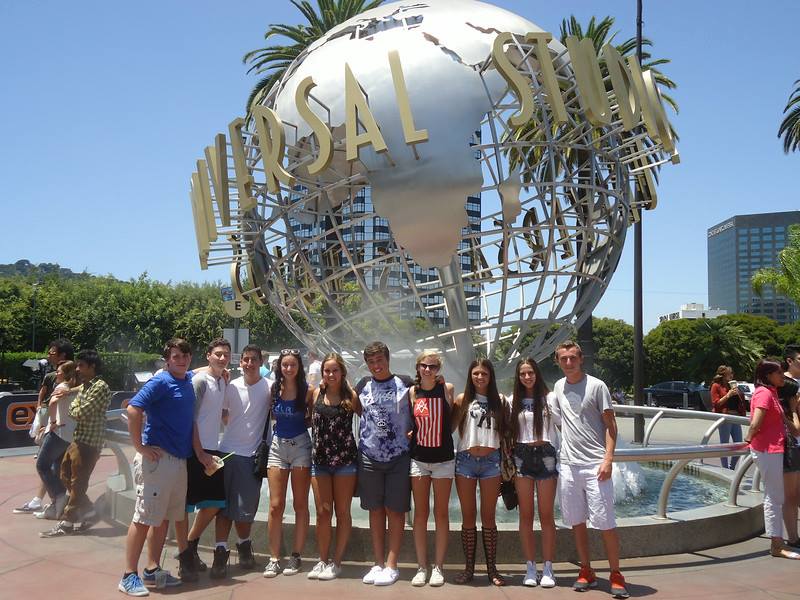 On the final day of the trip, we went to Universal Studios Hollywood. We began our time at the park with an incredible studio tour. We saw sets used in actual TV shows and movies, and even had to stay quiet while we passed the filming of a new commercial. The King Kong 3D exhibit was very realistic and every trip member agreed that was the best part of the tour. After experiencing Universal Studios, we headed to Buca Di Beppo at the Universal Citywalk for a family style Italian dinner. We gave out trip superlatives and discussed how far we've all come.
We truly did achieve a lot on this amazing trip. From a group of strangers, we bonded into a family over 21 days, dedicated to building community in both Southern California and in our own lives. We worked hard every day of community service, but were also able to explore new areas with each other. As trip Director and Leader, we are so grateful to have spent this time with such amazing people. There has been incredible growth over the course of the trip and we feel that the trip has had a positive impact on all of our lives.
Thank You, and goodbye from sunny Los Dangeles, Kylafornia
The Westcoast Blogger
Have we piqued your interest? Explore our 10-day, 21-day or 28-day tours and community service projects for teens in California. Start planning your own adventure with Westcoast Connection. It will be the travel experience of a lifetime!