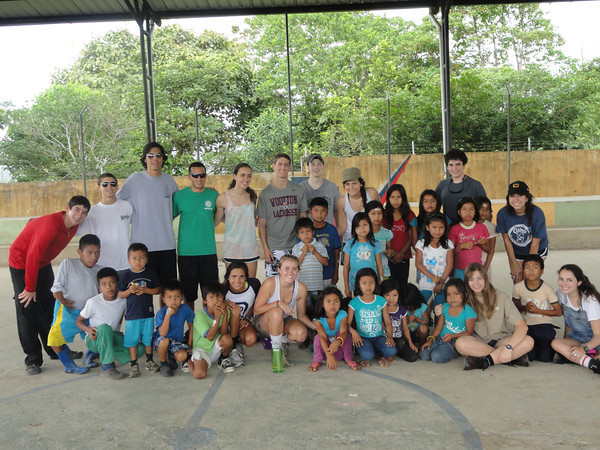 Hello family and friends
Let's start off by saying the Amazon was absolutely incredible! We arrived at our hotel in a really long motorized canoe. We traveled everywhere by canoe, it was so cool! As soon as we arrived we dropped our bags off and headed straight to a nearby waterfall! The water was refreshingly cool, it felt so nice, we all went in! The first night in the jungle we had a great program of "minute to win it". It was fun for everyone, Claudia and Dani had an awesome competition in trying to fill up a cup of water as fast as possible using the water poured into their mouth by their team mates.
The next day was by far the best. In the morning we took a boat ride down the river to meet a community of indigenous children and we played soccer and frisbee with them. We also helped in creating a green space for the kids. After that we went to Amazoonica, an animal rehabilitation centre that helps re-integrate animals into the wild. We saw all kinds of cool animals such as monkeys, parrots, and snakes! The second half of the day we went tubing down the Amazon River. Before getting into the tubes, everyone swung and jumped off a rope into the water! It was so exciting! Ethan did an awesome flip off the swing.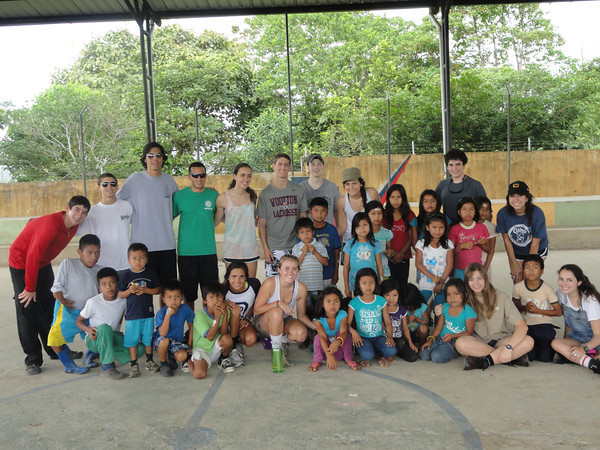 The next day we volunteered again with the indigenous children and learned some cool Ecuadorian games. We then saw some authentic pottery art in the jungle. We got to go on a really great hike later and got our faces painted too! At night we saw an awesome performance by a local tribe, where they danced, sang and played instruments. We had a blast dancing with them. We were then introduced to some indigenous foods like palm tree and a type of worm. Rachel, Alye, Jon, Robbie, Natalie, and Grant were really brave and tried the local treats!
The next day we left the incredible sights and sounds of the Amazon for beautiful Baños. Everything was so picturesque. We got to go white water rafting which was an incredible experience! We were split into two groups and had somewhat of a rivalry on the water. Paige and Joelle had a great time sitting all the way at the front and laughed hysterically the entire time.
Then we went to a great restaurant and afterwards to a local club where we showed the locals how to party! We danced non stop for hours. Sam showed us how to "Dougie" (a cool dance move) and Jeremy got in the middle of our dance circle and surprised us with his moves!
We are now on Santa Cruz Island and Isaac is our new assistant navigator as he has an amazing sense of direction!
We are having such an incredible time and can't wait to update you on our adventure in the Galapagos! Lots of pictures are on their way.
The Westcoast Blogger