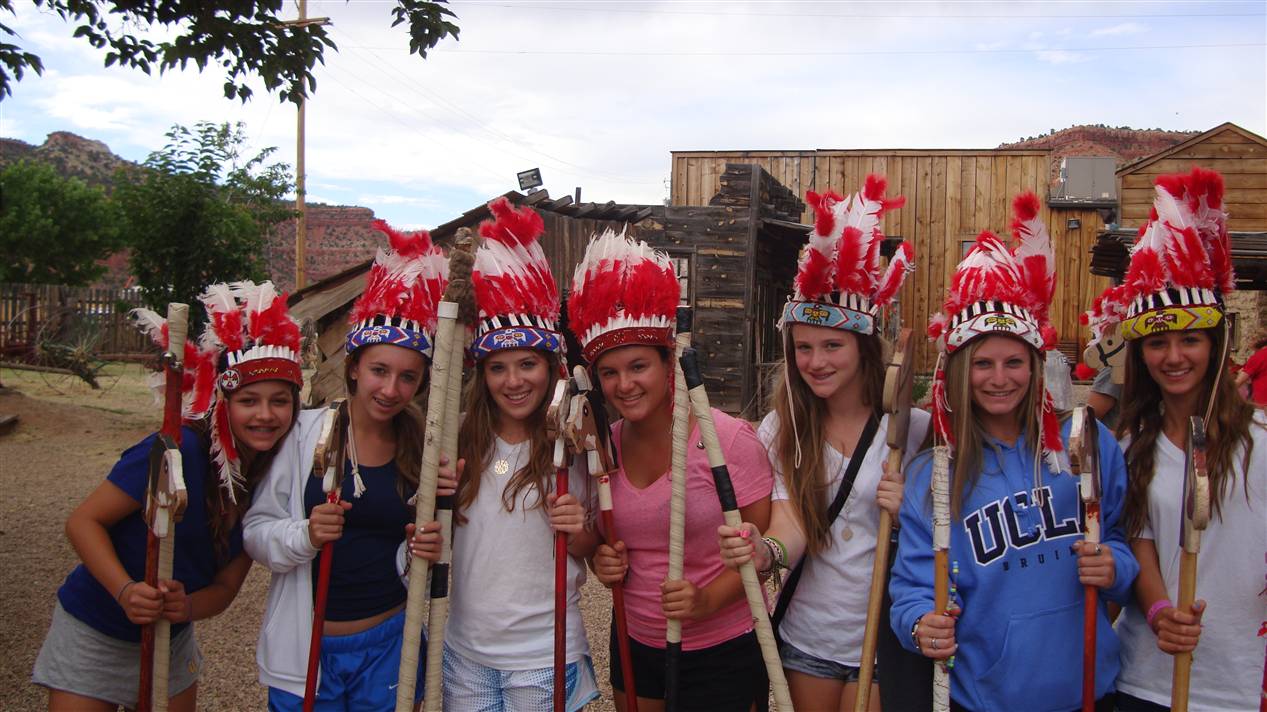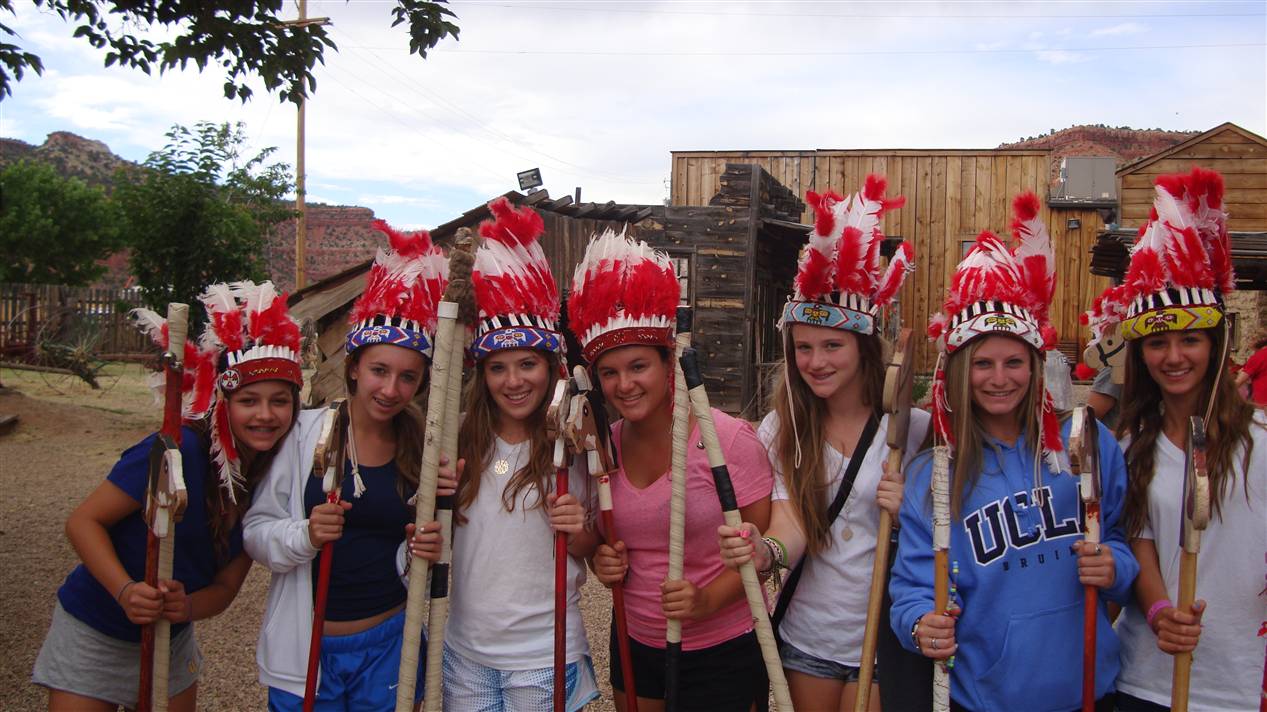 Greetings AmVoy #2 Parents,
The Las Vegas part of our trip is now finished, but we still have so much to do! Why was this day different from all other days? To start it all off, the staff danced to the morning with their faces totally painted (Jared's was red, Jonny's was blue, Jess's was green and Jodie's was yellow – Jodie's skin is so fair that the yellow was hardly visible!) Although this could have been the staff just acting like their crazy selves, it was not. This was a precursor to something epic– AmVoy #2 Olympics! On the bus, the staff began to argue over whether the evening mix or morning mix was better and thus, in case it has not been deduced yet, the two teams competing for the top title were morning and evening! This unique competition would consist of a series of … well … unique events. Team Evening had Sam D. and Noah as their fearless leaders and team Morning had Sam R. and Emily K. As the first activity, we had a massive game of trip trivia, constructing 100 facts about the trip into tough questions. Emily B. and Sam H. were contestants for the evening team and Matt L. and Jacob were contestants for the morning team (how did they know all the random answers, teenage minds are like sponges as the expression goes). We stopped for an amazing lunch in Zion National Park where most of us dined on Bison burgers.
Once on the bus again, we played a team versus team version of Pass the Streamer (remember that game that we made up on the bus ride to Calgary to celebrate the 4th of July?). Turns out even though it was so simple, it was one of the biggest hits of the trip. Lexi and Ethan passed that streamer like their lives depended on it. When that game finished, it was time for an incredible photo opportunity with the red rocks of Bryce Canyon behind us. The different shades of red and orange made it a spectacular sight. For dinner, we stopped in Kanab, Utah at the Chuckwagon Cookout. In Utah's Little Hollywood we toured a movie set and even all put on costumes pretending to be pioneers, soldiers, and Indians, acting in a make-believe silent film. Jeff in the soldier costume and Ariel in the feathered Indian hat were so funny. The common sentiment was that they should seriously consider wearing the fashionable apparel during the year. A dinner of fresh biscuits, beef, salad, turkey and ice cream awaited us upon our return from the fifteen minutes of fame we all had just enjoyed. We arrived at the campground in Bryce and had a snack of cookies and fondue.
Day 36… Woe, were we in for a crazy, fun day of activities and friendly campsite competition! In the morning, we traveled to Bryce Canyon for a rewarding hike down to the Queen's Garden. Jason, Erika and Emily B. had fun using the staff's walkie-Talkies, giving themselves apt nicknames (Emily B. code-named herself Red Bull… to say Emily can get hyper is an understatement).
Back at the campsite, the trip members participated in a crazy Apache Relay Race. The Apache had many stations that had to be completed in a specific order, one team against the other. For Team Evening, Jeff, Jeremy and Jason had to construct and deconstruct a tent while going up against Matt L., Danielle and Ethan of team Morning. Lexi and Gabi competed in an interesting event involving juice whereas Ronni, Courtney, Erika and Sarah competed in an event involving pudding. Aja and Emily B. had to fish candy out of a bowl of whipped cream with their mouths and Jacob, Sarah, Sam D. and David ate a whole watermelon with no hands! If someone would have asked us what we would be doing in the afternoon, I don't think anyone would have envisioned that (only on AmVoy #2). There were also flag and dance presentations towards the end of the evening. Lexi, Jeff, Emily B. and Allie made a beautiful flag for Team Evening, incorporating elements and funny moments from our trip into it (Emily B. can really draw, our mouths fell when we saw what she could come up with), and Jaime, Joli, Gabi and Danielle presented the flag for Team Morning, demonstrating an equal amount of flare for the arts (we knew that we had a musical group, but who knew they could draw as well?!). The dance was also amazing, given that they had a day to prepare it! Steven, Ronni and Eden were huge stars for team evening and Erika, Aja and Rachael came up huge for Team Morning. Andrew was absolutely crazy, cheering on his team and following from activity to activity while Matt M. worked behind the scenes to help make sure that everything was set up just right so that event could run smoothly.
The trip members then put on skits that best exemplified a day on our journey. Jordan showed off pretended to be Amanda while David and Grant played the parts of Jared and Jonny superbly. Grant could easily be mistaken for Jonny in his hat and David for Jared in his bandana and tie dye tee. The last event of the night was a song. The trip members were tasked with creating songs that summarized the summer. The songs were heartfelt and brought a lot of us to tears. They were filled with memories that we had forgotten and reminded all of us of "how far we've come." The songs were so tear-jerking that the staff could not bring themselves to pick a winner, so we burned the scoreboards in the fire and called it a night with warm fondue. After 25 minutes of hugs and laughter, we called it a night!
Off to the Grand Canyon and our final stop in Scottsdale.
Jared & the AmVoy #2 Team
 The Westcoast Blogger