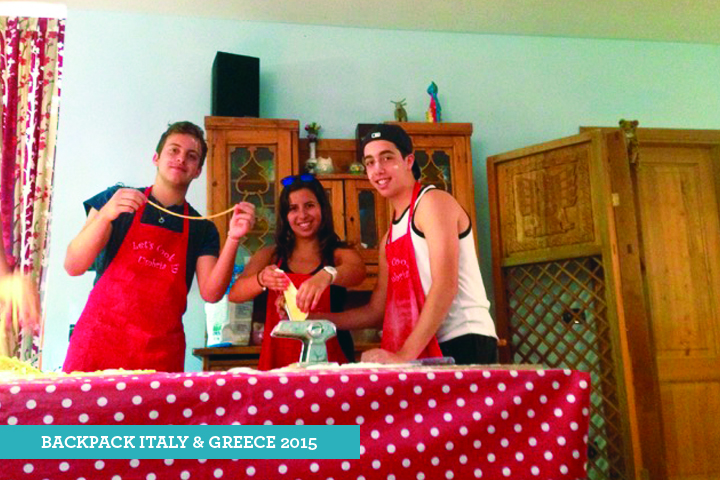 Trip Member: American Voyageur 2008 
Trip Leader: US Explorer 2013, Backpack France, Switzerland and Italy 2014. Backpack Greece & Italy 2015


What inspired you to become a staff member after being a participant on a program?
I knew I wanted to come back to Westcoast as a staff during the trip that I participated on. The combination of an amazing, fun-filled itinerary, awesome staff, and a great group of trip members left me eager to come back and work for WCC/360°!
How did your trip as a participant help you as a staff?
I made many lasting friendships and had many remarkable memories from my program as a Trip Member. The experience is one that I will always cherish and I aspire to do my best to make sure that every single trip member leaves with an experience that was just as amazing, or even more so (if possible!) than my own.

How were your two experiences different?
Each one of my Westcoast Connection/360° trips has been a unique experience. WCC is an entirely different experience as a Trip Member and as a staff, both of which are amazing in their own way. As a staff member, I am constantly faced with opportunities to demonstrate leadership and inspire many new trip members each year!
What do you now appreciate from your staff (as a Trip Member) after being a staff?
I had the best staff on my trip as a Trip Member, all of who inspired me to want to become a staff myself! I can now truly appreciate their hard work and dedication to making my trip the best possible, as well as their patience and positive attitudes!
What skills have you learned after being a staff?
I have learned firsthand how to be an effective leader, how to maintain a positive attitude in adverse situations, and how to form great relationships with many different types of people.

What advice do you have for alumni TMs who want to be staff?
The transition from Trip Member to staff is a tough one as you will be playing a completely new role, however, it is an experience that I would 100% recommend. As a staff who had been on a trip as a Trip Member, I understood the value of the friendships that are formed and memories made on a WCC/360° trip and wanted to provide an experience that was as positive and enriching as my own, to all of my future Trip Members! I have used my own memories from the Westcoast trip that I participated on to inspire participants on every trip that I have been on as a staff. Being a Westcoast staff is truly the most rewarding experience I have ever had which is one of the many reasons I keep coming back!
What is your most memorable moment with WCC/360°?
It is so tough to pinpoint my single most memorable moment with WCC/360° because there have been so many incredible ones! One experience that stands out in my mind is when a trip member and I decided to challenge our fear of heights together by completing a ropes course in Switzerland. I love empowering trip members by supporting them as they overcome fears and try new things!

Think you have what it takes? If you have experience working with kids, are a natural leader and are full of energy – come work with us! Apply Now
Do you want to start planning your next trip? Get ready for our France and Switzerland tour, including the Eiffel Tower, Swiss Alps & more.